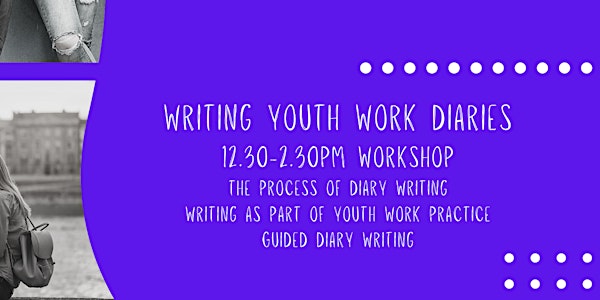 Voices from a citizen enquiry (session 2): Writing youth work diaries
A chance to discuss the process of diary writing as part of youth work practice, and to have a go at writing a diary.
About this event
Voices from a citizen enquiry: Writing youth work diaries (afternoon session)
This is the second of two workshops organised on Wednesday 12th May to discuss and share our experiences during a Citizen Enquiry into youth work under Covid, which took place from April-December 2020. This workshop will focus on the process of diary writing. Citizen researchers and diary writers will discuss writing as part of youth work practice, you will hear more about writing for the Mass Observation archive (see below), and you will be encouraged to engage in some guided diary writing (there will be no pressure to share what you write). Please bring a pen and paper, or coloured pens, or whatever you would like to use to write a reflective diary.
We will gather from 12:15pm with a cuppa, aiming to start at 12:30pm. The workshop runs til 2:30pm. Please book separately by clicking this link if you would like to come to our first workshop earlier the same day 9-11am, which focuses on youth work under Covid and what we would like to see in the future.
The Citizen Enquiry and Mass Observation:
From April to December 2020, the Citizen Enquiry into Youth Work in the Time of COVID-19 has received monthly diaries from 50 youth workers, to contribute both to the Citizen Enquiry itself and to the Mass Observation archive at Sussex University. A team of citizen researchers (Janet Batsleer, Hasaan Amin, Emily Beever, Tania de St Croix, Kevin Jones, Gerry McVeigh and Christine Smith) met each month to discuss the diaries, identifying key themes, commonalities and divergence. We have done this in a personal and volunteer capacity, from the grassroots, as citizens in order to capture and record for the archive a sense of what is is like to be a youth worker at this time, as part of the wider study of the everyday life of citizens which Mass Observation undertakes.
Mass Observation was started in the 1930s by radical journalists and filmmakers who used the diary format as a way of understanding how life was, for ordinary people, in times of national crisis. For our Citizen Enquiry, writers did not work to a set brief, except that the diary entry started when we woke up and ended when we went to bed for the night. Diarists were free to choose a day within an agreed week each month. Some wrote at greater length in response to topics we suggested at the start of the process or new topics as they arise. They wrote in whatever detail and at any length they want, and use a variety of styles and approaches. We used the ethical guidelines from Mass Observation at Sussex University, including asking writers to make their diaries and those mentioned in them as anonymous as possible. We have asked writers to donate their diaries to the Mass Observation archive, which means they will be available to researchers both now and in the future. Young people were also invited to take part but the response was mainly from youth workers.
For more information, four articles were published in Youth and Policy reporting on the Citizen Enquiry:
https://www.youthandpolicy.org/articles/citizen-enquiry-into-the-lives-of-youth-workers-in-covid-19/
https://www.youthandpolicy.org/articles/youth-work-in-a-time-of-covid2/
https://www.youthandpolicy.org/articles/under-many-pressures/
https://www.youthandpolicy.org/articles/the-importance-of-our-wild-stories/