Voices from the African Diaspora - The Cornerstone Collective Poets Corner
A safe space for those from African and African Caribbean heritage to share experiences and thoughts through creative expression.
About this event
Welcome to 'Poets Corner 2021'
Supported by The Cornerstone Collectives
We value your creativity, thoughts and wisdom.
Within this space, we can share, poetry, proverbs and prose to inspire and uplift.
We want to hear voices from the African Diaspora as a way of keeping our experiences and memories alive.
We look forward to seeing you in our sessions.
Session dates - The sessions will take place on Fridays from 7.00 pm - 8.30 pm
Dates
2nd July 2021
13th August 2021
3rd September 2021
1 October 2021
5th November 2021
3rd December 2021
These session will be hosted by Sue Brown and Dr Judith Bruce-Golding.
Sue is a Creative Writer & Workshop Facilitator. She is a TV and Radio Presenter and was recently awarded the MVISA & RTS 2019 Awards for her roles in the 2018 BBC4 documentary, The First Black Brummies. Sue is also a member of Rhythm Chant (spoken word & music duo) and the co-founder of Nakuona.
Judith is a Researcher, Teacher, Singer/Songwriter. She has a passion for creativity and writing. Judith is the founder of Nakuona, a project supporting the cultural community on a local, national and international level. Judith also works with organisations and schools on creative wellbeing projects.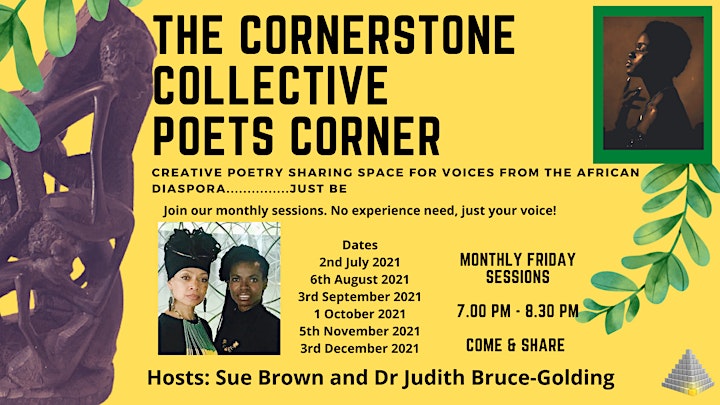 Organiser of Voices from the African Diaspora - The Cornerstone Collective Poets Corner