Sales Have Ended
Registrations are closed
Thank you for your interest in Voices from The Knitting Circle. The film is no longer available to watch online. If you are interested to find out more about our work and future events, sign up to our mailing list: https://vitalxposure.co.uk/newsletter-sign-up
Sales Have Ended
Registrations are closed
Thank you for your interest in Voices from The Knitting Circle. The film is no longer available to watch online. If you are interested to find out more about our work and future events, sign up to our mailing list: https://vitalxposure.co.uk/newsletter-sign-up
A chilling glimpse into the secret worlds and stolen years inside the long care asylums.
About this event
Following a successful run at cinemas and film festivals, we are delighted to announce that Voices from the Knitting Circle is screened online this autumn.
The film will be available to watch for free from Monday 5 October (7pm) and until Sunday 15 November (9pm).
Discussion panel and live Q&A – Thursday 12 November, 5.30pm
Join the acting cast who recreated these remarkable voices depicted on film, talking with director Julie Mc, who describes the extraordinary seven-year journey of this documentary, exposing shocking stories that uncover unpalatable truths about the long-care system.
The event will include British Sign Language interpretation and live captions.
A recording of the event will become available on Vital Xposure's website at a later stage.
Discussion panel
Julie McNamara, Director
Deni Francis, Actor
Penelope Freeman, Actor
Mandy Colleran, Actor
Image description (below): Photo collage of the three actors and the director's portraits from the film. From left to right: Mandy Colleran, Deni Francis, Penelope Freeman and Julie McNamara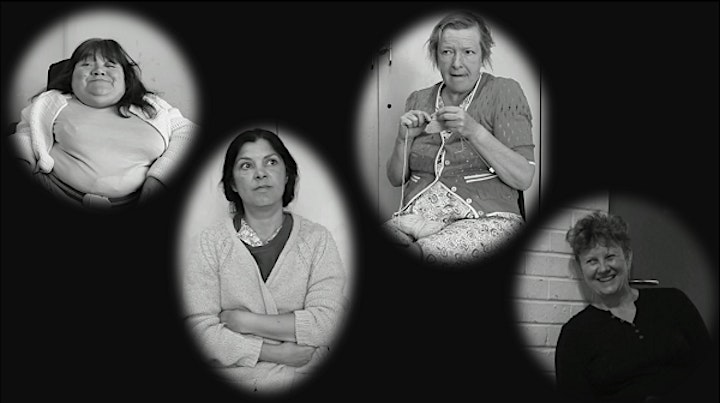 About the film
An award-winning documentary that provides a chilling glimpse into the secret worlds and stolen years inside the long care asylums.
Were all these people truly Mad, Bad and Dangerous? Who is next?
"It was love and mischief that saw us through." Mary, aged 80
Julie McNamara created The Knitting Circle in 2011, a theatre production based on the testimonies of people who survived the long care asylums closed in the 1980s. Each of the actors were matched with people who lived or worked inside long stay hospitals.
This short documentary film follows the voices of some of the extraordinary people who entrusted us with their life stories. What reverberates is the extraordinary resilience of the human spirit, and the art of laughter amongst the tears.
Best Documentary over 30 minutes and Best of Festival
17th Picture this…film festival, Canada 2018

"Despite the hideous acts these individuals were subjected to, 'Voices' imbues them with a magnificent fortitude that leaves their dignity for-ever intact."
James Zaatka-Haas, Disability Arts Online
"…very engaging… innovative camera work… strong acting… brilliant imagery… creatively put together… human emotions exposed… authen-tic…"
Jury comments from Picture This… Film Festival 2018
"This was an amazing film, tender, brutal, beautiful and joyful, every community should see."
"When stories surface from conspiracy and cowardice into the light of day the sun burns bright."
Audience members, Hackney Picturehouse screening, June 2018
Access
The film includes captions and audio description.
Trigger warning
Please note this documentary includes stories of sexual assault, rape, abuse and bullying.
Creative team
Director: Julie McNamara
Camera Operator and Editor: Zeynep Dagli
Additional Editing Services: Lesley Willis
Executive Producer : Chas De Swiet
Production Manager: Rhiannon Kelly
Interviewer: Rachel High
Storytellers: Iris Noden, Naomi Luke, Paul, Derek McCarthy, Rosie Clarke, Mary Robins, Shriya Mehta, Priscilla Surfaz, Gertrude Grey, Miriam, Betty
Actors: Penelope Freeman, Deni Francis, Mandy Colleran
Additional images provided by Mark Davis
Audio Description script Louise Fryer
Audio description: Rhiannon Kelly
Titling: Joshua Branson, Shaza Hamza
Event image description:
Still from the film showing former resident, Nan, in a kitchen. She rocks, poking out her tongue, as she knits. Nan is played by Penelope Freeman.
Organiser of Voices from the Knitting Circle - Online Screening
Vital Xposure is a disability-led touring theatre company. We promote hidden voices with extraordinary stories to tell.

Our mission is to create exciting, innovative theatrical experiences for audiences, artists and communities alike. All work presents an inclusive experience where access issues do not intrude upon the aesthetic of the productions.
We promote the full participation into the arts of Deaf and Disabled individuals and people excluded by mainstream society including LGBQT individuals and anyone unrepresented because of their race, gender, sexual orientation or social status.
Our work is driven by social justice and appeals to a wide range of people interested in new writing, in voices from the political periphery, in LGBTQ+ and feminist theatre. Vital Xposure's signature style appeals to people who enjoy bold narratives, high powered and challenging stories with a Disability-led access aesthetic.
We are based in London , UK, and present work nationally and internationally.
Here's a glimpse of the stories we bring on stage and on screen. (Link opens on YouTube)
Find out more about our productions and current projects and opportunities to get involved.
Contact details
T: 020 8123 9945
M: 074 3242 1825 (voice / texts / WhatsApp)
E: intouch@vitalxposure.co.uk
Sign up to our Newsletter and find out how you can support our work.
Vital Xposure is a Company Limited by Guarantee registered in England and Wales (No: 07488858) and a Registered Charity (No: 1161464)