How to stay positive, open-minded, and prepare for lifelong learning
About this event
American psychologist and author, Carol Dweck, coined the terms 'fixed mindset' and 'growth mindset' to describe the beliefs we have about learning and intelligence. In this session, we'll explore the benefits of the 'growth mindset' which focuses on stretch tasks and learning as a form of success. In other words, our intelligence is not set or pre-determined. This new age of life-long learning, career pivots and interdisciplinary careers offers us the opportunity to embrace the growth mindset to learn more and do more professionally.
In the workshop, we will talk about different stages in a career and different stages in learning. Then we will also talk about what ambition means and what a healthy ambition is to reach a positive growth mindset. Because what is success? And what does success mean to us? This is what we are going to explore, to reach a mindset that prepares us for growth and positivity.
The session will be led by Nupur Kohli. Nupur is a Healthcare Leader, Advisor, Speaker, Author, UNICEF NL -Supervisory Board, Curator WEF Global Shapers Amsterdam, and a (Med) Doctor. In the context of a growth mindset, Nupur recently published a book about "Chill! How to survive stress and improve personal and professional productivity. Symptoms and solutions to chronic pressure."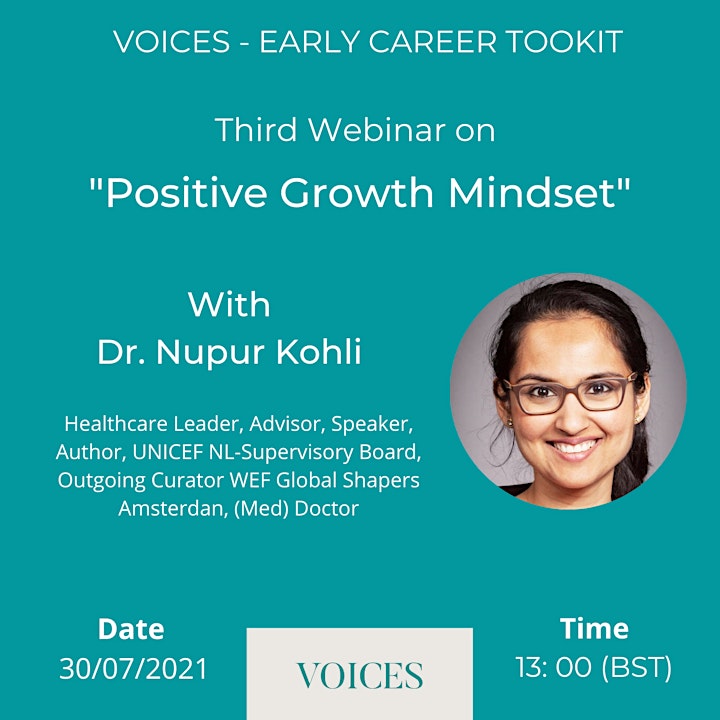 Organiser of VOICES Positive Growth Mindset Workshop
VOICES is a non-profit organisation, envisioning a world with equal representation of women at the workplace. Since 2018, we have been active to provide accessible professional development workshop formats to early-career women around the world. We further create and collate free resources to help early-career women succeed. VOICES further maintains an active community to facilitate the collective sharing of experiences among participants. These workshops offer an opportunity for women to share best practices and learn from each other about ways to sharpen their public engagement skills. VOICES was incubated within the Global Shapers Hubs in Dublin and Cambridge, an initiative from the World Economic Forum.
Would you like to embark on this journey with us?