Join us for an afternoon celebrating LGBT History in Bristol and South Gloucestershire
About this Event

Please note this event is sold out. If you would like to be added to the cancellation list please contact us by clicking here Contact
Speakers - Caroline Paige, Rob Hurley, Finn Mackay and Pom Pom
12.15pm Caroline Paige
Caroline Paige is a retired RAF navigator with a thirty-five-year flying career that includes eighteen operational deployments. In 1999 she became the first transgender officer to serve openly in the British Armed Forces.
Before transitioning Caroline had served twelve years on air defence fighters, during the Cold War, and seven years on tactical trooping helicopters, with tours in Northern Ireland, and Bosnia with the UN. During the following sixteen years she completed ten operational flying tours, in Bosnia, Iraq, and Afghanistan, earning several awards for 'exceptional service'.
After retiring from the RAF in Nov 2014, Caroline is contracted to teach tactical flying skills to European military helicopter aircrew. Her autobiography True Colours was published in 2017 (Biteback), and as an inspirational speaker she raises awareness of transgender lives and educates on inclusion.
Caroline is a Patron of Liverpool City Region Pride and Honorary President of her former Air Cadet Squadron.
13.00pm Lunch - A packed lunch will be provided. Please let us know about any dietary requirements by Friday 31st January.
13.30pm Rob Hurley
Rob Hurley is a Landing Gear Systems Engineer at Airbus in Bristol. He's also co-chair and founder of Airbus; LGBT+ Network. He's worked for Airbus for 15 years, but for most of that time, Airbus refused to talk about LGBT+. As a gay man, this gave Rob the impression that Airbus didn't approve of homosexuality and he feared he would lose his job if Airbus discovered he was gay. Because of this, for more than 10 years, not only did he not bring his whole self to work, he actively hid his personal life from Airbus. Three years ago he decided enough was enough and plucked up the courage to talk to Airbus about the subject and a few months later, Pride@Airbus was born. For the last three years, he's brought his whole self to work every day and is a happier, more confident person and a better Engineer because of it.
14.15 Finn Mackay
Finn Mackay is a Senior Lecturer in Sociology at UWE Bristol, with a PhD from the Centre for Gender & Violence Research at the University of Bristol. With a professional background in Youth Work, Finn has worked in domestic abuse prevention in the education sector for many years, as well as being a feminist activist; in 2014 Finn founded the London Feminist Network, which revived the London Reclaim the Night. Finn still works with and delivers training for social workers and health professionals on gender-based violence.
Finn is the author of 'Radical Feminism: Feminist Activism in Movement' published by Palgrave and is currently researching queer masculinities as well as working with positive men's organisations on challenging gender stereotyping, recently producing, with Let Toys Be Toys, a 20 tips poster for parents on avoiding gender stereotyping.
15.00pm Christina Riley
Christina Riley is a leading voice on LGBTQ+ inclusion in the Engineering & Construction sector. Christina is a founding member of the Building Equality Network, an alliance of over 40 tier one construction engineering companies and consultants. She is also a steering committee member of InterEngineering – who look at empowering LGBTQ engineers of all sectors. Christina runs the LGBTconstruct Global Forum on social media, and has just been recognised in the USA by the leading Engineering magazine ENR for her work on diversity and inclusion in Engineering. Christina created LGBT+ toolbox talks that linked Diversity, mental health and on-site safety. Christina transitioned back in 2014 at Balfour Beatty following the launch of their LGBT & Allies Network & has gone on to be a public speaker on inclusion at companies like Rolls Royce, Disney and Institute of Engineering & Technology. Christina was awarded Corporate Rising Star at the 2017 British LGBT Awards.
15.30pm Alphabets LGBTQ Youth Project
Alphbets LGBTQ Youth Project is run by the Diversity Trust and provides LGBTQ youth work and activities across South Gloucestershire. There are monthly sessions in Yate. You will get the chance to hear from some of the LGBTQ young people and volunteers who work with and attend the group.
16.00pm Close
Drag Queen Story Time (14.00-16.00pm)
We are also hosting Drag Queen Story Time at the event. Drag queen story time aim to capture the imagination and fun of the gender fluidity of childhood, while giving children glamorous, positive, and unabashedly queer role models.
From Soho to Taunton, to Edinburgh and beyond, drag queen story time has delighted children of all ages across the uk.
Providing glitz and glamour, with a camp twist, it is the story time event not to be missed.
Revealing Stories Exhibition
The exhibtion, which was originally created for M-Shed in 2013, and has since appeared at various venues around the region. The exhibition is based on archival records and oral history interviews with lesbian, gay, bisexual and trans people associated with Bristol and the surrounding area. Focusing on living memory (c. 1940s to the present) it tells how people fought to shape and control their own lives. It is the story of those who witnessed these changes and helped to make history.
The venue will also be hosting the Revealing Stories exhibition created by Outstories Bristol.
Accessibility
If you have any access requirements please contact the event organisers by text on 07747 752 454, email info@diversitytrust.org.uk by phoning 0844 800 4425. For detailed information about venue access please visit https://aerospacebristol.org/accessibility
Dietary Requirements
If you have any access requirements please contact the event organisers by text on 07747 752 454, email info@diversitytrust.org.uk by phoning 0844 800 4425.
Event Hosts
The event is brought to you by the Diversity Trust - South Gloucestershire LGBTQ Equality Network and Aerospace Bristol. Please note access to the exhibitions and Concorde gallery is only possible with a valid museum ticket.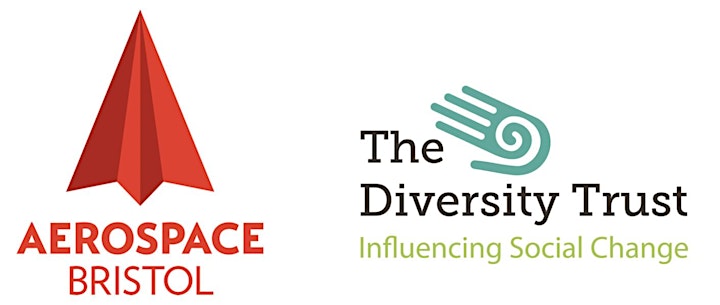 Voices and Visibility logo courtesy of LGBT History Month 2020. Please visit the LGBT History Month website for more information and events.