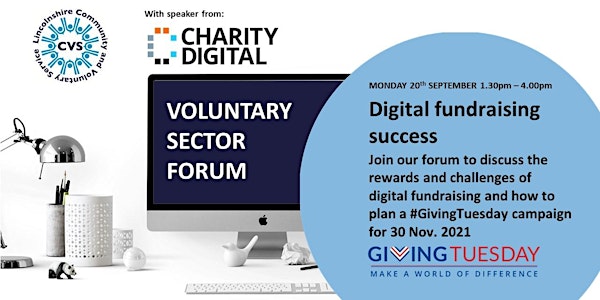 Voluntary Sector Forum: Digital Fundraising Success
A forum to discuss the possibilities of digital fundraising and how to plan a #GivingTuesday campaign for 30 Nov. 2021
About this event
According to the first M+R UK Digital Benchmarks study, on average, non-profit organisations in the UK reported a 35% increase in online revenue in 2020 compared to the previous year. *
Giving Tuesday brought in £14,000 a minute for good causes in the UK, defying the challenges of social distancing to deliver a bumper fundraising day for charities across the country. The Charities Aid Foundation (CAF), which runs the campaign in the UK, has revealed figures from Visa showing that £20.2 million was donated via their payment platforms in the UK on 1 December. This amounts to £14,000 a minute – and is a 42% rise in donations made through Visa compared to Giving Tuesday in 2019.**
This Voluntary Sector Forum will discuss the possibilities of digital fundraising for small to medium sized organisations and how to plan a #GivingTuesday campaign for 30 Nov. 2021
The agenda will include:
Experts from Charity Digital, the UK-based charity who improve digital awareness and access and connect charities to expertise and skills - full details to follow.
Case studies from smaller organisations
How to plan a campaign for #GivingTuesday
The programme will be delivered via Zoom and will combine presentations with opportunities for group discussions and refreshment breaks. This will give attendees an opportunity to share their own experiences to support and learn from other groups.
Who should attend?
The event is open to staff and volunteers of charities, community groups and voluntary sector organisations in Lincolnshire.
Booking
Please reserve your place via Eventbrite and a Zoom invitation will be emailed to you the day before the event.