Description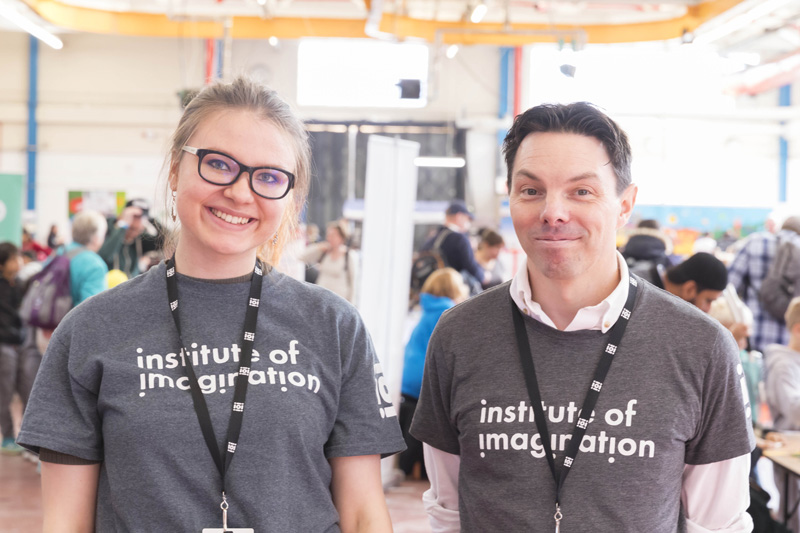 You're invited to… Volunteer Evening: Summer Volunteering
If you have already attended an information evening about volunteering, this evening offers the opportunity to see Mega Maker Lab before we open our doors on 1 August.
Throughout August, we are putting on a major summer experience for families to tinker, experiment and play together and we need dedicated volunteers to help bring this to life – the Mega Maker Lab.
The Mega Maker Lab will be a 12,000 sq ft experience, imagined by young people in collaboration with the Institute of Imagination and architectural educators MATT + FIONA. During this evening, you will get a hands-on experience of the Mega Maker Lab in preparation for volunteering with us during August.
Mega Maker Lab will be made up of six spaces:
Imagine and Play: an invitation to imagine and play together as a family with collaborative building activities and challenges.
Have ideas: a space where children are encouraged to come up with their own ideas, through design and invention tips, sensory experiences and fun creative prompts.
Take on challenges: an area where children can take on BIG challenges, like making something that flies or moves with junk materials and tools.
Test your builds: a space for testing and prototyping, where inventions can be tested with wind tubes, races spaces and more.
Try out tools: to take on these challenges you'll need tools! The tool bar will be a safe space to use tools and tech that will bring ideas and inventions to life.
A performance space: get tips from experts, join in performances and share your ideas in the open arena.
To bring this experience to life, we are looking for volunteers to help support the Mega Maker Lab through August. There will be opportunities to volunteer every day throughout August.
We will need volunteers to help:
– support playful events and activities
– ticketing and navigation
– surveying and feedback
– set up and take down activities
It's a great chance to:
– gain skills in workshop facilitation
– get first hand event management experience
– supporting the learning of children and families
– give back to the community
– work with children and young people
– meet like-minded volunteers that share a passion for learning
If you're interested in summer volunteering experiences and would like to volunteer at Mega Maker Lab you can attend an information evening to find out more about what this involves. If you're interested in hearing more about volunteering at Mega Maker Lab but can't make this event, contact volunteer@ioi.london.
During this 1.5hour session you will:
learn about the Mega Maker Lab and all the exciting workshops and events
have the chance to explore the Lab and try out hands-on activities
meet the iOi team and current volunteers
learn more about what role you can play as a volunteer at Mega Maker Lab
You'll also get an opportunity to walk through the Mega Maker Lab and try out activities which you will help to run.
Who should attend this evening?
Any volunteers who will be volunteering with us during Mega Maker Lab. If you have already attended an information evening, you can come and see the Mega Maker Lab ahead of us opening our doors in August.
When and where is the Mega Maker Lab volunteer information evening?
Tuesday 20 July 2019 6:30-8:00pm, at the Imagination Lab, The Workshop, 26 Lambeth High Street, London, SE1 7JS.
If you can't attend the event but would like to enquire about volunteering with us, please contact Alex at volunteer@ioi.london.