A virtual workshop (in two sessions) for volunteer coordinators who want to create a professional-looking Volunteer Handbook with ease.
About this event
What is it?
A volunteer handbook is a resource (printed or digital) that clearly defines what your nonprofit does and how volunteers help the organisation. It can explain volunteering rules, set out tasks or expectations as well as presenting an extract of policies and display volunteer personal stories and pictures.
A handbook should be used to recruit and train volunteers so that everyone starts with the same knowledge.
Why Create One?
Volunteer Handbooks help your organisation more effectively recruit, train, and supervise volunteers. Having everything in one place, simply explained and illustrated can support both the organisation and the volunteer to have a clear picture of what the organisation does, how the volunteer can both help and receive support.
A Volunteer Handbook can bring consistency to your volunteer training and remove any worry about "word of mouth" directions.
It doesn't need to be a lengthy document, just a clear and easy to read booklet, relevant to your organisation and volunteers but a well structured and comprehensive document can make your volunteering programme and volunteer experience really stand out.
How can I create my own?
Join our workshops and tailor our Volunteer Handbook to your needs and requirements.
The workshop is split into two sessions: 13 & 20 May from 2-4 pm. You only need to book tickets only for 20 May and will receive reminders in your inbox for both dates.
Thursday 13 May - Presentation of Volunteer Handbook
I will show you examples of our as well as other organisations' handbooks. You will leave the session with a clear plan of what you will need in order to adapt our template to suit your needs, including a list of what pictures and what kind of words you will need to bring to the following session.
Please note that the second hour is optional. I will be available to answer any questions you might have on how to write an effective testimonial or introduction to your organisation or any other question that you might have.
Thursday 20 May - Graphic Design Session
During the first 45 mins, I will show you how to use the graphic design programme and complete tasks such as swapping images or text. After that, I'll be available to answer questions, troubleshooting, giving feedback. You will leave the session with a draft of your brand new handbook!
Please note that with this being a remote session I can NOT do things for you. You need to have some IT skills and be able to amend the template on your own.
Book now your FREE place now and don't miss this opportunity to have your volunteering programme stand out!
For any question feel free to contact Fra directly
EMAIL: francesca.panella@val.org.uk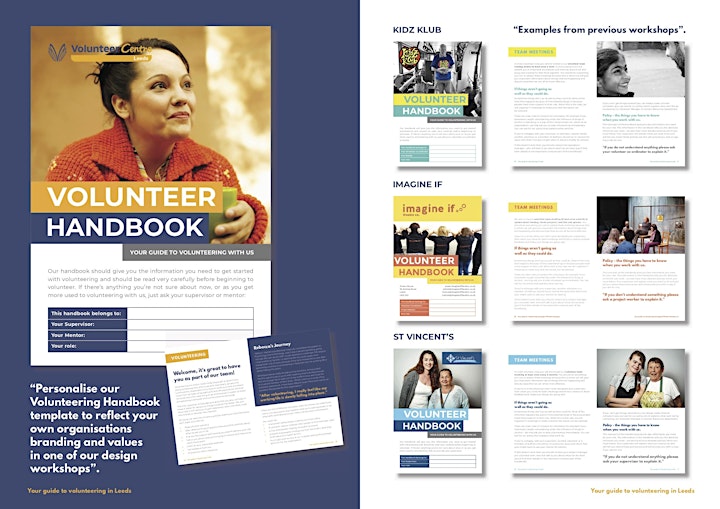 Organiser of Volunteer Handbook Workshop