Join us during #VolunteersWeekScot in viewing an Impact Reel video highlighting the Wee County's third sector response during the pandemic.
About this event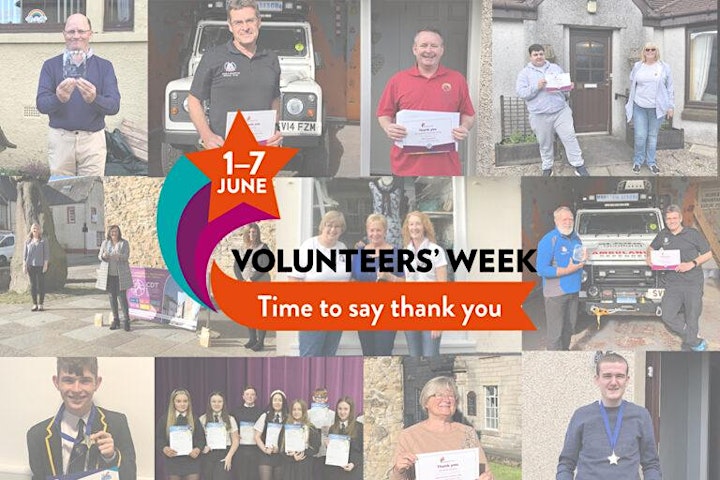 Join CTSI this #VolunteersWeekScot to view an "Impact Reel" video showcasing the incredible efforts of our local Volunteers and wider Third Sector in responding to community need during the pandemic.
Volunteers' Week in a National campaign that runs each year from the 1st to the 7th of June. Locally during Volunteers' Week, CTSI usually lead on coordinating and encouraging activities to celebrate and recognise the sector; including our annual Awards Ceremony "Wee County, Big Heroes: CTSI Third Sector Awards". This year, with consideration that celebrations of a large scale are neither possible, nor appropriate, we are moving ahead with a theme of "Time to Say Thank You". Rather than have multiple categories for volunteers and groups, with winners and runners up for each, it doesn't feel right to single out Winners given the incredible contribution of so many within the Wee County and its communities. So, every volunteer/group nominated will be recognised through a social media campaign, and digital certificates.
As part of our online activities this year, CTSI and our members are excited to premiere an Impact Reel video during this #VolunteersWeekScot to assist in showcasing our amazing local volunteers and wider sector; highlighting how news of the pandemic felt, how volunteers and groups reacted, their efforts throughout the pandemic, and hopes for the future.
Nominations are open until 30th April 2021. Please assist us in ensuring this year's campaign is a success, and as many local volunteers and groups are recognised as possible.
For an online Nomination Form see here
For a downloadable Nomination Form see here
CTSI also have Thank You cards designed and printed for any local groups and organisations who would like them to send to volunteers and supporters.
To request cards, or if you have any questions, please contact Christopher.white@ctsi.org.uk or louise.orr@ctsi.org.uk
For more information on plans for Volunteers' Week this year, please see here.
#VolunteersWeekScot #VolunteersWeekClacks #WeeCountyBigHeroes #ThankYou