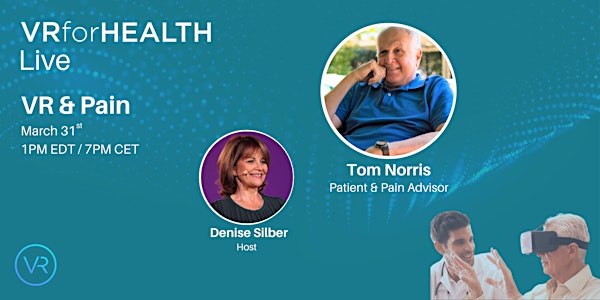 VRforHealth Live: VR and Pain
VRforHealth is going live with its first webinar!
About this event
About this Event
On Wednesday, March 31, at 1 PM EDT / 7 PM CET, VRforHealth will premiere its live webinar series with, the patient perspective, presented by a patient.
We are very fortunate to have Tom Norris, Patient, Pain Advisor, and of course, veteran VR user, coming to us live from Los Angeles.
He will be interviewed by Denise Silber, Co-Founder of VRforHealth, who will be live in Paris, France.
The webinar will focus on the use of VR for chronic pain, thanks to the first-hand experience of Tom Norris* and the vision of Denise Silber**, a digital health pioneer.
Be sure to register for our webinar to hear meaningful insights about VR for chronic pain and to ask your questions.
Would you like to know more about our events? Feel free to reach out to Rita Prota in c/o events@vrforhealth.com
*Tom Norris is a retired US Air Force lieutenant-colonel. He retired medically after serving for 23 years in the management of aircraft maintenance and is an advocate for people with chronic pain. Tom is a facilitator for chronic pain support groups (American Chronic Pain Association and WellConnected/Covia Community), a consultant/patient partner for research at Cedars-Sinai and the NIH, on Virtual Reality for lower back pain, an advisor to Department of Defense panels on guidelines and research applications and has been interviewed by national media.
** Denise Silber is a digital health pioneer and top ten social media influencer, on a mission to improve the quality of life for patients and professionals. She is the co-founder of VRforHealth, consultancy and community platform for collaborative « tech for good initiatives » and the founder of Basil Strategies digital health communications agency. In 2011, Denise was awarded the French Legion of Honor, France's highest civilian honor, for her contribution to eHealth in the US and Europe, and in 2018, was named to the #InspiringFifty women in tech. A Harvard MBA, Denise hosts podcasts for Harvard Alumni Entrepreneurs.