Vulnerable Mission: English and Dollars Powering Ministry, Good Idea?
Sponsored by Alliance for Vulnerable Mission, and All Nations Christian College.
About this event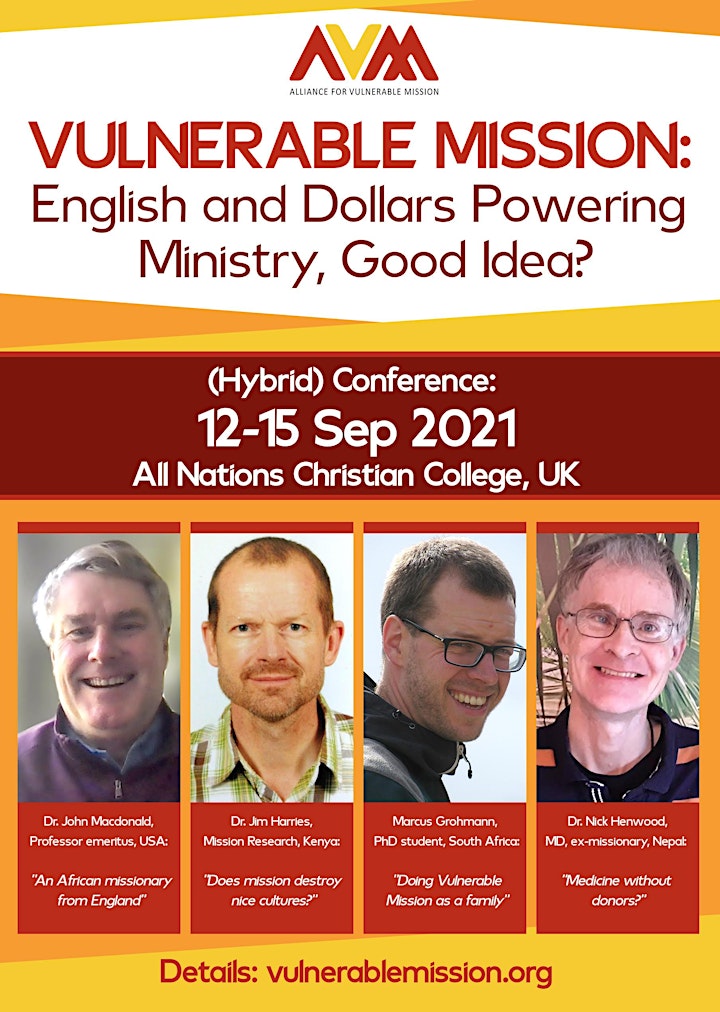 Registration is Open. (Pay before 1st July for early bird rate.)
…………………………….
Vulnerable Mission: English and Dollars Powering Ministry, Good Idea?
We urge some missionaries to practice their ministry using the languages and resources of the people they are reaching. This will honour the indigenous. It is a Christ-like starting point for sharing the Gospel in contextualized ways.
We will be discussing issues such as:
• Practicalities and ramifications of use of indigenous languages by Western missionaries.
• How does translation to and from an indigenous language affect missionary work?
• While finances are needed for mission work, how can one ensure that finances do not dominate?
• What good practices are there to ensure a missionary remains vulnerable in their local context?
• How to engage in mission without exuding (excessive) power.
• What organisational structures enable vulnerability on the side of Western missionaries on the ground.
• What help can we offer churches who want to engage directly in cross cultural mission to avoid pitfalls of power.
• Tentmaking and business as mission models that leave the Westerner vulnerable. (Can the commercial world engage in mission without promoting 'evils' of capitalism?)
• When the uneven spread of wealth is itself an injustice, how can one use one's surplus to enact global justice.
• How can mission agencies promote vulnerability, when dominant models of understanding presented by a vast global media are rooted in positivism and liberalism?
• Is vulnerability the key to contextualisation?
• Theology traditionally draws strongly on metaphor. However local metaphors from the majority world are unfamiliar to the Westerner, and vice versa. How can one then engage in theology interculturally?
• Where politics and 'religion' are not separate categories, missionaries need to be careful not to get bogged down in unanticipated conflicts.
• Is miracle a post-enlightenment category? Is 'magic' a normal aspect of life? What does this imply for cross cultural missionary engagement?
• Does the introduction of outside technology result in exploitation and enslavement? or liberation?
• Globalisation as a force that cripples the periphery. How can the voices of those at the periphery be heard, and their dignity guarded?
• When short-term mission has become poverty-tourism intended to adorn facebook pages with images of charity – what is the way forward?
• Can Westerners relate to non-Western missionaries without dominating them?
• The bible is God's inspired book, but theological training is dominated by Western curricula. Are there alternative paradigms for local-context training of Christian workers?
This will be a three-day residential conference. It will be held in the English country house at the attractive rural location of the UK's premier missionary training college, near Ware in Hertfordshire. Full cost will be £300, or early bird £260. (We will recompense speakers IF we get a sufficient attendance to be able to afford to do so.)
Conference sponsors:
Alliance for Vulnerable Missionvulnerablemission.org
Email: jim@vulnerablemission.org
All Nations Christian College, EasneyeWareHertfordshireSG12 8LXTel: +44 (0) 1920 443500Email: info@allnations.ac.uk
Jim Harries, PhD.
Board chair, Missionary in East Africa
Organising Board:
Jim Harries (East Africa, Chair) Andy Dipper (UK. Host.)
John Macdonald (USA) Nick Henwood (UK)
Frank Paul (Germany) Peter Stagg (UK. Finance)
Daniel Albert (USA) Deborah Bernhard (Germany)
Link for pdf of call for papers: https://tinyurl.com/yy7wzk9h
PROVISIONAL Programme Conference, 12th to 15th Sep. 2021. All Nations Christian College, UK.
Vulnerable Mission: English and Dollars Powering Ministry, Good Idea?
Date Time Activity.
Sun 12th Sep. 16.00 Arrival. Registration.
18.00 Supper
19.00 Worship service.
19.30 Introductions and testimonies
21.00 Tea / coffee / goodnight.
Mon 13th Sep. 7.50 B.fast.
8.30 Worship.
Hybrid 9.00 Introduction To Vulnerable Mission.
Discussion.
Hybrid 10.00 Paper 1. Philip Quaque: African, British, or Atlantic Creole?
Hybrid 11.30 Break
Hybrid 12:00 Speaker expected.
13.00 Lunch
14.30 Workshop: The Illegitimacy of the Condemnation of Generalizations in Academic Writing.
16.00 Break
16.30 Paper 2. Global Movements in Relation to Vulnerable Mission
18.00 Supper
19.30 Debate: Direction of Translation: translation should be into the known.
21.00 Tea / coffee / goodnight.
Tues 14th Sep. 7.50 B.fast.
8.30 Worship.
Hybrid 9.00 Paper 3. Idealistic Conviction – Elusive Practice? The Challenging Quest for Vulnerable Mission in a Middle-Class Suburb of Cape Town
Hybrid 10.30 Break
Hybrid 11:00 Paper 4. Destructive Mayhem (fujo) in Africa, and how to resolve it.
Hybrid 12:30 Words of wisdom from ANCC Principal Dipper
13.00 Lunch
Hybrid 14.30 Groups discussion – which way should we be heading?
Hybrid 16.00 Break
Hybrid 16.30 Reports on groups' discussion
Hybrid 17:00 Stroll in the woods.
18.00 Supper
19.30 Sharing together with faculty and students.
21.00 Tea / coffee / goodnight.
Wed 15th Sep. 7.50 B.fast.
8.30 Worship.
Hybrid 9.00 Paper 5. Childlikeness, and Receiving Children are Valuable Stances for the Vulnerable Mission Practitioner.
Hybrid 10.15 Break
Hybrid 10:30 Panel.
Hybrid 11:40 Break
Hybrid 12.00 Drawing ends together, future proposals, sing, pray.
13.00 Lunch then go home.
Organizer of Vulnerable Mission: English and Dollars Powering Ministry, Good Idea?