Description
Event Overview
Following on from the huge success of the recent Kirklees Business Conference, the Mid Yorkshire Chamber of Commerce is delighted to be hosting their 2018 Wakefield Business Conference (WBC) at Unity Hall on Wednesday 3rd October 2018. The free one day conference is the flagship event of Wakefield Business Week (1st - 5th October) and has become major fixture in the local business calendar.

Wakefield Business Conference is dedicated to helping businesses to connect, learn and grow. There will be 36 exhibiting businesses, alongside delegates from Wakefield and the surrounding areas. WBC includes a fantastic programme of engaging seminars and open networking throughout the day.
The conference is a fantastic opportunity to raise your profile, make new contacts and learn from other experienced professionals. There are many opportunities for local businesses to get involved through sponsorship, exhibiting or attending as a delegate.
Exhibitor and Sponsorship opportunities are available now, find out more on our website
---
Why you should attend #WakeyConf
Here are three great reasons why you should join us at Wakefield Business Conference:
1. It's the biggest business conference in Wakefield, a city with a wealth of potential.
Due to it's fantastic location on the M62, M1 and A1 major roads within the UK, many businesses are locating to Wakefield. However at WBC 2018 you will discover that Wakefield is more then just a fantastic location for businesses, our seminars are the forefront of the future vision of the district with expert speakers providing a local and external perspective.
2. Meet real local businesses and how their products/services can benefit your business.
With 25 exhibition stands and there will be plenty of time to meet these businesses and see what the best of Wakefield and surrounding areas have to offer.
3. Network with a conference full of passionate business people over breakfast, lunch and drinks.
One of the best bits about WBC 2018 is the friendly atmosphere, no matter who you bump into, you've got the same interesting things to talk about. Our catering supplier, Create, have recently won Restaurant of the Year at the Wakefield Express Business Awards.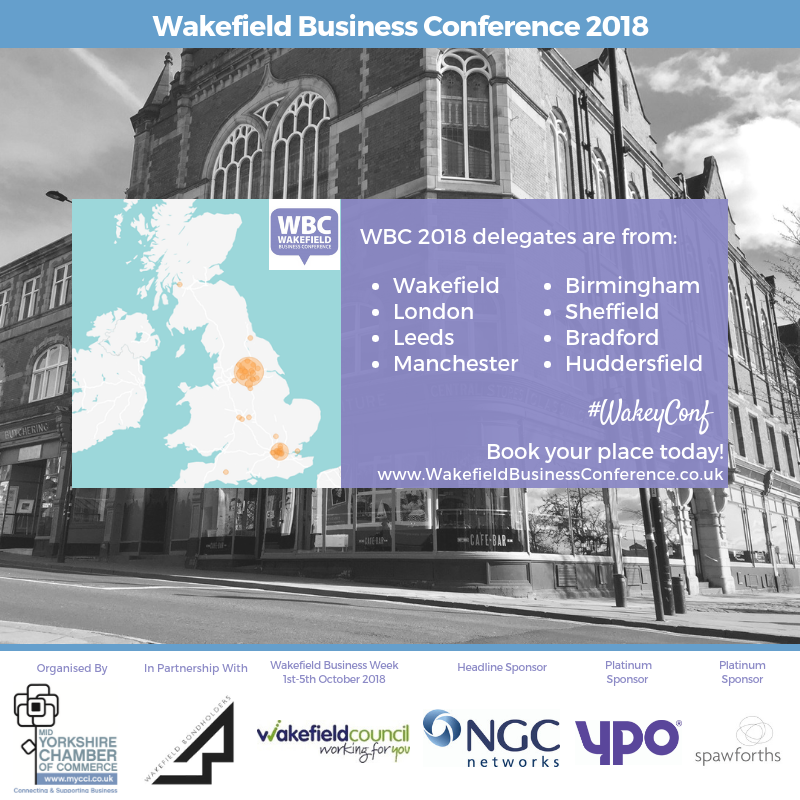 ---
Agenda
08:00 – 09:00
The Establishment
Business Breakfast, sponsored by BT
Start your day off with a early morning networking opportunity and delicious breakfast buffet. Tickets are only £10 and are available to purchase. Excl. VAT and eventbrite fees.
09:00 – 15:00
Exhibition Areas; Major Hall, Minor Hall, Conference 1
Wakefield Business Conference 2018 opens!
Come and meet our exhibitors. Grab a coffee and make new contacts and catch up with your existing ones in the networking areas. Get your tweets on the social feed screens using #WakeyConf on Instagram and Twitter.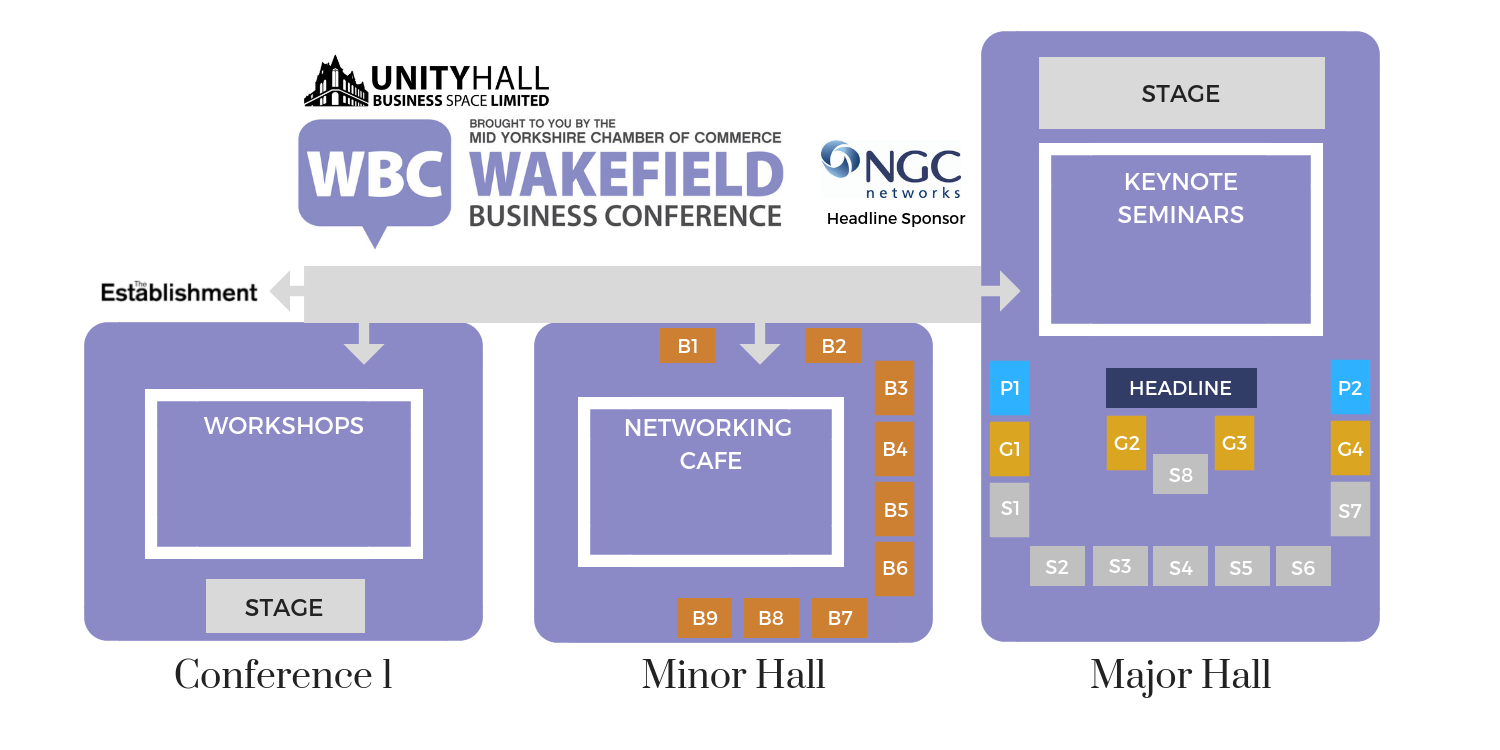 Seminar 1 – Wakefield and the Northern Powerhouse
Andrew McPhillips, Chief Economist, Northern Powerhouse Partnership
Andrew joined the Northern Powerhouse Partnership (NPP) in 2017 and is responsible for the NPP's research output, ensuring that the best evidence and economic thinking informs policy proposals. Most recently this resulted in the organisation's report, Educating the North, focused on the disparity of educational outcomes between the North and the rest of the country.
Andrew previously worked in a similar role at Yorkshire Building Society, creating economic scenarios to determine the organisation's business planning and advising the board on the economic outlook. He has also worked in the Department for Education, as Strategy Advisor, and as an economist at the Department for Work and Pensions and Department for Transport.
Andrew will talk about the role of Wakefield within the growth of the Northern Powerhouse.
Seminar 2 – The Vision for the Wakefield District
Paul Swinney, Head of Policy and Research, Centre for Cities
As Head of Policy and Research, Paul oversees the research programme and strategy of the Centre. He has published on a wide range of subjects relating to city economies, including the development of UK cities over time, the role that city centres play in the national economy and the trading relationships UK cities have with the rest of the world.
Paul is a regular regional and national media commentator, including print, radio and TV, and speaks at conferences across the UK on subjects relating to the performance of city economies.
Paul will speak about what positive growth looks like and how Wakefield could achieve this.
Seminar 3 – What role can Wakefield Businesses play to help accelerate the growth of the district?
This seminar will explore the role that Wakefield Businesses could have in promoting their own businesses as part of a wider vision for the district. How can we equip our businesses with the knowledge, messages and tools to promote our collective vision and in so doing help differentiate their own businesses from their competitors?
12:30 – 13:30
The Establishment

Business Lunch with Special Guest Speakers, sponsored by BT
Hear from Mike Spicer, Director of Research and Economics at the British Chambers of Commerce and Lee Campion, Managing Director of BT Local Business, Central Yorkshire. Aimed at business owners/directors, there will be wonderful selection of freshly prepared food will be made available for you to enjoy.
Tickets are only £15 and are available to purchase. Tickets for both Business Breakfast and Business Lunch are available for £25. *Excl. VAT and eventbrite fees.
Seminar 4 – Rethinking Yorkshire – Rethinking Wakefield?
A Wakefield Business Conference "4×4 Event"
What is a "4×4" Event?
The 4×4 format has been running for many years in Yorkshire, it is linked in some way to Placemaking, Economic Development and the Built Environment and involves 4 speakers talking for 15 minutes back to back (i.e. without a gap) on a core theme. There is then a 60 minute Q and A session where some of the topics and issues raised by the speakers are explored with full audience participation. At the end of the session, the 4×4 tradition is to then move on to a suitable local restaurant or café/bar, in this case 'The Establishment', where the debate continues more informally over food and a drink.
14.00 – 15.30 Rethinking Yorkshire – Rethinking Wakefield?
This 3x3 event involves 3 speakers talking for 15 minutes back to back looking at the Wakefield district in the context of its location within the much wider urban Yorkshire area. In the context of a re-imagined Yorkshire, how might we re-imagine a Wakefield of the future?
Adrian Spawforth, is a chartered architect and town planner whose company, Spawforths, has been based in Wakefield since its creation in 1988. Adrian will be opening the 3x3 session with a strategic overview of a rapidly changing Yorkshire region and offering some strategic suggestions as to where Wakefield's greatest opportunities may lie in the decades to come. He will touch on the changing role of cities and some of the implications for Wakefield in terms of regional, national and global trends that are starting to impact on many of his practice's projects across the UK.
Jenny Layfield, Chair of the Wakefield Cultural Consortium, will then consider the district through the eyes of our visitors and our attractions. She will be asking whether we are maximising the opportunity our location and rich heritage provides us with and what we need to do to realise our full potential. Can (and should) culture and tourism be at the heart of a repositioning the district the district in the minds of our current residents and a wider external audience?
Our third speaker is a relatively newcomer to Wakefield who brings a fresh pair of eyes to the district. Tom Stannard is the newly appointed corporate director of Regeneration and Economic Growth at Wakefield Council and he will be reflecting on the opportunities
The final part of the 3x3 event will then be an audience discussion with the speakers.
At the end of the session, the 3x3 tradition is to then move on to a suitable local restaurant or café/bar, in this case 'The Establishment', where the debate continues more informally over food and a drink.
Workshops
Conference Room 2. 09:00 – 15:00
09:00 – 10:00 NGC Networks: 'Creating a Gigabit City - How to obtain funding to drive digital innovation for your business'
We're in the middle of a digital revolution. The rise of new technologies and cloud services are radically transforming the way we live and work. Learn how NGC in partnership with CityFibre are revolutionising Wakefield's network infrastructure with full-fibre gigabit internet speeds and the latest government funding that is available to SME businesses.
10:00 – 11:00 Capital B Media: 'Promoting Your Business For Free'
PR consultant and former journalist Kate Betts will explain how you can promote your business for free using social media, the press and broadcast media. Kate, director of award-winning Yorkshire-based communications agency Capital B Media, will look at how you can raise your brand's profile online and offline without paying for advertising. Whether it's a news item in the local paper, a feature in the trade press or a social media campaign, PR is a great way to enhance your reputation. The workshop is suitable for anyone who wants to grow their business the smart way.
11:00 – 12:00 Wakefield College: 'The Apprenticeship Levy – The Impact on Wakefield'
The introduction of the Apprenticeship Levy across England in May 2017 changed dramatically the delivery of apprenticeship training, taking the funding out of the FE Sector and placing it firmly in the hands of employers. New standards, written by employers, are replacing old frameworks and high level apprenticeships were introduced, at Level 4 and 5, and at degree level.
Joanne Taylor, Executive Director of Apprenticeships and Commercial Training at Wakefield College, will share the impact of the changes on the College, one of the largest providers of apprenticeship training in the District, and on local businesses, large and small, working with the College to deliver the new standards.
12:00 – 13:00 Spawforths: 'An Introduction to Planning Applications, Land Enhancement, Building Design and Construction'
If you are wishing to expand, remodel or refresh your business premises or relocate to a bigger or better site, where should you begin? If you are a developer but are struggling to find land for new housing, retail or employment developments, how do you identify land and secure it before it comes to market? This workshop will be led by three experienced members of Spawforths' Wakefield based planning and architecture team who will demystify some of the legislative, design, construction and procurement challenges that can prevent some businesses from maximising their full potential.
13:00 – 13:30 Nova Wakefield District: 'Introduction to the VCSE Sector in Wakefield District'
Nova is the support agency for the voluntary, community and social enterprise (VCSE) sector in Wakefield District. Nova has over 300 VCSE organisations within its membership, which undertake a vast range of work. In this workshop, we will provide you with an introduction to the VCSE sector, explore how the sector operates, and talk about the contributions it makes to the economy in Wakefield District. We will also provide details on how other sectors can add value to, and work with, the VCSE sector.
13:30 – 14:00 SFB Group: 'Research & Development Tax Relief'
Amy Hook of SFB Group will present on Research and Development Tax Relief, which few people know about or are using. R&D relief can be a cash flow lifeline for many start-up businesses and for those already established it can help generate funds to provide for both growth and future R&D projects. Amy has extensive experience in advising companies with respect to R&D relief claims and in negotiating claims with HMRC, and have been able to secure substantial cash refunds from the government for many companies.
Amy will go through the following topics:
What is R&D for tax purposes?
The financial benefits that your company could gain
The range of costs and activities that can qualify
Recent changes to R&D Tax Relief, which now enable all loss making companies to potentially claim tax free cash from HM Revenue & Customs
How to maximise your claims meaning more cash in your business
How to make sure that you don't miss out on potential claims and extra cash for your business
16:00 – 18:00
Drinks & Canapés, sponsored by BT
The Establishment
The conference is over, you've made some excellent contacts but now it's time to relax and unwind with a nice cold beverage and some delicate bite-size canapés at this trendy 'Establishment'. Free to attend and free drinks vouchers will be made available!
---
Wakefield Business Conference is organised by the Mid Yorkshire Chamber of Commerce. Conference Partners include; Wakefield Bondolders, Wakefield First, TopicUK , Open Communications UK, DSM Productions