Description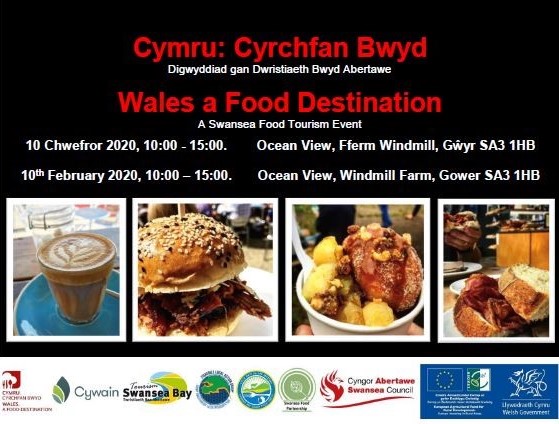 Cymru: Cyrchfan Bwyd, digwyddiad gan Dwristiaeth Bwyd Abertawe
Am y Digwyddiad

Mae Cymru: Cyrchfan Bwyd yn ddigwyddiad sy'n canolbwyntio ar fusnesau bwyd gwledig a threfol â'r bwriad o hyrwyddo bwydydd lleol a Chymreig i bobl sy'n ymweld â Sir Abertawe. Bydd yn creu llwyfan gweledol i fwyd, sy'n ategu gwerth at sector lletygarwch a thwristiaeth Abertawe.

Bwriad y digwyddiad yw ysbrydoli, annog ac atgyfnerthu busnesau twristiaeth a lletygarwch wrth iddynt dynnu sylw at gynnyrch lleol ar eu bwydlenni er mwyn hyrwyddo rhinweddau unigryw ein cymunedau cyfagos, arddangos ein treftadaeth bwyd a hyrwyddo ein harwyr bwyd lleol.

Os ydych chi'n gweithio yn y sector lletygarwch neu fwyd yn Abertawe a hoffech wella'ch dewis o fwydydd lleol ac ehangu'ch busnes, cofrestrwch nawr i gael lle am ddim trwy ddefnyddio'r ddolen. https://www.eventbrite.co.uk/e/wales-a-food-destination-a-swansea-food-tourism-event-tickets-89032419363

Y Digwyddiad:

10:00 - 10:20 Cyrraedd a chael te/coffi, cwrdd â'r prynwr (arddangosiad cynhyrchydd)

10:20 Cyflwyniad Cymru Cyrchfan Bwyd

10:30 Theori bwyd gyda Nerys Howel

11:00 Arddangosiad bwyd gyda Nerys Howel

Cinio a the/coffi - rhwydweithio'n anffurfiol, cwrdd â'r prynwr (arddangosiad cynhyrchydd)

13:00-14:00 Sesiwn holi ac ateb

14:00-15:00 Ymgynghoriad (Partneriaeth Bwyd Abertawe) a chyfnewid rhwydwaith, cwrdd â'r prynwr (arddangosiad cynhyrchydd)

15:00 Diwedd
Cynlluniwyd y digwyddiad hwn mewn partneriaeth â Cymru.Cyrchfan Bwyd, LANTRA, Nerys Howel Consultancy, Partneriaeth Bwyd Abertawe, Twristiaeth Bae Abertawe, Cylch Bwyd Abertawe, Cywain, Cyngor Abertawe, Grŵp Gweithredu Lleol Pysgodfeydd Bae Abertawe a Phartneriaeth Datblygu Gwledig Abertawe.

Dyddiad ac Amser: 10 Chwefror 2020, 10:00 - 15:00
Lleoliad: Ocean View, Fferm Windmill, Gŵyr SA3 1HB

Am ragor o wybodaeth, e-bostiwch victoria.thomson@abertawe.gov.uk info@tourismswanseabay.co.uk

Cofion cynnes,

Vicki Thomson
Swyddog Cyllid Allanol
Y Tîm Datblygu Economaidd a Chyllid Allanol
Cygnor Abertawe

Dean Jeffery
Twristiaeth Bae Abertawe

Sylwer y prosesir data a gesglir yn unol â pholisi GDPR Dinas a Sir Abertawe. Defnyddir eich gwybodaeth at ddibenion cyfathrebu ar gyfer y digwyddiad hwn yn unig drwy Dîm Datblygu Gwledig Cyngor Abertawe a Thwristiaeth Bae Abertawe. Mae gennych yr hawl i ddewis peidio â bod yn rhan o'r digwyddiad ar unrhyw adeg.

---------------------------------------------------------------
Wales a Food Destination
A Swansea Food Tourism event
About the Event
Wales a Food Destination event is aimed at rural and urban tourism businesses with the view of promoting local and Welsh foods to people visiting the County of Swansea and in turn will create a visible food platform, which adds value to Swansea's hospitality and tourism sector.
The event has been designed to inspire, encourage and empower tourism and hospitality businesses to highlight local produce on their menu to promote the unique qualities of our surrounding communities, showcase our food heritage and champion our local food heroes.
If you are in the hospitality or tourism sector in Swansea and would like to increase your local food offer and grow your business, register now for a free place using the link. https://www.eventbrite.co.uk/e/wales-a-food-destination-a-swansea-food-tourism-event-tickets-89032419363
The Event:
10 – 10:20 am Arrival and coffee/tea, meet the buyer (producer showcase)

10:20 Introduction to Wales a Food Destination

10:30am Food theory with Nerys Howel

11am Food demonstration with Nerys Howel

Lunch and Tea/coffee– Informal networking, meet the buyer (producer showcase)

1-2pm Q and A panel session

2-3pm Consultation (Swansea Food Partnership) and network exchange, meet the buyer (producer showcase)

3pm Close
This event has been designed in partnership with Wales a Food Destination LANTRA, Howel Food Consultancy, Swansea Food Partnership, Tourism Swansea Bay, Swansea Food Circle, Cywain, Swansea Council, Swansea Bay Fisheries Local Action Group and Swansea Rural Development Partnership
Date and Time: 10th February 2020, 10:00 – 15:00 GMT
Venue: Ocean View - Windmill farm Gower SA3 1HB
For further information, please contact victoria.thomson@swansea.gov.uk info@tourismswanseabay.co.uk
Kind regards
Vicki Thomson
External Funding Officer
Economic Development and External Funding Team
Swansea Council

Dean Jeffery
Tourism Swansea Bay