Wales Africa Health Conference 2017 / Cynhadledd Iechyd Cymru Affrica 2017

Tuesday, 18 July 2017 from 08:45 to 17:00 (BST)
Event Details


Thanks for expressing interest, this event is now SOLD OUT, due to facilities on the day we are not able to offer any more tickets. If you do not have a ticket, there is a possibility you will be refused entry on the day.
CYMRAEG ISOD
This year the annual Wales Africa Health Conference will be held at the SWALEC Stadium in Cardiff. We will be hearing from Cabinet Secretary for Health, Well-being and Sport, Vaughan Gething and showcasing some of the health projects we have been supporting.
The event is in partnership with Wales for Africa Health Links Network and the International Health Coordination Centre.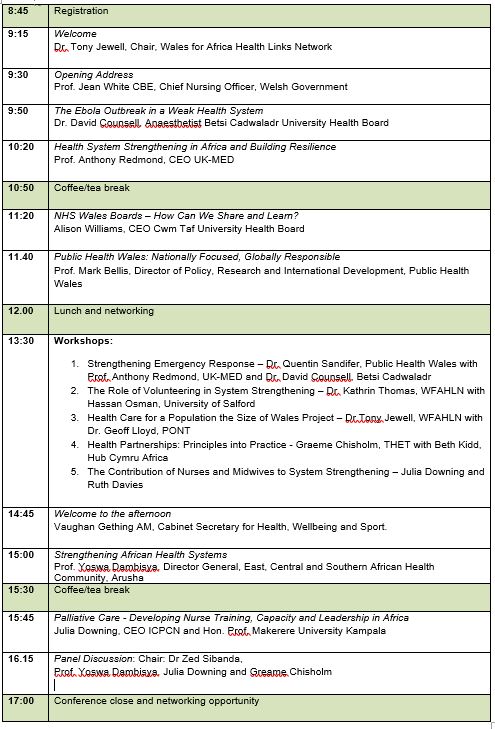 Food and refreshments will be provided
---
Diolch am fynegi diddordeb, mae'r digwyddiad hwn yn awr wedi GWERTHU ALLAN, o ganlyniad i gyfleusterau ar y diwrnod nid ydym yn gallu cynnig rhagor o docynnau. Os nad oes gennych docyn, mae posibilrwydd ni byddwch yn cael mynediad ar y diwrnod.
Eleni bydd y Cynhadledd Iechyd Cymru Affrica yn Stadiwm y SWALEC yng Nghaerdydd. Byddwn yn clywed gan y Ysgrifennydd y Cabinet dros Iechyd, Lles a Chwaraeon, Vaughan Gething ac arddangos rhai o'r prosiectau iechyd rydym wedi bod yn cefnogi.
Mae'r digwyddiad mewn partneriaeth â Cysylltiadau Cymru o Blaid Affrica a'r Canolfan Ryngwladol Cydlynu Iechyd.
8:45

Cofrestru                                                         

9:15

             Croeso

Dr. Tony Jewell, Cadeirydd, Rhwydwaith Cysylltiadau Iechyd Cymru o Blaid Affrica

           

9:30

Anerchiad Agoriadol

Yr Athro Jean White, Prif Swyddog Nyrsio, Llywodraeth Cymru

 

9:50

Achosion Ebola mewn System Iechyd gwan

Dr David Counsel, Anesthetydd Bwrdd Iechyd Prifysgol Betsi Cadwaladr

 

10:20  

Cryfhau'r System Iechyd yn Affrica ac Adeiladu Cadernid

Yr Athro Anthony Redmond, Prif Swyddog Gweithredol y DU-MED

 

10.50

Coffi/Te -  Egwyl

 

11:20

Byrddau GIG Cymru - Sut y Gallwn Rhannu a Dysgu?
Alison Williams, Prif Swyddog Gweithredol Bwrdd Iechyd Prifysgol Cwm Taf

 

11.40

Iechyd Cyhoeddus Cymru: Canolbwyntio yn genedlaethol, Cyfrifol yn fyd-eang
Yr Athro Mark Bellis, Chyfarwyddwr Polisi, Ymchwil a Datblygu Rhyngwladol, Iechyd Cyhoeddus Cymru

12.00

Cinio a Rhwydweithio

13:30

Gweithdai: 

Cryfhau Ymateb Brys - Dr. Quentin Sandifer, Iechyd Cyhoeddus Cymru gyda'r Athro Anthony Redmond, UK-MED a Dr. David Counsel, Betsi Cadwaladr

Rôl Gwirfoddoli yn Cryfhau y System - Dr. Kathrin Thomas, Cysylltiadau Iechyd Cymru o Blaid Affrica gyda Hassan Osman, Prifysgol Salford

Prosiect Gofal Iechyd ar gyfer Boblogaeth y Maint Cymru - Dr.Tony Jewell, Cysylltiadau Iechyd Cymru o Blaid Affrica gyda Dr Geoff Lloyd, PONT

Partneriaethau Iechyd: O fudd i bawb - Graeme Chisholm, THET gyda Beth Kidd, HCA

Cyfraniad y Nyrsys a Bydwragedd i Cryfhau System - Julia Downing a Ruth Davies




14:45

Croeso i'r Prynhawn

Vaughan Gething AC, Ysgrifennydd y Cabinet dros Iechyd, Lles a Chwaraeon.

 

15:00

Cryfhau Systemau Iechyd Affricanaidd
Yr Athro Yoswa Dambisya, Cyfarwyddwr Cyffredinol, Iechyd Cymuned Dwyrain, Canol a De Affrica, Arusha

 

15:30

Coffi/Te -  Egwyl

15:45

Gofal Lliniarol - Datblygu Hyfforddiant Nyrsio, Gallu ac Arweinyddiaeth yn Affrica
Julia Downing, Prif Swyddog Gweithredol ICPCN a Anrh. Athro Brifysgol Makerere Kampala

 

16.15

 

Trafodaeth Panel: Yr Athro Dambisya a Julia Downing

 

17:00

 

Cau y gynhadledd a chyfle rhwydweithio

 
Darperir bwyd a lluniaeth 
Do you have questions about Wales Africa Health Conference 2017 / Cynhadledd Iechyd Cymru Affrica 2017?
Contact Hub Cymru Africa
When & Where

SWALEC Stadium

CF11 9XR Cardiff
United Kingdom


Tuesday, 18 July 2017 from 08:45 to 17:00 (BST)
Add to my calendar