Description
Come join us this autumn on our 2nd walk as part of our 4 week walking programme. This is designed for anyone who hasn't walked in a while or for anyone who wants to exercise in good company. There will be a led walk every week starting at a distance of 1 mile on the 1st week and building up to 4 miles by the 4th week. Walks will go at a steady pace with on-one left behind. To motivate you there will be a written support guide and record card handed out. The 2nd walk will be held on Tuesday the 14th November. We will leave form Kings Park at 1.30 pm. From the main enterance at the corner of Kings Park Road and Victoria Place.There will be a hot drink served after the walk.
We are aiming to help you to meet the UK Chief Medical Officers recommended guidelines for moderate exercise of 150 mins per week by the end of the 4 week programme. Research has shown that the benefits of this amount of exercise are enormous reducing the risk of Type 11 Diabetes, Cancer, Cardiovascular Disease to name but a few.
Below is a copy of the walking programme to help you step by step.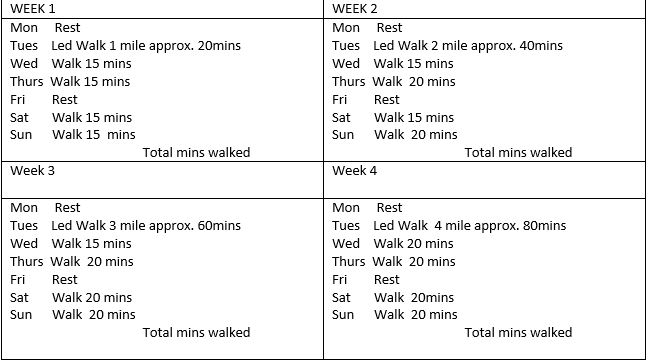 We have built in some walking time for you to complete on your own. This could be completed when you are walking the dog, going to the shops, heading to the post office or to walk for a bus or train. Every little journey counts.
There will be incentives handed out along the way and at the end of the 4 week period there will be an award for the person who has completed the full journey, our walking champion or champions.
So why don't you come along; get fit gently, enjoy a chat and hopefully some nice autumnal weather.