Location
John Henry Brookes Building, outside the reception
Gipsy Lane
Headington
OX3 0BP
United Kingdom
A 5km walk to stand in solidarity with the millions of people who walk over 5km a day to access clean water.
About this event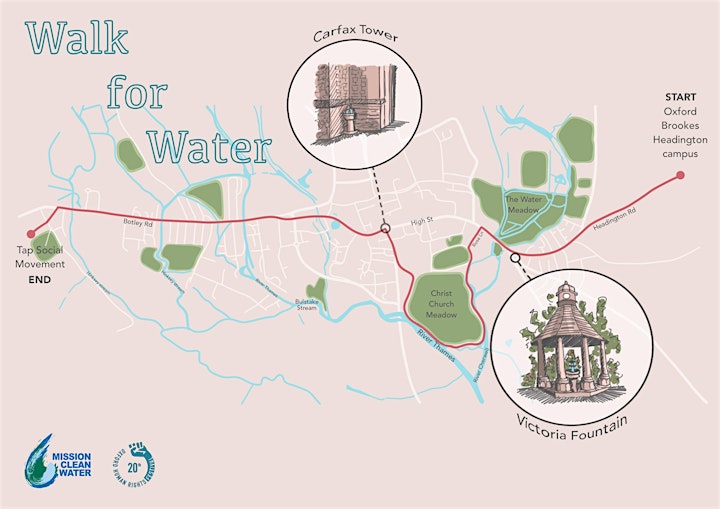 James Leitner, founder of MissionCleanWater shares facts along this 5km walk which begins at Oxford Brookes University in Headington and ends at Tap Social in Botley.
The average distance that these women in Africa and Asia walk to collect water is six kilometers along treacherous paths, and the weight they carry on their heads is about 20kgs. Depending on the size of the family and the household's needs, women may make this trip multiple times on the same day. It is common for this journey to take more than 15 hrs. a week in some areas. This responsibility often keeps them from attending school or working at a job.
Access to clean water and sanitation is a basic human right. Unfortunately, nearly a billion people worldwide don't have access to clean water close to home, negatively impacting food security, livelihood choices and educational opportunities for poor families.
Disease from unsafe water and lack of basic sanitation kills more people each year than all forms of violence, including war, with millions of children falling ill from water-related illnesses. Women and girls are disproportionately impacted as they are responsible for water collection in 8/10 households.
This event has been planned and led by Post Graduates from Oxford Brookes University, Claudia Vesga, Kirra Mccollum and Tanya Haldipur.
Caution: Please be mindful that this is a 5km distance through the city centre of Oxford which includes pathways in Christ Church Meadow and potentially uneven pavements. This walk will take approximately 2 - 2.5 hours. Please wear flat comfortable shoes/trainers are recommended. This is a rain or shine event. There will be stops along the way. You take responsibility for your participation. If you are under 18yrs you must attend with a parent or guardian. This event has limited capacity. The event maybe cancelled due to Covid restrictions.
James Leitner (picture below) is the founder and Executive Director of MissionCleanWater, a US-based nonprofit, working to bring clean drinking water and sanitation to underserved communities. MissionCleanWater focuses on the fact that 60% of all clean water projects fail within their first year of operation.
Through a community grassroots approach, they hope to show how longer sustainability for water and sanitation hygiene can be achieved. To date, their work has provided clean water to 12,500 people in Uganda and are beginning their clean water efforts in the United States.
Covid-19 Guidance: Masks are advised. Please do a lateral flow test on the day and if positive do not come to the event. If you feel unwell on the day or are sick do not come. We will have masks and sanitizer gel at the venue. Social distancing will apply. Thank you for your cooperation.
Your data: When registering with Eventbrite to book tickets please read Eventbrite's T&Cs and privacy policy carefully about whether or not to subscribe to any additional Eventbrite marketing. Please be aware that they are an external company and their privacy policy will be different to Oxford Brookes University. .