Location
CF10 5HB
St Mary's Church
North Church street
Cardiff
CF10 5HB
United Kingdom
A gentle walk through Faithful Butetown and Cardiff Bay as we uncover some of the religious treasures of the past and present.
About this event
These days, many people simply pass along Bute Street, their eyes set on the sea as they seek out the leisure and pleasure of Cardiff Bay. Butetown has experienced many changes since it pre-industrial moorland days on the edge of a growing town. It witnessed the explosion in industry which created a vibrant multicultural community. Since then, faith and religion has played an important part in the growth of Cardiff. This walk will help uncover the riches of our multicultural community and the part that religion has played and continues to play in the life of Cardiff.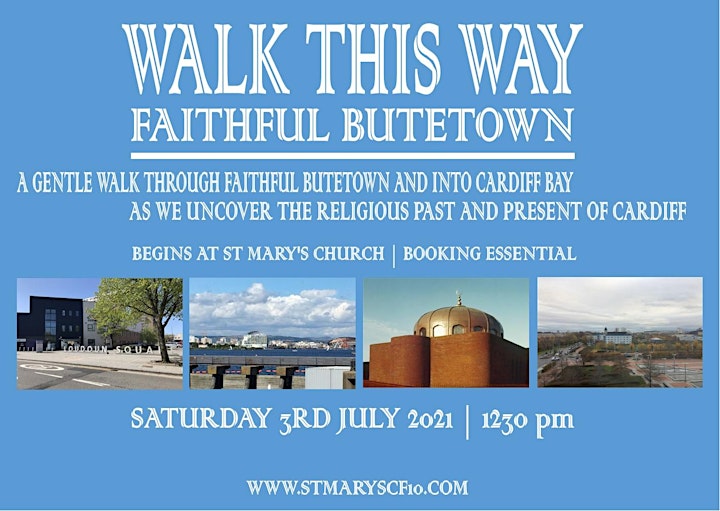 We'll be using two of a series of walks available at www.stmaryscf10.com/visit to guide us through Butetown and into the Bay. Numbers are limited (and guided by COVID restrictions in place at the time).
At the website you'll find more details about the walk.
We gather at St Mary's Church at the top of Bute Street to set off at 12.30pm. (St Mary's Church will be open if you'd like to go in (Mass, which begins at 11.30am, will be finished by 12 noon so there is plenty of time to look around!).
When we arrive in the Bay, you can go your own way or stay for a coffee!