Description
"There is no way to happiness - happiness is the way".
- Thich Nhat Hanh
Come on a contemplative journey following in the steps of Zen master Thich Nhat Hanh, and experiencing a rare insight into life within a monastic community.
The sun rises. Everything is calm and still. Life is beautifully serene as Benedict Cumberbatch's composed, meditative voice reads extracts from Thich Nhat Hanh's early journals. Walk With Me is a fascinating and immersive exploration of what it means to devote one's life to mindfulness.
With unprecedented access to the famous secluded monastery of Plum Village in the South West of France, Walk With Me captures the daily routine and rituals of monks and nuns on a quest to develop a deep sense of presence.
Walk With Me an insightful rumination on the pursuit of happiness, living in the present and our attachment to material things, a welcome remedy to the stresses of city life and a world in turmoil.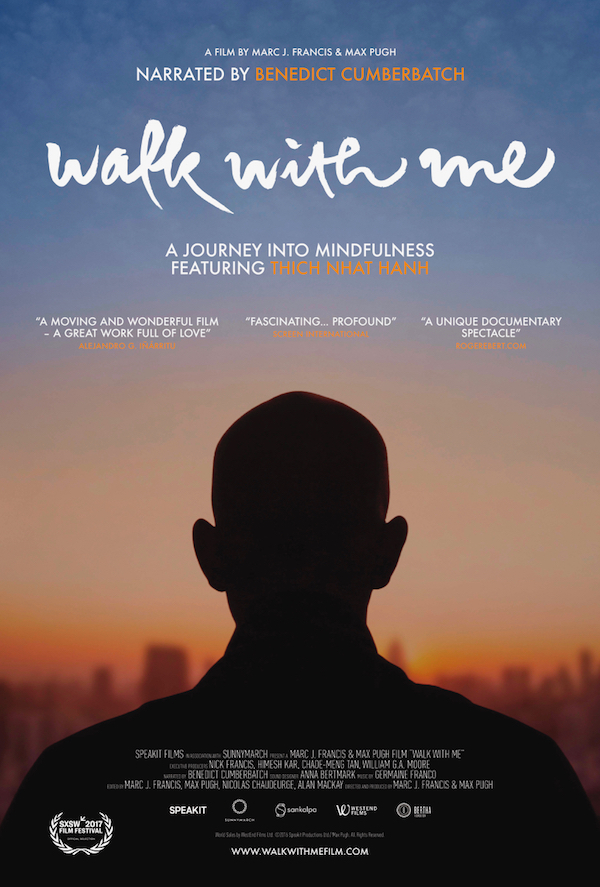 Reviews

"It is a relief, and a palate cleanser, to watch a documentary concerned with quietness, stillness and contemplation". - The Guardian

"Becomes a moving examination of mortality and life choices". - Village Voice

"Walk with Me makes for a unique documentary spectacle, especially as it explores the power of silence and clarity". - RogerEbert.com
No ads or trailers!
Please note that there are no ads or trailer shown at Films For Change events. The film will start exactly at the advertised event start time.

Investment:
A portion of your ticket purchase supports the film maker! Thank you for supporting independent film making, and helping educate and build awareness :-)
Adults = £12 + £1.52 eventbrite processing fee
Students/Pensioners/Concession = £9 + £1.30 eventbrite processing fee
Refund policy:
* Please note that tickets are NOT refundable if you change your mind or are unable to make it on the day. Your tickets cannot be changed to another date. They may however be given to a friend to attend.

Getting there:
Please consider using sustainable transport (walk, train, bus, tram, bicycle) to travel to the venue.
Train/bus: Catch the i4, 34, 21, Y5 from Cathedral (Stop Y4) to Savoy Cinema (Stop LE09), 5-7min.
Parking: There is unrestricted parking on Lenton Boulevard and the road opposite the cinema. Outside Simpsons Halls on Park Street behind the cinema there are also unrestricted parking bays.
There are 3 hour parking bays at the side of the cinema next to Sainsburys and on Church Street behind the cinema. Harrowby Road also has 3 hour parking bays and Cottesmore Road has 2 hour parking bays.
All the streets around the cinema are unrestricted in the evening and on Sunday. Always check signs as parking restrictions can change.

Accessibility:
The venue and theatre are wheelchair accessible. If you require a wheelchair spot please email us via team@filmsforchange.uk
Enquiries:
team@filmsforchange.uk
Connect with us :-)
Subscribe to Films For Change E-Invites!
Follow Films For Change on facebook