Walking a dark land:a person-centred exploration of loss, with LUCY CRISPIN
Description
"I wish I had been introduced to poetry in a way like this much sooner."
"[There was a] beautiful welcoming spirit, [a] sense of safety in exploring profoundly personal subjects through poetry while also honouring the perspectives of others and having those perspectives deepen and extend my own."
"To fully inhabit and experience places of mind that we are not normally equipped to deal with, through carefully selected poetry, in the company of others, has been very special. The open and safe environment of sharing these experiences Lucy cultivated is something I will never forget."
During this informal and stimulating CPD workshop aimed at counsellors, supervisors and counselling trainees, we'll explore the power that words hold. Within a small group of up to 18 people, we'll read, share and respond to a variety of texts, from poems to picture books, and reflect on our own stories and processes as well as on those of our clients.
The workshop is suitable for all, including those with no experience of, or expertise in, poetry (reading it or writing it!). It'll be a supportive space to develop your confidence in working with image and metaphor, and you'll have the chance to work, reflect and share with your peers. It will be facilitated in a person-centred way: the emphasis will be on how the exploration of our own experience can enhance our capacity to accompany clients as they encounter losses of all kinds.
CPD Hours: 6
A CPD certificate will be provided.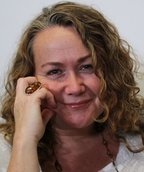 Lucy Crispin is a former Poet Laureate of South Cumbria who has worked in private practice as counsellor and supervisor since 2005. An experienced facilitator who has a PhD in Victorian Literature, Lucy works freelance for the Wordsworth Trust as well as facilitating independent groups. She has led CPD for a variety of counselling providers, including Cruse, Mind and St John's Hospice. In her practice and her own writing, Lucy has a particular interest in illness, ageing, loss, and the existential questions these things raise for us.
You can read more about her workshops, and about participants' experience of them, at www.lakescounselling.co.uk
Header image: Photo by Taylor Ann Wright on Unsplash