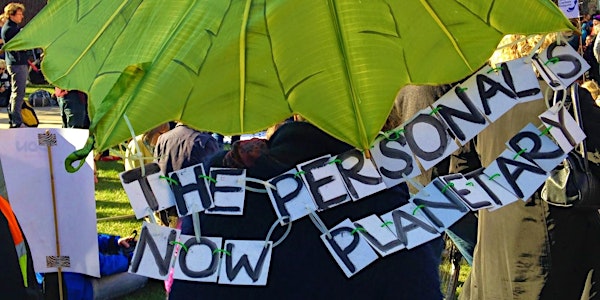 Walking Forest International Gathering ( online)
Join an online gathering for Women Earth defenders and activists to share personal accounts, make connections and inspire courage in us all.
About this event
Tell us about when you decided to act with and on behalf of the natural world
What universal laws do you live by ?
What laws do we need that we don't have to protect our land, the Earth and the living world?
A land defender or earth defender is an activist individual who works to protect the earths land. They do not consider themselves to be simply demonstrators or protestors, but are performing a sacred duty through non- violent resistance to activities which endanger the land.
( From Wikipedia)
This event will be participatory and nourishing inviting participants to share and listen to personal accounts of; activism, campaigning, community organising and the setting up of alternative structures and systems to care for and protect the Earth.
This gathering takes place in the absent footprint of 2020's cancelled climate talks, COP26. In the light of this there will be an open dialogue to explore how women from across the world might connect and work together at COP26 in November 2021 in Glasgow.
Walking Forest artists and activists Ruth Ben-Tovim, Shelley Castle, Anne-Marie Culhane, Lucy Neal will be in attendance along with Dr Achala Abeysinghe ( Lawyer tbc ), Farhana Yamin (Climate Lawyer), Jojo Mehta (Chair of Stop Ecocide Foundation and co-founder global campaign Stop Ecocide) and activists from Stop HS2 campaign
This event is for all who identify as women as well as non-binary people who are comfortable in a space that centres the experiences of women. Please book now as numbers are limited.
Walking Forest is a 10 year artwork that culminates in the planting of a new intentional woodland by 2028 to mark the connection between women, activism and trees. Awakening a collective sense of what it is to feel responsible for and to be able to respond to the natural world, Walking Forest creates an international web of women Earth activists of all ages, exploring links between local and global Earth Defenders, natural forest networks, artists and communities.
Walking Forest is a commission of Coventry 2021 City of Culture and Season for Change 2020-2021