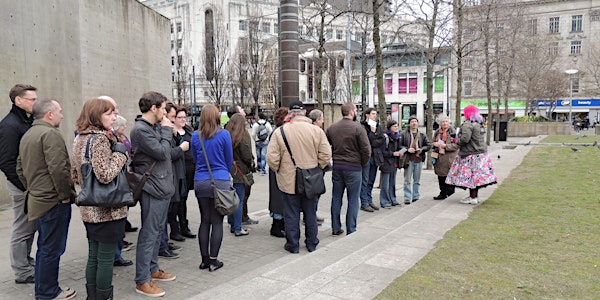 Walking on Film: Meet the filmmakers
Event Information
Location
People's History Museum
Left Bank
Manchester
M3 3ER
United Kingdom
Description
This symposium brings together three film makers who have contributed to Loitering with Intent. They will each introduce a screening of their work and there will then be a discussion with questions and comments from the audience very much appreciated.


The films to be shown are:
Alone Together, the Social Life of Benches (Esther Johnson, 2015) This film illuminates the thoughts and memories of frequent users of two public spaces in London: General Gordon Square, Woolwich and St Helier Open Space, Sutton. Revolving around the micro-space of the humble bench, the experiential capacity of film is used as an instrument to highlight themes such as the feeling of being in a space, the rhythm and flow of visitors to a place, and the importance of everyday design. The film acts like a stranger who joins you on a bench to 'watch the world go by' and break the ice by starting a conversation with their fellow bench user.

Manchester Blind Spots (Urban (Co)laboratory, 2008) Manchester Piccadilly Gardens is a public park in the centre of Manchester that was renovated in 2001, winning multiple architecture and landscape awards Based on a five day long period of research including interviews with passerbys, participant observation and performative disruptions Blind Spots was a performance lecture that combined performance and architecture, practice and theory, intervention and lecture to explore the city as a stage for every day performances which construct reality. We propose that the lecture Manchester Blind Spots is shown on the exhibition. The film investigates the architectural design of the Gardens, its history, the legislation that controls the space and how these elements sometimes contrast with and sometimes reinforce the formal and the informal actions that take place there.

Black Walks (Dominique Baron-Bonarjee, ongoing.) Dominique is an independent artist based in London and Berlin. She pursues a project of 'embodied research' undertaken through a nomadic practice, making work internationally that questions the concept of 'otherness'. Her project Black Walks is an ongoing series of urban meanders in cities: Tokyo, London, Paris and Berlin to date. She walks with a black flag, sometimes joined by members of the public, and each walk responds to questions about the city concerned and develops into a short film and other documents that remain from the action. In Berlin she wanted to consider the city's controversial gentrification by walking along the path of the wall, now fallen and to see what new walls had emerged.
Part of the Loitering with Intent events programme.
Please note event attendees must arrive at least ten minutes before the start time of the event, otherwise their booked space will be given to someone on the reserve list

Please contact the museum as soon as possible if you wish to cancel your reservation so your place can be given to another visitor

Please note all donations are non refundable
Date and time
Location
People's History Museum
Left Bank
Manchester
M3 3ER
United Kingdom