Actions and Detail Panel
Walking Tall in the Big City - Guided Tour
Mon 27 March 2017, 18:30 – 21:30 BST
Description
Guided Walk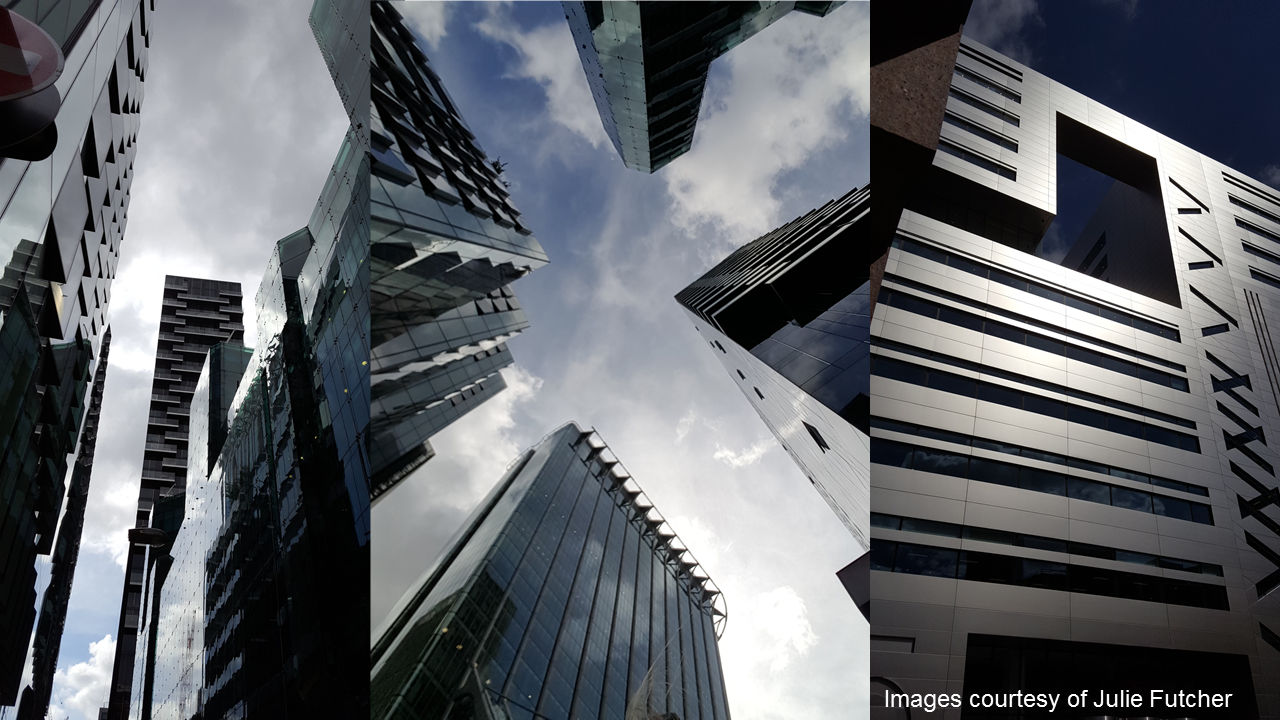 Strictly pre-booked. No unbooked admissions please.
Julie Futcher will share her personal knowledge and views on strategic planning, relationships between buildings, wind, weather and climatic effects, and the impacts on trees and vegetation. Julie will also review social and psycological aspects of the built environment in the City, seen as a whole.
About 2 hours. You can detach at any time, but you'll miss modest refreshments provided at the end by the Region.
Meeting Point
In public space, the tour will leave at the advertised time. Ticketholders will be provided with a mobile contact number.
HCNW Hosts for the Evening: TBA
Organiser: Chris Jones
Posted: 10 November 2016
CIBSE HCNW Region takes great care to avoid wasted places. So if you do book through Eventbrite and realise you can't make it, please consider others who are less fortunate - please cancel your Eventbrite ticket (My Tickets, This Event, Cancel Order).
ADMISSION: You must BRING your print of the Eventbrite ticket.
FUNDING: This event is fully-funded by CIBSE HCNW Region from its charitable grant. The Region Committee does not organise social events.
ROADS & POSSESSIONS: The tour will need to pass through a few crowded areas and you are advised to take good care of any possessions you are carrying, or travel light. Please remember to take care when crossing roads and also, to look out for others in the group.
REFRESHMENTS: Provided by CIBSE HCNW on reasonable request at our choice of public house or coffee bar, after the tour.
SUITABILITY & CLOTHING: The tour involves standing in public spaces, possibly in the rain depending upon the weather, so dress appropriately and choose footwear suitable for 120 minutes of moderate walking. You can detach from the tour at any time, but you may find it difficult to re-locate the group.
TERMS & CONDITIONS: Just to be clear, CIBSE HCNW and some premises reserve the right to refuse or withdraw admission and such a decision is final. Enjoyment of the tour is subject to pre-registration, the limitations of the premises, security management and availability of spaces. You must adhere to instructions from the premises management and technical representatives.
DEPOSITS: Please pay the fee as your deposit/verification. If you do arrive at the event and stay for at least 30 minutes, then your deposit will be refunded shortly after the event. Otherwise it will not be refunded. Please be sure to register with HCNW on arrival.
PHOTOGRAPHY & BAGGAGE: In some areas, our guide will advise, take care with the backdrops in images. Please look after your possessions at all times. CIBSE HCNW cannot be held responsible for lost or missing items.
CANCELLATION: As with any event, this one is subject to cancellation. CIBSE HCNW will not be liable for travel costs, parking charges, excess charges and fines, accommodation costs or the cost of any refreshments not provided at the event by CIBSE HCNW. In the event of cancellation, CIBSE HCNW will refund deposits.
WAITLIST: Where an event is over-subscribed, CIBSE HCNW may add individual ticket requests to a Waitlist, or release tickets to individuals on the Waitlist in a priority order based upon previous booking and attendance patterns.