Event Information
Location
Meet on high-walk outside entrance to the Museum of London
150 London Wall
London
EC2Y 5HN
United Kingdom
Refund policy
Refunds up to 1 day before event
Discover and learn the histories behind the many delightful City Gardens created from Blitz sites in the City of London.
About this event
Discover the delightful, gardens of the City, created from bomb sites of the Second World War. This walk spans the length of the City, revealing the history of past industrial buildings where stood former Sir Christopher Wren churches, livery halls, Roman ruins and the site of a Roman bath house. It ends at the beautiful garden of St Dunstan in the East.
In line with current social distancing requirements we have adopted certain mitigation practices regarding our walking tours. Before booking on a walking tour it is important that you read the full details of our COVID-19 mitigation practices on the link below, so you know what to expect and what we expect of you:
http://footprintsoflondon.com/2020/08/important-customer-guidance-for-attending-walking-tours/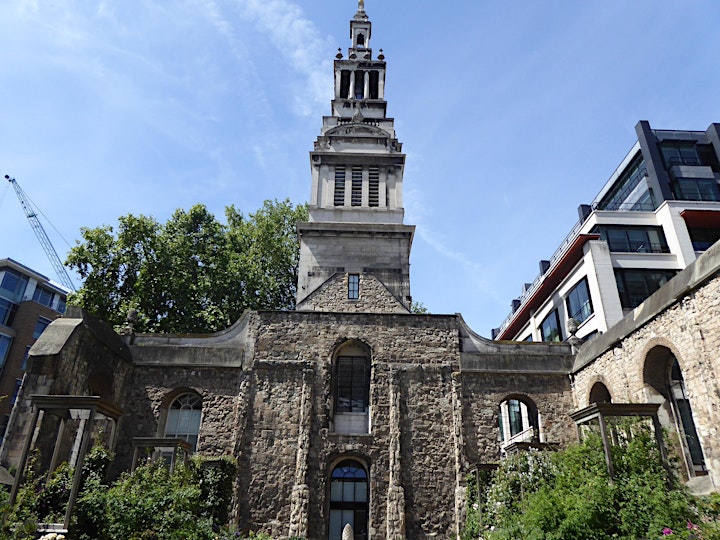 This was a 2 hour walk through the City of London taking in the hidden gardens that were created on the bomb sites of the 1940 Blitz. It was led by Marilyn Greene who not only knew the individual human stories of each garden, but was also a mine of information on everything else we past along the way. Very happy to answer questions and able to provide the link between the past buildings and the modern 21st century buildings that were towering in front of us. Many of these gardens really were hidden and were a delight to discover at the bottom of a short lane or just round a corner. And without Marilyn, we would never have known they were there - we just have to hope we can find them again! A well planned walk which meant we ended at St Dunstan's, not only the most exotic one, but also close to a great Indian restaurant.
Trip Advisor review 2019
Date and time
Location
Meet on high-walk outside entrance to the Museum of London
150 London Wall
London
EC2Y 5HN
United Kingdom
Refund policy
Refunds up to 1 day before event