See the West End's best Christmas lights whilst hearing about the history of Christmas food and traditions.
About this event
The walk starts outside a cosy Marylebone pub* then meanders through the back streets of the West End, through Mayfair and into Soho. The walk includes hidden passages, superbly decorated posh shops and lots of historical snippets along the way.
As with many of Joanna's walks and virtual tours there is a food/drink theme plus Christmas traditions and decorations throughout!
The nearest tube to the start of the walk is Bond Street, about 7 minutes' walk from the pub.
The walk starts outside the pub but you might want to visit it beforehand. No drinks are included.
The pub is on the corner of Thayer Street and Marylebone Lane. The postcode above is correct but the Google map if shown might be wrong!
The walk finishes close to Piccadilly Circus tube where there are lots of options for post walk refreshment.
*If you're bringing children and want to avoid the pubs there is a cafe opposite the pub at the start of the walk and plenty of options at the end.
All walks can be offered as private tours and both as virtual and real life tours. Please get in touch via the contact button if that is of interest.
This guided walk is also being offered as a virtual version for those who are unable to make the trip to the West End. Dates for both versions are on the link below or 'follow' me on Eventbrite to be alerted when I add new dates https://www.eventbrite.co.uk/o/joanna-moncrieff-footprints-of-london-6750753789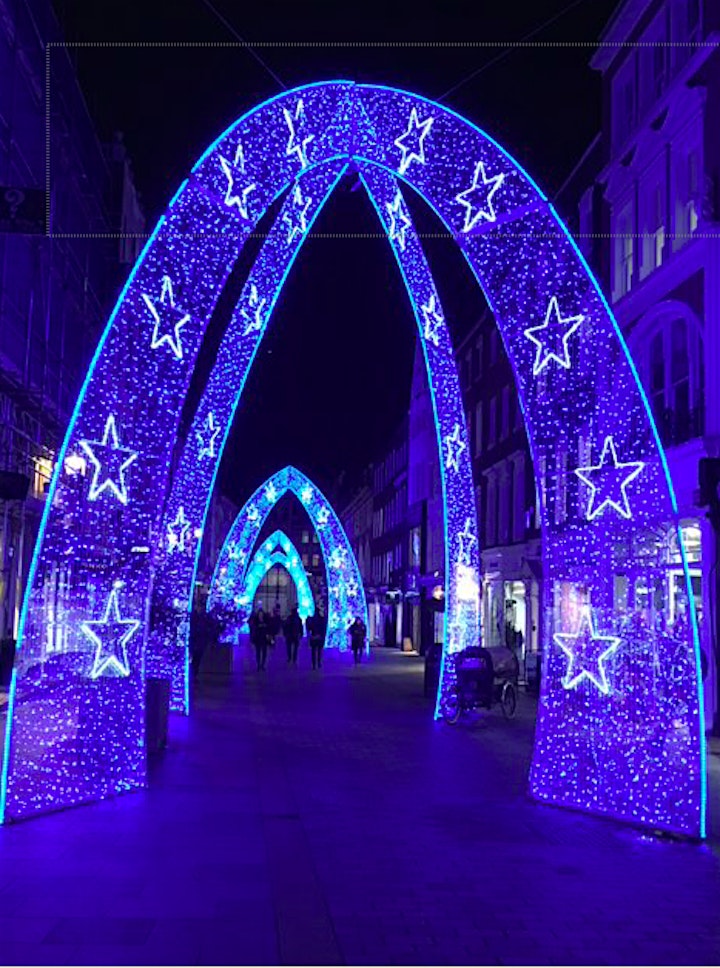 Some reviews from my previous real life Christmas walks. I should add that quite a few people have done this walk multiple times!
LondonGirl0201 (December 2019) "A very informative and fabulous walk with Joanna who has a wealth of knowledge and it was just so great to get off the beaten track ... Joanna also sends out links and other information following the walk to keep it in mind. I highly recommend."
Melanie A (December 2018) 'I did the Xmas light foodie inspired walk with Joanna Saturday evening.It was magic, fun and informative. Strongly to recommend! Thanks Joanna."
CDub131 (December 2017) "Joining Joanna on this walking tour around London was a highlight of our Christmas! Dodging through little alley ways into hidden courtyards alight with the prettiest of displays we never would have found, Joanna's relaxed, humorous and informative style all added to our experience. Thank you so much Joanna….looking forward to our next walk with you!"
Catherine C (December 2017) "What a great walk, loads of history, places you would never find without a guide. Jo is a great, knowledgable guide, it's just a fun thing to do. Great way to find pubs, shops, streets that would would not even know were there."
***********************************************************************************************
Before booking on a walking tour it is important that you read the full details of our COVID-19 mitigation practices on the link below, so you know what to expect and what we expect of you. This may update after you book so please check our website closer to the date of the walk.
http://footprintsoflondon.com/2020/08/important-customer-guidance-for-attending-walking-tours/
Organizer of Walking Tour - Foodie Themed Christmas Lights
I'm a Londoner born and bred and a London obsessive! My entertaining walks will take you off the beaten track along alleyways and lesser known streets away from the crowds to explore the 'real' London. 
I have an extensive knowledge of good pubs, bars and cafes and your walk could include a stop along the way!
Read what clients think of my walks here
IMPORTANT: Attendance on any walk can only be guaranteed through pre-booking.  If you cannot pre-book here but wish to attend, you are welcome to do so, but you must please give me prior notice using the "contact the organiser" facility below (please remember to provide a phone number) and I will confirm arrangements by return. Please only make the journey to a meeting point if you have received a confirmation from me.
Follow me on Twitter 
Like my Facebook page
Follow me on Instagram