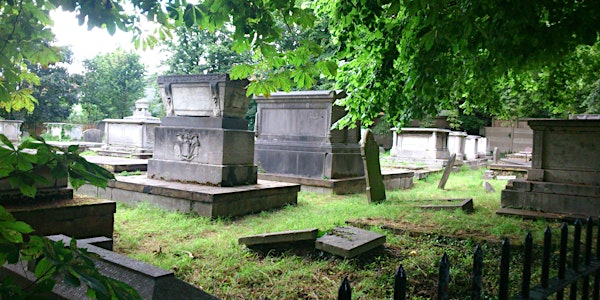 Walking Tour - From Monoux and Morris to Beer and Bacon Jam
Location
William Morris Gallery (outside front entrance)
531 Forest Road
Walthamstow
London
E17 4PP
United Kingdom
Refund policy
Refunds up to 1 day before event
Explore the ups and downs of Walthamstow's history on this guided walk with Joanna Moncrieff
About this event
There's so much more to Walthamstow than just its famous mile-long Market. Its history is not what you might think either but the grand tombs in St Mary's Churchyard offer a bit of a clue. 
We start our walk at the teenage home of William Morris which was later home to publisher Edward Lloyd who brought to us the tale of Sweeney Todd and so much more. Today Water House is home to the William Morris Gallery, Art Fund Museum of the Year 2013. 
Our walk takes in a set of mews built by a local butcher/property developer, the theatre hidden within a school and a remnant from Robert Smirke's General Post Office.
We will visit the real and original Walthamstow Village with its Ancient House, almshouses, workhouse and church and hear how Lord Mayor of London George Monoux was a great benefactor to the area. 
Our walk finishes in 21st century Walthamstow in an industrial park which is not only home to the jaw dropping God's Own Junkyard but the Wild Card Brewery and Mother's Ruin Gin Palace too.

Meeting place
The walk starts outside the front entrance to the William Morris Gallery which is about 12 minutes' walk from Walthamstow Central station. Full directions are lower down.
If you have any accessibility issues it would be better to get off the tube at Tottenham Hale and then get a 123 bus in the direction of Ilford; there is a bus stop outside the Gallery. 
This walk is fully accessible for wheelchair users.
It is adviseable not to drive to this walk as parking is very limited for non-residents. You can check days and hours of operation of the various CPZs at this website https://www.walthamforest.gov.uk/parking-roads-and-travel/parking-permits-and-suspensions/controlled-parking-zones-cpzs
Here are some more reviews of this walk:
Jean & Dave H (August 2019) "We thoroughly enjoyed your vast knowledge of the area and your fantastic way of making us feel as if we had know you a long time. Hope to join you again on one of your walks."
Debbie C (March 2019): "This was a fantastic walk with lots of interesting facts. We don't live far from Walthamstow but certainly learnt more about the area than we would have thought. Looking forward to Joanna's walk in Chingford."
Cathy B (Art Night) (February 2019) "We arranged a private tour with Joanna around Walthamstow to learn more about the area where we're currently working and will arrange an art festival this Summer. We learned loads of really interesting and unexpected facts and details within the 2 hour walk. Joanna also recommended pubs and good reads about Walthamstow, as well as sending us links to further information - a truly great walking tour!"
Some of the lovely comments received after 'leading' this as a virtual tour
"Brilliant, despite living here for 40 years I learnt a lot about the area I walk around regularly I am amazed what I have missed!!"
"Really enjoyed the talk today - incredibly interesting and engaging."
"Amazing!! as usual, great talk thank you"
"Thank you, that was fascinating and really informative."
"Thanks Joanna, didn't think I would learn much new but I sure did. Great Talk!"
"Thank you so much! Really enjoyed it and learnt a lot. Fascinating."
Upcoming dates for all Joanna's walks and virtual tours can be found on the following link. https://www.eventbrite.co.uk/o/joanna-moncrieff-footprints-of-london-6750753789
Directions from Walthamstow Central
On arriving at the top of the escalator from the tube turn immediately left - signposted for buses and Selborne Road. You will go down a short flight of stairs and then after going through the ticket barriers go up a bigger steep flight of stairs. At the top of the stairs walk straight on, through the bus station. At the end you will see a small alleyway called Rosebank Villas with a multicoloured floor. There is a betting shop and ahead you will see the side of the Empire Cinema. As you emerge out of the alleyway turn right. Then take the first left which is Hoe Street. Carry on along Hoe Street and after about 7 minutes turn left into Gaywood Road - this cuts off the corner and at the end of Gaywood Road you will be opposite the Gallery. Please do take care when walking along Hoe Street as there are a number of "Copenhagen" style crossings where there is no obvious division between the pavement and the road.
The industrial estate at the end of the walk is about 13 minutes' walk back to Walthamstow Central tube.
You may want to arrive early to have a look around the William Morris Gallery before the walk. It's free to enter plus there's a cafe there too https://www.wmgallery.org.uk/home
All walks can be offered as private tours and both as virtual and real life tours. Please get in touch via the contact button for more information.