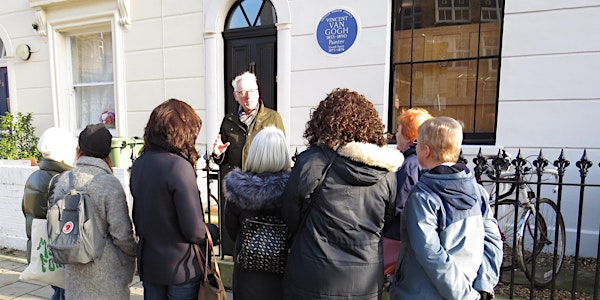 Walking Tour - In Vincent's Footsteps: from Covent Garden to Stockwell
Location
Covent Garden station
James Street
London
WC2E 9JT
United Kingdom
Vincent Van Gogh lived in Stockwell for a year from August 1873. We follow his likely walk home from work and learn a bit about 1870s London
About this event
Please read our Covid advice here https://footprintsoflondon.com/2020/08/important-customer-guidance-for-attending-walking-tours/
===================================================================
Vincent Van Gogh lived at 87 Hackford Road in Stockwell for a year between August 1873 and 1874. He fell in love with British culture and was inspired by the art he saw in the UK. He was working at Goupil and Company, an Art Dealers in Covent Garden, and he walked to and from work.
The first part of this tour follows Vincent's footsteps in a 3½ mile (5½ km) walk between his workplace and his lodgings, exploring what London would have been like in the early 1870s. The walk goes by the river Thames along what was then the newly built Victoria Embankment and crosses Westminster Bridge which Van Gogh sketched on some Goupil and Co headed note paper. Then after walking through Kennington we get to the house in Hackford Road, where we have a 45 minute exclusive interior tour (Normally £12 on its own but included in the price of this tour).
Visitors will have a chance to learn about the Hackford Road house and its most famous tenant. The tour is an opportunity to gain insight into the house's future as a site for artist residencies and to view artefacts uncovered during the recent renovation and conservation of the house, providing a glimpse into the stories hidden within its walls.
Please note the house at Hackford Road dates from the 1820s and has small rooms on three floors with a steep narrow staircase. Because of this, it may be difficult for people with mobility issues - in particular it is not possible to accommodate wheelchairs.
This is the first time we have been able to run this tour since February 2020. Here are some reviews from 2019 when this tour originally operated:
***** In Vincent's Footsteps walking tour
I thoroughly enjoyed this morning tour, walking from Vincent Van Gogh's place of work in Covent Garden to his lodgings in London. Stephen was a friendly and informative guide who took us back in time to imagine a very different city in the 1870's.The tour ended with a visit to the house in Stockwell which has been very sensitively restored and is now a contemporary art gallery which manages to retain a real sense of history. It was fascinating to hear how the house was lived in over the years.
Lucy H December 2019
***** Van Gogh's commute!
Such an enjoyable and interesting tour with a very knowledgeable and likeable guide. I'd highly recommend a walking tour with Footprints of London, especially the walk from Van Gogh's work place in Covent Garden to the house he lived in during his time in London.
Jennifer F December 2019
***** Highly recommended.
I thoroughly enjoyed retracing Vincent's steps from his workplace in Covent Garden to his Stockwell lodgings today. Stephen is a very knowledgeable guide who is wonderfully enthusiastic on the subject and helps vividly bring the era and locality to life. So much to see and understand and that's before you even get to the lodgings.
Lucy U, November 2019
Really enjoyed the recent In Vincent's Footsteps Walk from Covent Garden to Stockwell. A cold day, but Stephen kindly arranged some sunshine to make ideal conditions for an informative and interesting walk. Great opportunity at the end to visit Van Gough's (sic) lodgings and the work being done to develop the property as an arts centre.
Chris, November 2019
You can check travel options at the Transport for London Journey Planner.