Sales Have Ended
Registrations are closed
Thank you for registering for our new Casing with Cameras - Exeter Cathedral Roof Top Tour. We look forward to seeing you on 24th August at 11:00am. All the very best Meridian Raw CIC Team
Sales Have Ended
Registrations are closed
Thank you for registering for our new Casing with Cameras - Exeter Cathedral Roof Top Tour. We look forward to seeing you on 24th August at 11:00am. All the very best Meridian Raw CIC Team
This photo-walk will take you on a guided roof-top tour of Exeter Cathedral, providing opportunities to view & photograph across the city.
About this event
Walking with Cameras - Exeter Cathedral Roof Top Tour
This photo-walk will provide participants with a guided tour of Exeter Cathedrals roof and will provide opportunities to photograph the views across Exeter City from the very top of the Cathedral.
The Roof Top Tour is a fabulous opportunity to explore the architecture of the Cathedral, discover how the cathedral was build and see the architectural work through the centuries.
This Photo-walk will take place on Tuesday 24th August at 11:00am and the tour will last for around 90 minutes, but there will be opportunities to photograph other aspects of the cathedral afterwards.
IMPORTANT NOTES ABOUT THIS TOUR & VENUE
There are over 170 steps to the top of the North Tower therefore if you suffer from a heart condition or breathing difficulties or if you suffer from a fear of confined spaces, darkness or heights this tour is NOT RECOMMENDED
The stairs are steep, narrow and uneven; it is essential that suitable footwear is worn. Flat soled, shoes must be used. Persons in high heels, flip flops or bare feet will not be permitted on the tour. Sandals must be of a type securely fastened front and back. Please do not wear shoes with metal protectors on the bottom, as these are liable damage the building fabric.
Backpacks, bulky bags or luggage cannot be accommodated on the tour, we have no storage facilities within the Cathedral so please do not bring these items with you.
There are no toilets in the roof so please avail yourself of the facilities at ground level before any of our roof tours, some of which could last up to 2 hours.
Access out on to the North tower will not be permitted in adverse weather conditions. Kindly note that, for safety reasons, access outside onto the roof is not guaranteed on any tour especially during adverse weather conditions.
About the Venue
Exeter Cathedral
The founding of the cathedral at Exeter, dedicated to Saint Peter, dates from 1050, when the seat of the bishop of Devon and Cornwall was transferred from Crediton because of a fear of sea-raids. A Saxon minster already existing within the town (and dedicated to Saint Mary and Saint Peter) was used by Leofric as his seat, but services were often held out of doors, close to the site of the present cathedral building.
Like most English cathedrals, Exeter suffered during the Dissolution of the Monasteries, but not as much as it would have done had it been a monastic foundation. Further damage was done during the Civil War, when the cloisters were destroyed. Following the restoration of Charles II, a new pipe organ was built in the cathedral by John Loosemore. Charles II's sister Henrietta Anne of England was baptised here in 1644. In 1650 an independent church was meeting in the cathedral and this small church caused upset when the minister "excommunicated" Susanna Parr.[4]
During the Victorian era, some refurbishment was carried out by George Gilbert Scott. As a boy, the composer Matthew Locke was trained in the choir of Exeter Cathedral, under Edward Gibbons, the brother of Orlando Gibbons. His name can be found scribed into the stone organ screen.
During the Second World War, Exeter was one of the targets of a German air offensive against British cities of cultural and historical importance, which became known as the "Baedeker Blitz". On 4 May 1942 an early-morning air raid took place over Exeter. The cathedral sustained a direct hit by a large high-explosive bomb on the chapel of St James, completely demolishing it. The muniment room above, three bays of the aisle and two flying buttresses were also destroyed in the blast. The medieval wooden screen opposite the chapel was smashed into many pieces by the blast, but it has been reconstructed and restored. Many of the cathedral's most important artefacts, such as the ancient glass (including the great east window), the misericords, the bishop's throne, the Exeter Book, the ancient charters (of King Athelstan and Edward the Confessor) and other precious documents from the library had been removed in anticipation of such an attack. The precious effigy of Walter Branscombe had been protected by sand bags. Subsequent repairs and the clearance of the area around the western end of the building uncovered portions of earlier structures, including remains of the Roman city and of the original Norman cathedral. (Wikipedia)
Walking with Cameras
The Walking with Cameras programme will provide an alternative means of social interaction and creative community engagement. Participants will be given the opportunity to visit a location for 2, 3 or 4 hours and create their own images or take part in a photographic task. The locations will be varied and will include local urban areas, country houses, farms, nature reserves, the coastline and the countryside.
There will be 64 photography trips in total and we aim to have two per month. Each participant will have the opportunity of publishing their best images via Meridian Raw CIC's Flickr Galleries (internet-based photography albums). This will enable all the participants taking part in the photo-walks to see and comment on other participants images and help create an ongoing dialogue.
The Chasing the Light and Walking with Cameras Project
Chasing the Light and Walking with Cameras is a 3-year project in Exeter that will provide 6, 14-week participatory photography programmes and 64 photo-walks trips. In addition, there will be 2 participant curated exhibitions and each participant who takes part in participatory photography programmes will curate their own personal photo-book. This project has been funded by The National Lottery Community Fund's Reaching Communities Programme and it will enable participants to create their own photo-story, build a portfolio of images and take part in a fun and creative activity.
DISCLAIMER FOR PHOTO WALKS
Everyone who attends the photo walks does so at their own risk.
Facilitators, venue tour guides & volunteers assume no responsibility for anyone attending any event & will not be held responsible for any accident, injury or loss occurring as a result of any event or in connection with travel to such event, however caused. You indicate that you accept these conditions by attending the photo walk. (The facilitator will carry a basic first Aid kit in the event, that it may be required)
Participants are responsible for wearing suitable footwear & clothing for the environment. Participants are responsible for assessing their own risk, the safety of themselves and the suitability of any equipment used.
Meridian Raw CIC cannot take responsibility for others possessions, or any loss of said possessions, so advise that they are kept with them at all times.
Any Medical Conditions that may affect the participants during the walk should be notified to the walk leader/facilitator prior to the start of the walk.
Header & Footer Images: View from Exeter Cathedral Roof Top © Clive Chilvers/Meridian Raw CIC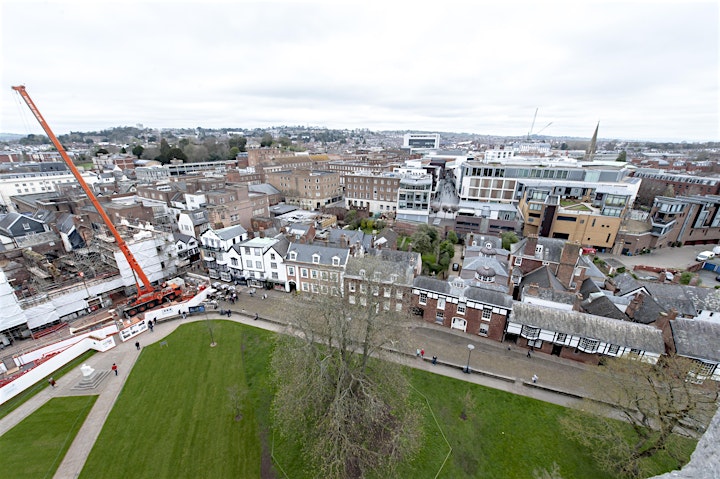 Organiser of Walking with Cameras - Exeter Cathedral Roof Top Tour
Meridian Raw CIC is a social enterprise that uses photography as an empowerment tool for marginalised communities and socially excluded individuals.  We bring about social change and advocacy through creative participatory photography workshops, participatory community project and horticultural therapy sessions.
​VISION & MISSION
Our vision is for people to have the opportunity to create space & time to make positive change in their lives
Our mission is to work collaboratively on a range of initiatives that involve & engage people in creative, participatory activities that bring communities together.
​PARTICIPATORY PHOTOGRAPHY
Through our guided photography workshops, participants will be encouraged to use digital or film cameras to take pictures that highlight personal issues in their life, provide an insight into their community, highlight issues around a given topic and communicate expressions of feelings through imagery.
Everyone has the right to freedom of opinion and expression; this right includes freedom to hold opinions without interference and to seek, receive and impart information and ideas through any media and regardless of frontiers -Article 19 of the Universal Declaration of Human Rights.