Wall Street Meets Crypto - Security Tokens, ICOs, Investors, Capital Market...
Description
When Wall Street meets Crypto

Reimagining Capital Markets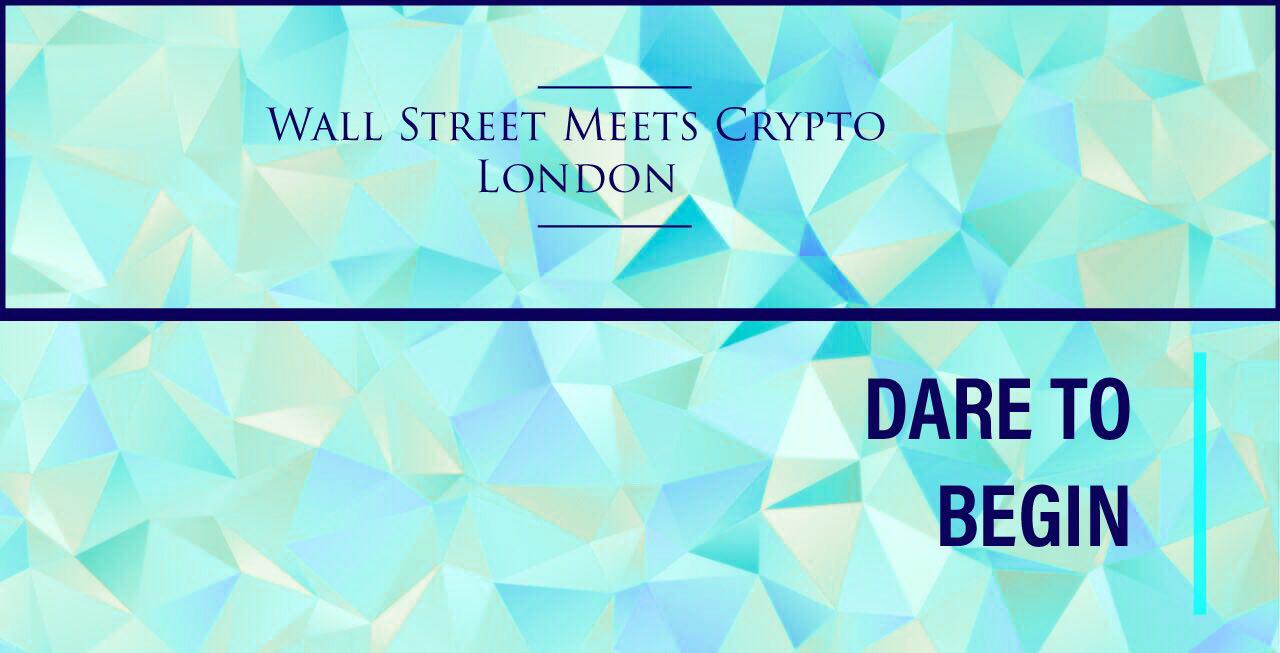 This Meetup will be all about institutional capital getting into crypto, security tokens, trends, noteworthy security token offerings, and bites from media houses.

Date : 26 July

Time : 5:30pm - 8pm

Venue : Guoman Tower Hotel
1 StKatherine's Way
near Tower Hill station
Read a primer on Security Tokens by the inventor of Security Tokens Arifa Khan
https://www.linkedin.com/pulse/brief-history-security-tokens-arifa-khan/
sign up for our full day Token Advisory workshops
http://tokenadvisory.eventbrite.co.uk
26 July London 10am to 5pm http://tokenadvisoryworkshoplondon.eventbrite.co.uk
Past Meetup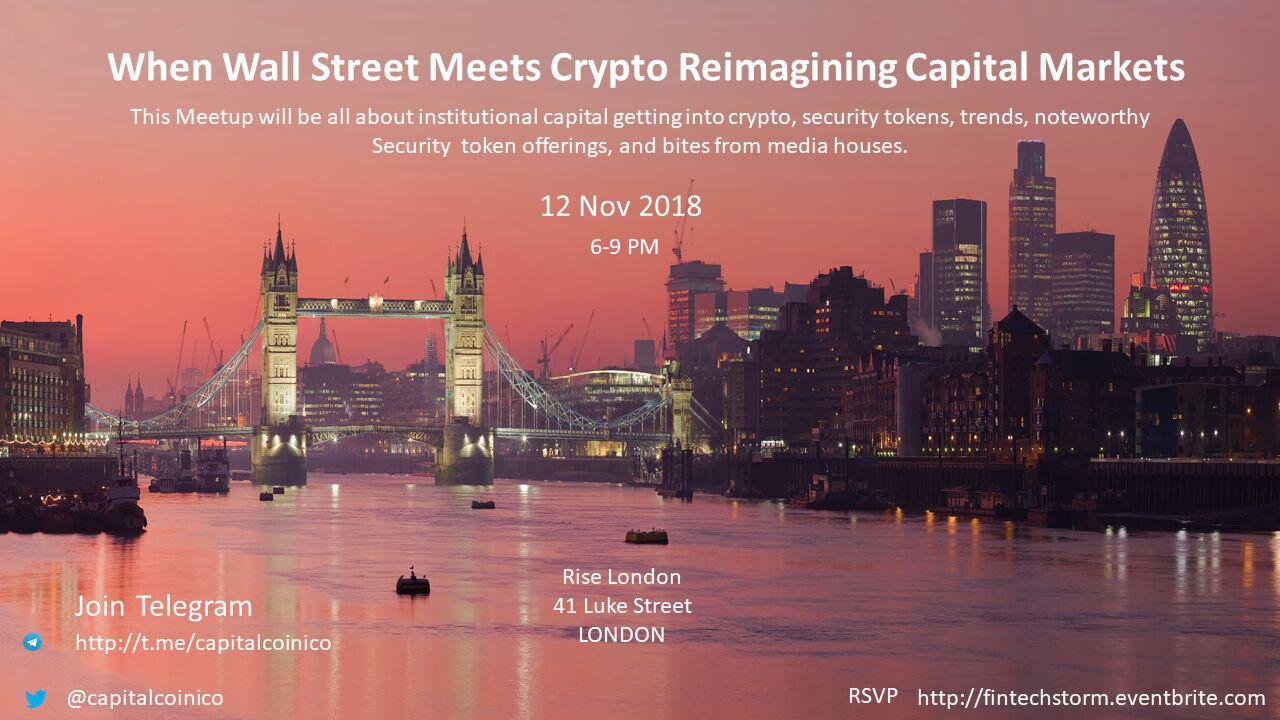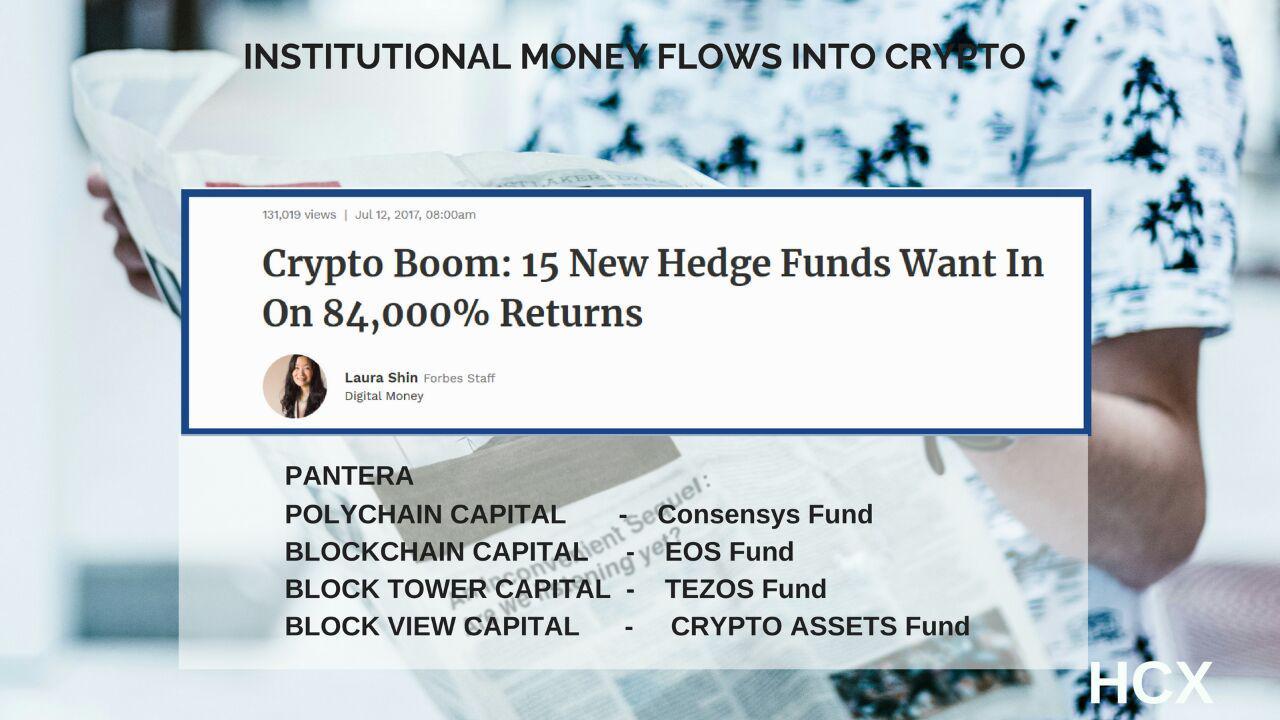 Any institutional investors interested in security tokens may get in touch.
Security tokens may pitch at this meetup. Get in touch at team@himalayalabs.com
ICOs & STOs, pitch to Indian audience and investors at Bengaluru Fintech Summit 30-31 May
Read more here: http://bengalurufintechsummit.com
https://www.einpresswire.com/article-print/482574376/bengaluru-fintech-summit-30-31may-identifies-promising-tech-startups-paving-way-for-india-s-leadership-in-digital-era
Watch Video on Benagluru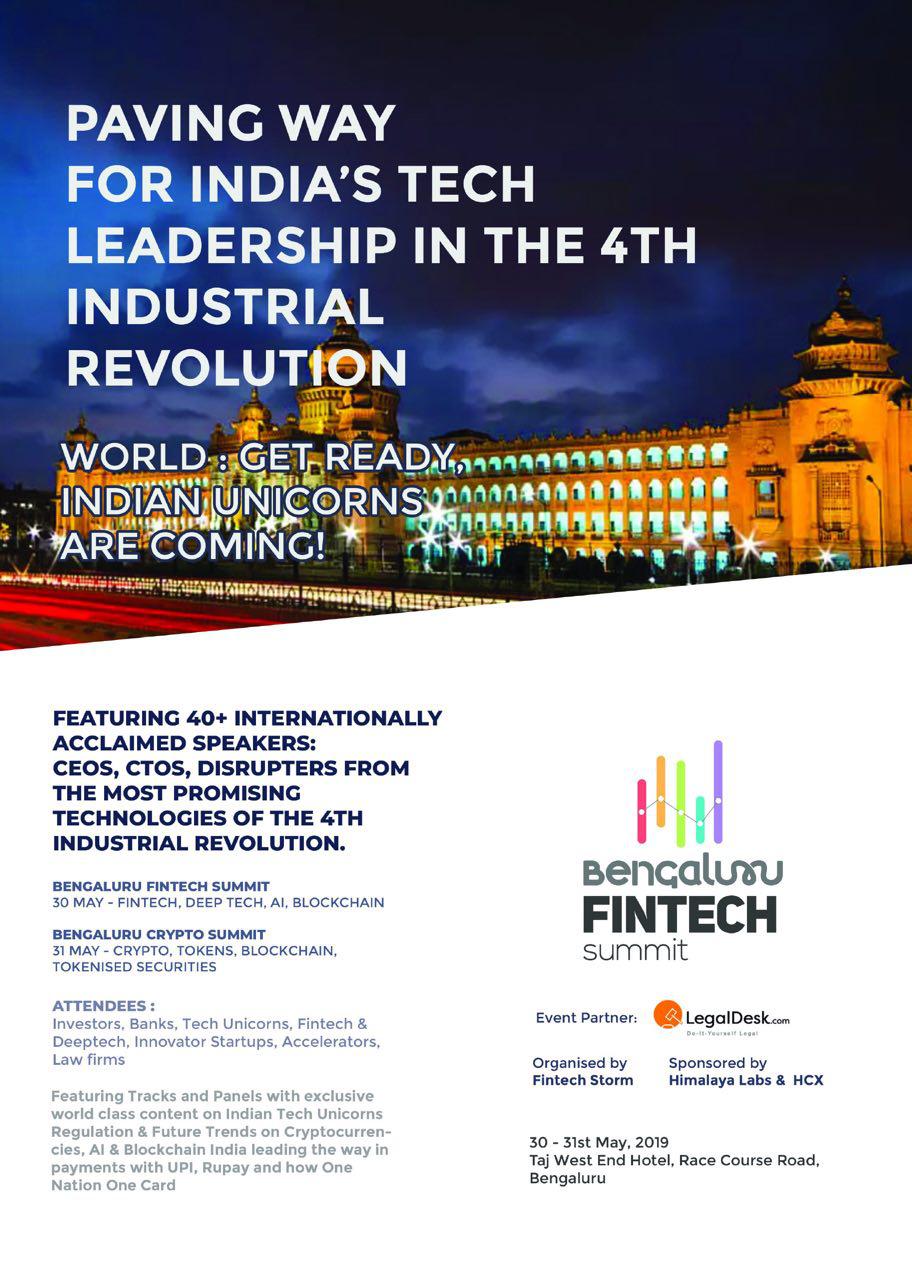 Read an article by Arifa Khan
http://financeintellect.com/home-page/home/blockchain-heres-the-fourth-industrial-revolution/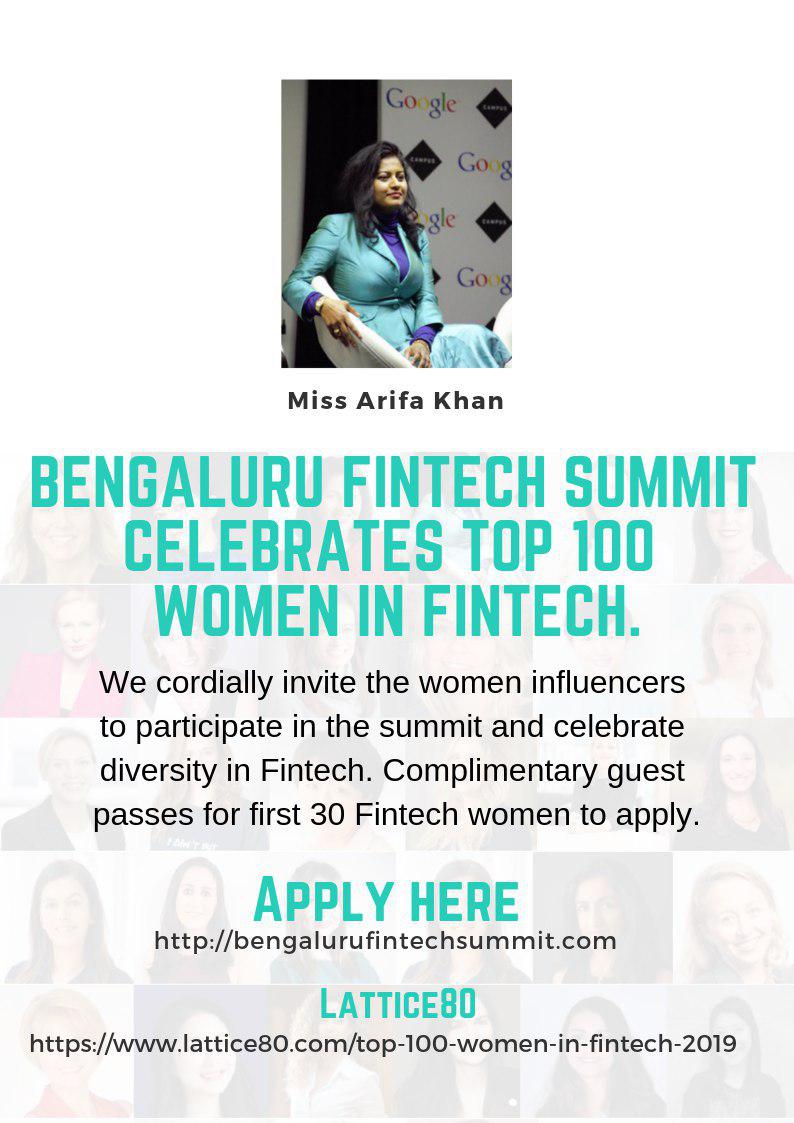 HONG KONG, September 12, 2018 / EINPresswire.com/ -- Himalaya Capital Exchange (HCX), a revolutionary blockchain project that is poised to occupy a pioneering position in the crypto economy particularly as the inventor of security tokens, is hosting meetings and presentations in Asia during 13 September to 30 September, to meet crypto enthusiasts, crypto funds, influencers, asset management and capital markets professionals across Asia.


"We are reimagining the capital markets, and creating the world's first automated investment bank and a stock exchange combined, using smart contracts, and AI to benefit entrepreneurs around the world." - Arifa Khan

RSVP to events here http://fintechstorm.eventbrite.com To get an invitation to private presentations, please email arifa@himalayalabs.com

About HCX (Himalaya Capital Exchange): A Security Token Issuance Platform
Himalaya Capital Exchange is a project aimed at creating a tokenised platform for Initial Public Offerings (IPOs) on a global, borderless, stock exchange. The Platform As a Service eco-system would offer an alternative to investment banks that are currently mandated to lead-manage IPOs, and give corporates,governments, and other entities raising public capital a less costly, and more democratic option with instant access to global investors. We are giving entrepreneurs everywhere the chance to create their own shares and bonds, and raise money within minutes from across the world frictionlessly. The platform would run on smart contract algorithms and at a later point make use of Machine Learning and AI in matching and creating a marketplace. This will be a first of its kind securities marketplace governed by token holders. Currently HCX is backed by John Puttick (Founder and Chairman of GBST), Arun Sharma (Deputy Vice- Chancellor at Queensland University), Leanne Kemp (CEO of Everledger), Mario Pazos (Pazos Law, USA) and others. Currently in private token sale before launching the public pre sale of tokens in 4Q 18.

HCX White Paper: http://wolfgangflatow.com/Himalaya
HCX Resource Library : http://bit.ly/hcxworld

Arifa Khan, CEO, is a crypto pioneer who authored the first ever Concept Paper on decentralising capital markets (June 2017) and inventor of security tokens. She later architected a platform ecosystem for capital markets participants in her revolutionary white paper published and presented to Nick Szabo on 25 May 2018. She founded
HCX in 2017 - a decentralized stock exchange that runs trustlessly on smart contracts - to bring that vision to reality and travelled the world for a full year to educate non crypto savvy people in remote corners, on the benefits of self-issuing security tokens. HCX is the first-of-its-kind disruption which automates the role of investment banks and empowers entrepreneurs around the world to issue their own security tokens. Arifa Khan is India Partner of the Ethereum Foundation and leads Ethereum's community development efforts in India & Middle East. She has an MBA from Wharton School of Business, and a B.Tech from IIT Madras. She is listed among Top 100 fintech influencers by Lattice80.
ICO aspirants join us on our epic Global Roadshow this Sep!
Get started with your STO preparation at our workshops "How to launch a successful STO in 3 months"
Join us at our exclsuive institutional investor summits in London andf Zurich this July.
While the crypto novices debate whether crypto is headed to a singularity, we the Blockchain & Smart Contract Innovators can do better - get busy building the future of crypto.
This is a not to be missed HCX CRYPTO UTOPIA Meetup with the best futurists giving their view on where and how high crypto is headed.
Whether it is the 312 crypto funds launched in the past 18 months alone with 7-10 billion USD AUM, or the coming wave of Security Tokens that is going to cross over the traditional assets to the crypto, whether it is challenges of how to integrate Artificial Intelligence onto decentralised solutions or the new decentralised governance protocols to emerge - you have not heard anything before, because remember we are building the future!
The euphoria of 2017 in ICOs was so last year. Yes, we are in a crypto bear market right now. But not for long! The best of crypto is yet to come. And you will get a glimpse of the future right here in London come October. We cant wait. Can you?
If you have authored mind numbing research in the crypto sphere or building a world changing protocol - let us hear from you.

Host – Arifa Khan
CEO of HCX , Arifa Khan is a finance and investment banking whizkid with a deep mathematics and computer science background.
She has evangelised blockchain since 2014 in Europe and India, and has been influencing the RBI and Indian government towards an intellectual approach to cryptocurrencies. She has done investment banking with Credit Suisse, UBS and has an MBA from Wharton and Engineering degree from Indian Institute of Technology.
Arifa is a well known figure in blockchain and is listed among top 100 Fintech influencers by Lattice 80. Arifa was listed in Economic Times 30 under 30. She is India Partner of Ethereum.
Here is a video on Arifa Khan to get you all excited about HCX.
https://youtu.be/oSNNzFxuzrg

Himalaya Vision - Unstoppable Capital on smart contracts
White Paper http://bit.ly/hcxworld

About Himalaya Capital Exchange - A Security Token Issuance Platform
Himalaya Capital Exchange is one of most revolutionary and ground breaking ICOs. It is a project aimed at creating an alternative infrastructure to existing stock exchanges to facilitate Initial Public Offerings (IPOs) on a global, borderless, tech platform. The Platform As a Service eco-system would perform the role of investment banks thus saving 7-10% IPO fees paid to investment banks. The platform would create an instant connection between entrepreneurs around the world and investors around the world to raise capital with the safety of shares and bonds, perfectly complying with securities laws.
The Himalaya Capital Exchange platform enables people seeking capital to create trusting investment relationships with investors from around the world.
Previous finance systems separated the innovators from the investors and charged high fees for non-transparent processes which restricted many people and countries from access to capital.
With Himalaya Capital Exchange the trust is decentralized to the community. This decentralized trust concept and radical new transparency opens up the world of finance to many more people. The costs of raising money by listing shares will be driven down.
Connect with our 10000+ global crypto community at face to face meetings across 15 countries.
Get discovered by crypto funds, HNI investors in new regions.
Interested ICOs, email us at team@himalayalabs.com
telegram http://t.me/capitalcoinico
http://fintechstorm.eventbrite.com
Roadshow Video
https://www.youtube.com/watch?v=Ni1-ri7JMVg&t=23s
https://www.einpresswire.com/article-print/461702156/himalaya-capital-exchange-ico-kicks-off-asia-roadshow-in-hong-kong-shanghai-seoul-tokyo-singapore-sep-2018