About this Event
Get close to nature and throw yourself over, under and through obstacles in the shadow of the spectacular Hadrian's Wall.
Walltown Warrior is an event for all the family, to challenge you and your fitness. Set in Northumberland National Park's Walltown Country Park, a site with spectacular views, woodlands, wildflowers, ponds and dramatic crags.
Get Active, have fun and make memories together crawling, climbing and sliding your way round the course that is all about fun and having a go. Whether you are a competitive athlete or complete beginner, you'll love our giant obstacle challenge along an open 3km route around Walltown.
All participants will receive a Walltown Warrior goody bag and free entry to the Roman Army Museum.
Looking to enter a team? Discounts are available for group bookings. Please contact events@nnpa.org.uk for further information.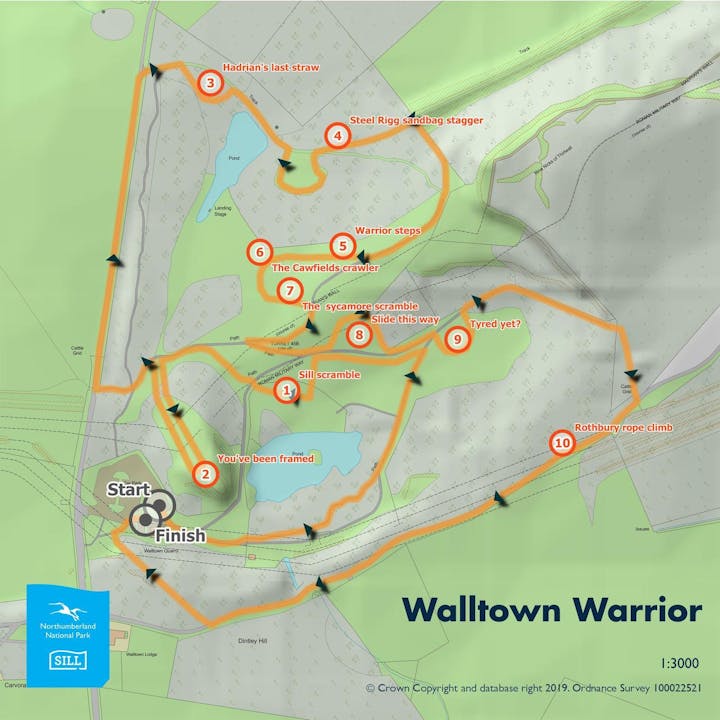 Choose you start time and please arrive 10 minutes early for registration.
Health and Safety
This event is physically active but can be completed at your own pace and ability. You should always seek advice from your GP before taking up a physical activity if you are unsure.
By purchasing a ticket you accept that you do participate entirely at your own risk and that it is your responsibility to ensure that you are fit and able to take part in the event.
Children under the age of 11 years old are the responsibility of their parents or guardians and need to be accompanied at all times before, during and after the event.
Waiver registration will take place on the race morning.
Age Range
The minimum age of entry is 6yrs. The maximum is 80 yrs!
Clothing
You will get wet and muddy as you negotiate your way through our challenging obstacles along the 3km course, so we would ask you to consider not bringing brand new, white trainers, unless you really want to!
Lightweight clothing is definitely recommended. Limited changing facilities are available if you want to bring a change of clothes.
The Venue
Walltown is a hidden gem in the south west corner of Northumberland National Park, surrounded by tall crags towering over a large hollow left behind from historic quarrying. Here you can see substantial remains of Hadrian's Wall, built on the sheer north-facing edge of a great wave of volcanic rock.
Walltown's special features include woodland, meadows, wildlife and lakes with facilities such as car parking, toilets and firm paths. Pleasant circular walks can be enjoyed with great views all around.
Getting There
By Car – From the A1, follow A69 to the B630. Take the Glenwhelt Bank/B6318 to your destination.
Free car parking is included in your Walltown Warrior ticket price.
You can also visit Walltown using the Hadrian's Wall Bus (AD122). For ticket and timetable information please visit – https://www.gonortheast.co.uk/timesfares/ad122
Included in the ticket cost is FREE entry to the Roman Arm Museum.
The Roman Army Museum is located next to Walltown Country Park and is in easy reach of one of the most complete sections of Hadrian's Wall. The museum is full of interactive and engaging displays, using stunning real 3D technology in a specially designed film theatre to enable visitors to understand what life was like for soldiers on this northern frontier.