About this Event
Ticket sales will start on Monday 4th March 2019 at 5pm GMT!
Walthamstow Pumphouse Museum & WALTHAM FOREST CELLO FEST 2019 ("London Borough of Culture meets Classical Music") invite you to the 2nd UNDERGROUND LUNCHTIME RECITAL.
Cello recital will take place on Sunday 24th Mach 2019 @ 1:15 p.m., at the Walthamstow Pumphouse Museum (Victoria Line Carriage, 10 South Access Road, Walthamstow, London, E17 8AX).
Czech Cellist and Poet Anna Brikciusová will perform Solo Cello Suites by Johann Sebastian Bach (Suite No. 2 in D minor, BWV 1008 and Suite No. 5 in C minor, BWV 1011), together with E17 premiere of "La nuit est tombée" for Solo Cello by Czech Composer and Organist Irena Kosíková.
Admission £10 (+ £1.25 booking fee). Booking is essential via Eventbrite - http://WalthamForestCelloFest.eventbrite.com .
Please book early as seats are limited!
Running time: 45-60 minutes.
- Sorry, no wheelchair access to concert - 6 steps to climb
- Free entry to museum, open 11am to 3pm
- Tea, coffee and light food available on site
- Wheelchair access to toilets and refreshments
Waltham Forest Cello Fest is celebrating the 334th anniversary of the birth of Johann Sebastian Bach, Gideon Klein Centenary - #KLEIN100, Jazz Cellist Fred Katz Centenary - #KATZ100 and London's first ever Borough of Culture in 2019!
For more details follow #WFCF19 @WalhamForestCelloFest and visit https://e17pumphouse.org.uk and http://WalthamForestCelloFest.Brikcius.com .
🌲 Waltham Forest Cello Fest 🎻
http://WalthamForestCelloFest.Brikcius.com
http://www.YouTube.com/WalthamForestCelloFest | http://Twitter.com/WFCelloFest | http://www.FaceBook.com/WalthamForestCelloFest | http://Instagram.com/WalthamForestCelloFest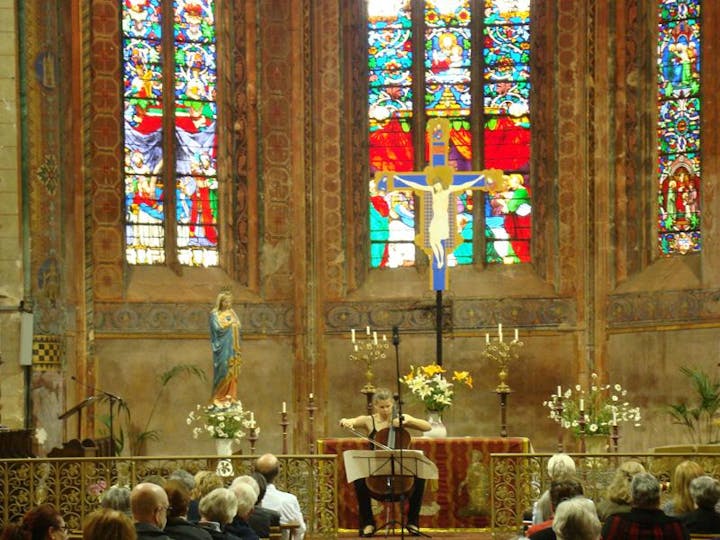 ANNA BRIKCIUSOVÁ - CELLO (CZ)
Czech cellist and poet Anna Brikciusová was born in Prague, into a family with a distinguished cultural background. She began to play the cello in early childhood. After her studies at the Prague Conservatory in the cello classes of Prof. Jaroslav Kulhan and Prof. Viktor Moučka, Anna graduated under the tutelage of Prof. Vladan Kočí. Tutorials with Prof. Stanislav Apolín. She has actively participated in many international cello master classes, the French Academy (Prof. J. Bárta), the Jihlava International Master Classes (Prof. D. Sella, Prof. E. Rattay) and the International Cello Interpretation Master classes (Prof. S. Apolín). She has performed in the Czech Republic, Algeria, Bosnia and Herzegovina, France, Germany, Poland, Sweden, Turkey and the United Kingdom.
Currently she is also writing. Anna Brikciusová was a nominee for the Dresdner Lyrikpreis, her collection of short stories "Eutanazie" was published by H+H (edited by Jan Suk), her poems were published at the Revolver Revue, Souvislosti, Protimluv. Recently, her collection of poems "Kolibří úsměv" was published by Protimluv (edited by Jan Suk). In 2018 she was awarded international residency scholarship of the Visegrad Literary Residency Programme. Her autumnal yearly show is part of the Festival Poetry Day and the Daniel Pearl World Music Days. Her poem "Podzimní" was chosen for the Best Czech Poems 2018 anthology (Host).
Anna Brikciusová plays a "Benjamin Patocka" cello made in 1913. Together with her brother František Brikcius, she is a founder member of the "Duo Brikcius". Anna is artistic advisor of BACH FESTIVAL GERS in France and artistic co-director of FESTIVAL BRIKCIUS in Prague. More information is available on websites http://Anna.Brikcius.com .