Description
WANDLE WHEELERS 2017
Get Active Wandle Valley is once again hosting Wandle Wheelers at Morden Hall Park on 9th September 2017. The event is part of Wandle September and run by the Wandle Valley Regional Park Trust.

You can use this page to book onto a led ride below or...
Join us at Morden Hall Park for a day of Cycling Fun:
FREE cycle Maintenance

family activities

cycle skills

BMX Track

FREE smoothies

and much more.
LED RIDES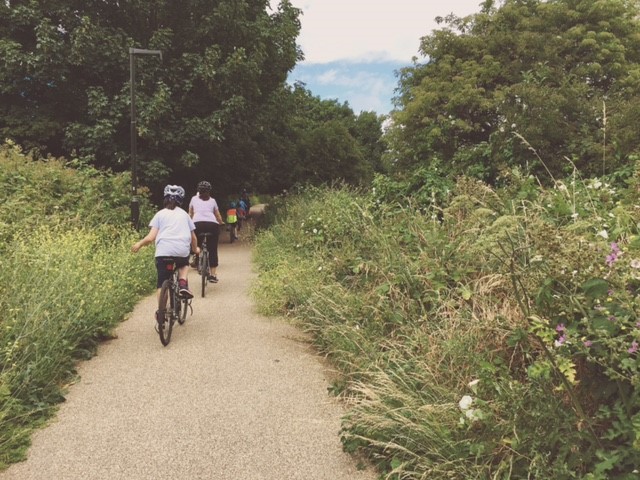 Suitable for families, inexperienced and experienced riders alike.
Experienced ride leaders will guide you along the route taking in the traffic-free gem that is the Wandle Trail. You can view part of the route on the Wandle Trail map here. Children over 8 years of age are welcome (but no dogs please!).
ALL RIDERS WILL QUALIFY FOR A FREE HOT DRINK AND A SLICE OF CAKE ON ARRIVAL AT MORDEN HALL PARK.
Ride 1: King George's Park to Morden Hall Park
Ride 2: Westcroft Leisure Centre to Morden Hall Park
For more information or to get involved:
Tweet @wandlevalley
Visit www.wandlevalleypark.co.uk/activewandle
Email getactive@wandlevalleypark.co.uk

FAQs
Can I just turn up at the event?
If you wish to attend a led ride you will need to register for a ticket on this page. Otherwise, just turn up to Morden Hall Park on the day anytime from 11!
FAQs
Do I have to do a ride?
No, feel free to come along to Morden Hall Park from 11-4.
Organiser of Wandle Wheelers 2017 - 9th September
We are working to create a new regional park in the Wandle Valley, stretching from Croydon and Sutton through Merton and Wandsworth to the Thames in the north. Our exceptional network of green spaces rich in history will help you to escape the pressures of city life, get closer to nature, and to be more active. The park will create a high-quality environment that will help bring jobs, growth and prosperity to the Wandle Valley.
The Wandle Valley Regional Park Trust has been set up to:
Provide leadership, coordination, innovation and resources to enable the longer-term vision of a high quality, multi-functional and attractive Regional Park to be achieved
To promote the park not just as a collection of green spaces, but an interconnected green infrastructure system that can benefit communities, living and working in the Wandle Valley
To promote the development of green spaces, public places and the connectivity between home and work as essential to economic growth, health and wellbeing and resilience in the environment