Location
WARE ROUND TRIPS ONLY - Departures at either 10am or 2pm - NO tickets available from HERTFORD this year due to Bircherley Green Development
Ware Town Quay
River Lee Navigation
SG12 9XB
United Kingdom
Refund policy
Refunds up to 1 day before event
Eventbrite's fee is nonrefundable.
Ware Departures 10am or 2pm - Hertford (NO TICKETS AVAILABLE) This booking facility allows you book RETURN journey trips from WARE only.
About this event
The Ware and Hertford Waterbus – Important Booking Information
PLEASE NOTE :
Bookings are for WARE RETURN journeys only. These are three hour round trips.
NO bookings can be made from HERTFORD due to the current Bircherley Green development works. We apologise for any inconvenience.
This booking facility allows you book return journey trips from Ware only.
The prices for booking tickets online may differ slightly to our walk up rates as they include a booking fee in the overall price You may purchase tickets on board the boat on the day of departure, however we cannot guarantee there will be spaces available on the day.
Unfortunately no refunds can be given once a booking has been made online.
Please ensure you have selected the correct departure point and departure time. The departure points and scheduled departure times are as follows:
  Location                     Departure Times                                 Departure Point      
  Ware                           10am & 2pm                                        Ware Town Quay
                                                                                                      (By The Priory - SG12 9XB)
  Hertford                     Not Currently Available           
The Ware and Hertford Waterbus - Frequently Asked Questions
What Time do I need to turn up?
You should turn up 15 minutes before your confirmed departure time. The Waterbus runs to a scheduled timetable and unfortunately cannot wait if you are late.
Are the boats COVID-Secure?
Yes, we have followed all the government guidance to help ensure all passengers and crew are as safe as possible.
Do I need to wear a face covering?
At your discretion. Please where possible wear a face covering when boarding and leaving the boat. You may remove your face covering when safely seated if you would like to.
What happens if I cannot make the trip?
Unfortunately there are no refunds once a booking has been made so please be sure you can make the time and day you select for your trip.
Do Passengers need to wear life jackets?
No – there is no need for passengers to wear life jackets. Passengers will remain within the profile of the boat at all times whilst the cruise is in operation.
Are their toilets on board?
Yes - there are toilets on board, one with disabled access
Is there food and drink on board?
Yes - there will be drinks and bar snacks on board – there will also be a fully licensed bar should passengers over 18 wish to have an alcoholic drink
 Can I bring my own food and drink?
Please feel free to bring along a picnic lunch. We have a fully licensed bar on board for any drink requirements.
Is there baby changing facilities?
There will be a baby changing mat available if required
What should I wear?
You should treat the cruise as an outdoor event; although the boats are fully covered the windows will be opened if the weather permits for the full enjoyment of passengers
Is there access for wheelchairs or mobility impaired passengers?
Yes – the boats do have wheelchair access. Please notify if you have any special requirements at the time of booking.
Is smoking allowed on board?
No – Smoking is not allowed
Can I get off the boat at anytime?
No – Whilst the boat is in motion passengers are not allowed to disembark the boat, except in the event of an emergency when the captain and crew will direct passengers accordingly.
Is the boat covered?
Yes the boat is fully covered, however the windows will be open if the weather permits.
How long does the cruise last?
You will be on board for approximately 3 hours.
Will the cruise still proceed in adverse weather?
Subject to the captain's discretion, which is final, the cruise may not proceed if it is deemed to be unsafe. In this unlikely event full refunds will be given.
Are there parking facilities?
Yes - there is pay and display parking in Ware.
Is there seating on board?
Yes - there will be seating available on board.
Can I bring bikes or buggies on board?
Subject to space bikes and buggies may be brought on board, however it is advised to leave these securely on shore.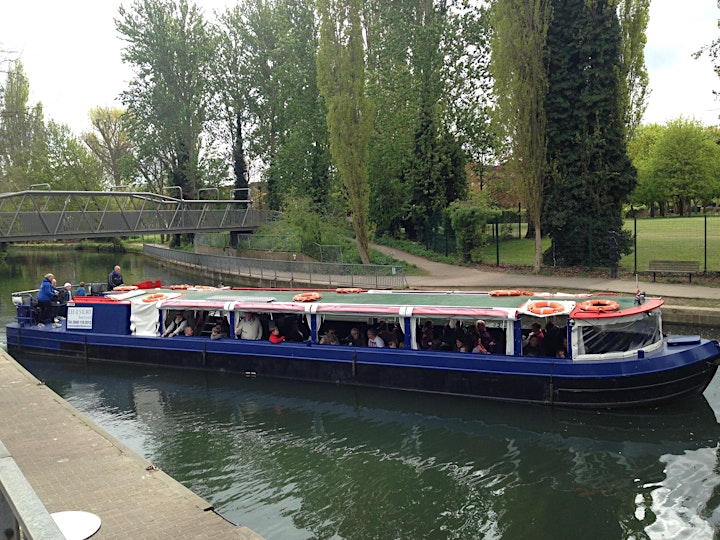 Ware Town Quay - SG12 9XB