Celebrate your love for epic battles across the 41st millennium with a weekend of incredible gaming in an even more incredible city.
About this event
Whether you're a casual player of Warhammer 40,000, a grizzled tournament veteran, or a superb hobbyist itching to show off your most recently painted models, the Warhammer US Open: Orlando is the perfect weekend of gaming to hone your skills, make new friends, and reconnect with old ones.
This 256 player, eight-round, three-day tournament has been carefully crafted to account for different levels of gaming skill and player focus - there is a path to victory no matter what type of player you are. All those looking to have a great time with amazing models and roll handfuls of dice on our beautifully-crafted war torn battlefields of the 41st millennium are welcome!
The Tech-Adepts in the Administratum have requisitioned two great ticket packages for your consideration:
Standard: Your admission to compete in the Warhammer 40,000 Grand Tournament, along with a great player swag bag that includes all sorts of great Warhammer goodies, like a pack of event-exclusive objective markers, beautifully produced mission cards, a pack of tradeable faction dice, a mystery Warhammer Faction Pin from Koyo, and even a free video game.
Premium: Everything that the Standard Ticket includes, plus a veritable horde of event swag goodness that is sure to make your competition jealous! You'll need a servitor to carry all your new gear which includes: an epic event t-shirt, two event-exclusive minis, a gorgeous dice tray, an incredible Citadel Battle Figure Case, a drink tumbler (with a drink coupon!), a free Warhammer RPG rulebook, a playable exclusive Munchkin Games 40k bookmark, and three additional - (that's four total, if you're counting) - free video games. It's literally a $500+ value!
We're excited to host you at a beautiful venue in an even more incredible city. Within walking distance of Sea World, the High Lords of the Hyatt Regency Orlando have acquiesced to the demands of our Rogue Traders and provided you a fantastic reduced rate on your hotel room for the event, which you can book through this link: https://www.hyatt.com/en-US/group-booking/MCORO/G-6C81
Last but not least, we have worked hard to create a safe and secure environment for you to get back to playing the game you love. With all new (incredible) prizes and the opportunity to win a trip to Dallas, TX for the Series Championship, this is a return to gaming like no other. Book your tickets now!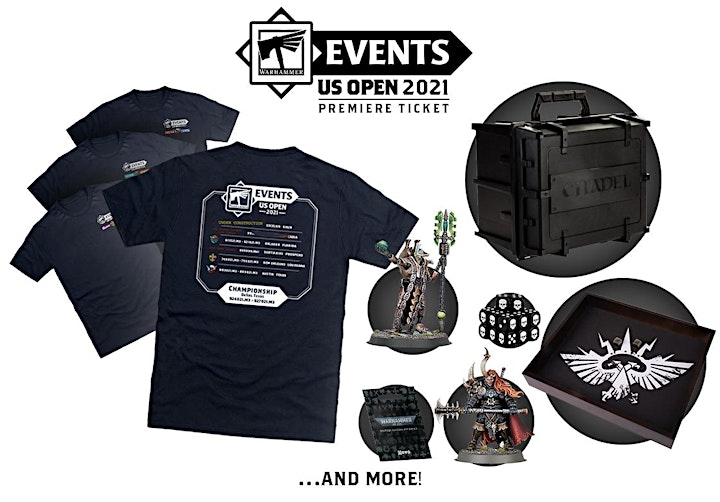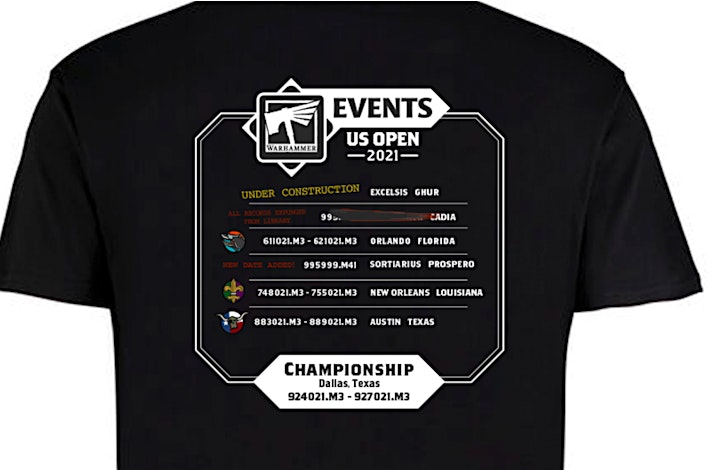 Please see terms and conditions below:
This ticket is issued by Games Workshop Limited (GW) for the Warhammer Open Orlando (Event) at
the Hyatt Regency, Orlando 9801, International Drive, Orlando, Florida, United States, 32819
(Venue), and is subject to the following terms and conditions:
• No children under the age of 18 years will be admitted to the Venue unless accompanied
and supervised by an adult aged 18 years or over. GW takes no responsibility for children
under the age of 18, responsibility shall remain with the parent or guardian of the relevant
child at all times.
• No smoking is permitted at the Venue other than in areas designated for smoking.
• No food or drink is to be brought into the Venue. The Venue will make available food and
drink for purchase.
• The unauthorised professional use of photographic equipment is prohibited at the Venue.
• Event details, timings and car park arrangements are subject to change and should be
checked prior to travelling.
• GW and the Venue both reserve the right to conduct security searches to all persons
attending the Event and their possessions.
• GW and the Venue both reserve the right to, at their sole discretion, refuse access to, or
remove from the Venue, without a refund any person who
- unreasonably refuses to be searched;
- is considered harmful, undesirable or offensive; or
- is deemed necessary to remove in the interests of security.
• The Venue provides disabled access and complies fully with Americans with Disabilities Act
(ADA).
• Animals are not permitted at the Venue with the exception of officially trained and registered
support animals.
• Official merchandise is only available inside the Venue.
• All attendees must be in possession of a valid electronic ticket at all times. Obscured or
altered tickets will become void and the holder may be refused admission.
• Neither GW nor the Venue accepts responsibility for personal property brought into the
Venue.
• Entry to the Event is at your own risk. To the extent permitted by law, GW and the Venue
exclude all liability for loss, damage or injury suffered by an attendee howsoever caused.
• Attendees must comply with all applicable local health and safety guidance (including for the
avoidance of doubt, the relevant CDC guidance) and any other measures or policies which
apply at the hotel as notified to you.
• Attendees shall be responsible for and indemnify GW fully for any loss or damage to GW's
property, the Venue or the furnishings or equipment at the Venue, caused by the act or
default of an attendee.
• GW may cancel or vary the Event (in whole or in part) due to events or circumstances
beyond GW's control. Where we cancel the Event in its entirety, you will be offered a refund.
This does not affect your statutory rights.
• Purchased tickets cannot be transferred or resold without the express permission of GW.
• Tickets can be exchanged or refunded after purchase, up to seven days prior to the event.
• If you are no longer able to attend the Event and wish to discuss this with us, please contact
whworldevents@gwplc.com
• Any complaints regarding the Event should be made to GW promptly before or during the
Event. Please raise any issues with the tournament organisers and stewards available at the
Event, or otherwise by contacting whworldevents@gwplc.com
• The wearing of costumes at the Event is permitted only on the following basis:
- Costumes must not be comprised, in whole or in part, of any real (or realistic) equipment of
any military unit in existence after 1900. This especially applies to camouflage clothing,
helmets etc.
- Costumes must not utilise, in whole or in part, any real, scaled or replica weapons.
- Costumes that indicate allegiance or affiliation with any real political or military movement
are strictly forbidden.
- Costumes must be designed with health and safety and public decency in mind.
- Costumes must be inspired by or relate to the worlds and universes created by Games
Workshop.
- Attendees may be asked to alter or remove any unacceptable costume and/or accessories
© Copyright Games Workshop Limited 2021. Warhammer World, GW, Games Workshop,
Black Library, Forge World, Golden Demon, The Horus Heresy, Warhammer, Warhammer
Age of Sigmar, Space Marine, 40K, Warhammer 40,000, the 'Aquila' Double-headed Eagle
logo, and all associated logos, illustrations, images, names, creatures, races, vehicles,
locations, weapons, characters, and the distinctive likenesses thereof, are either ® or TM,
and/or © Games Workshop Limited, variably registered around the world. All Rights
Reserved.
Organiser of Warhammer US Open Series 2021: Warhammer 40,000 – Orlando, FL