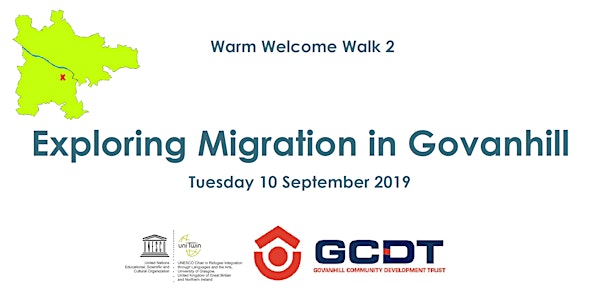 Warm Welcome Walk 2 - not your average guided walking tour
Sales Have Ended
Registrations are closed
Sorry, you missed this one. If you wish to be added to the waiting list, please send an email to unesco-rila@glasgow.ac.uk, detailing your name and which walk you would like to attend. Interested in our other events? Have a look at our website for all upcoming activities: https://www.gla.ac.uk/research/az/unesco/
Event Information
Location
Govanhill Community Development Trust
Samaritan House
79 Coplaw Street
Glasgow
G42 7JG
United Kingdom
Sales Have Ended
Registrations are closed
Sorry, you missed this one. If you wish to be added to the waiting list, please send an email to unesco-rila@glasgow.ac.uk, detailing your name and which walk you would like to attend. Interested in our other events? Have a look at our website for all upcoming activities: https://www.gla.ac.uk/research/az/unesco/
Description
Govanhill has long been a gateway for waves of migration into Scotland. Migrants have arrived in this unique neighbourhood For 150 years, following similar paths of settlement as they've sought to make Scotland their home. Join us as we take a tour of Govanhill to explore how migration has shaped the neighbourhood and its community. We will walk the streets that many generations before walked when arriving for a new life in Scotland. We will also hear from members of different migrant communities as they share their personal experiences of migration and settlement. Led by Dave Zabiega of Govanhill Community Development Trust, with direct input from local residents.
Our meeting point is Samaritan House, the home base of the Govanhill Community Development Trust. Doors open at 5:30 for coffee, tea and biscuits. At 6pm there will be an introductory presentation/discussion, followed by a guided circular walk of around 1.5 hours. You will be back at the Trust at 8pm, when you will again have the opportunity to mingle and have a tea/coffee and a biscuit.
The weather in Scotland can be unpredictable, so please make sure you bring suitable footwear and waterproofs. This event is OPEN TO ALL, including children.
*This walk is part of a series of four walks. Interested in the other walks too? Find out more through the links below:
9 September - Warm Welcome Walk 1 around Drumchapel with Mia Gubbay from Glasgow Museums
11 September - Warm Welcome Walk 3 around the City Centre and Merchant City with Christine Whyte and Yvonne Blake from the University of Glasgow
12 September - Warm Welcome Walk 4 around the West End with Selina Hales from Refuweegee and Paul Walton from the RSPB
Date and time
Location
Govanhill Community Development Trust
Samaritan House
79 Coplaw Street
Glasgow
G42 7JG
United Kingdom