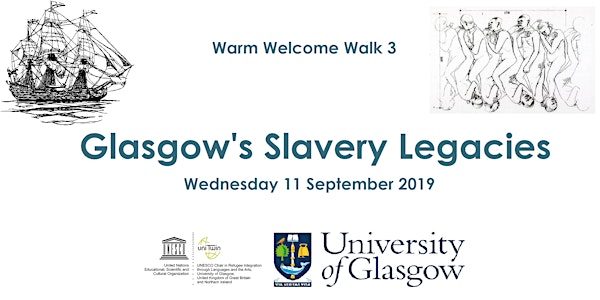 Warm Welcome Walk 3 - not your average guided walking tour
Sales Have Ended
Registrations are closed
Sorry, you missed this one. If you wish to be added to the waiting list, please send an email to unesco-rila@glasgow.ac.uk, detailing your name and which walk you would like to attend. Interested in our other events? Have a look at our website for all upcoming activities: https://www.gla.ac.uk/research/az/unesco/
Event Information
Location
Spoon Café
46 Trongate
Glasgow
G1 5ES
United Kingdom
Sales Have Ended
Registrations are closed
Sorry, you missed this one. If you wish to be added to the waiting list, please send an email to unesco-rila@glasgow.ac.uk, detailing your name and which walk you would like to attend. Interested in our other events? Have a look at our website for all upcoming activities: https://www.gla.ac.uk/research/az/unesco/
Description
Join Christine Whyte and Yvonne Blake from the University of Glasgow on the third of our Warm Welcome Walks.
Inspired by the 2017 Black History Month slogan, 'Slavery Made Glasgow' and previous walks organised by the Coalition for Racial Equality and Rights, this walk takes in some of the legacies of slavery and the slave trade around Glasgow City Centre. While some are monumental, others go unseen, particularly the traces of slave resistance. This tour offers an introduction to the links between Glasgow, the transatlantic slave trade, slavery and slave resistance and an opportunity to reflect on enduring legacies of racism, inequality and patterns of migration.
We'll be meeting in Spoon Café on Trongate. Doors open at 5:30 for coffee, tea and biscuits. At 6pm there will be an introductory presentation/discussion, followed by a guided circular walk of around 1.5 hours. We should be back at Spoon by 8pm, when you will have the opportunity to mingle and have another tea/coffee.
The weather in Scotland can be unpredictable, so please make sure you bring suitable footwear and waterproofs. This event is OPEN TO ALL, including children.
*This walk is part of a series of four walks. Interested in the other walks too? Find out more through the links below:
9 September - Warm Welcome Walk 1 around Drumchapel with Mia Gubbay from Glasgow Museums
10 September - Warm Welcome Walk 2 around Govanhill with David Zabiega from Govanhill Community Development Trust and special guests
12 September - Warm Welcome Walk 4 around the West End with Selina Hales from Refuweegee and Paul Walton from the RSPB
Date and time
Location
Spoon Café
46 Trongate
Glasgow
G1 5ES
United Kingdom