Warwick Africa Summit 2021 | Igihe Ni Iki, Realising the Africa Century
Sales Have Ended
Ticket sales have ended
Sold out!
Event Information
Refund policy
Contact the organizer to request a refund.
Eventbrite's fee is nonrefundable.
Sales Have Ended
Ticket sales have ended
Sold out!
Join us as we celebrate the start of a new century in African progression through stimulating plenaries that further African development.
About this event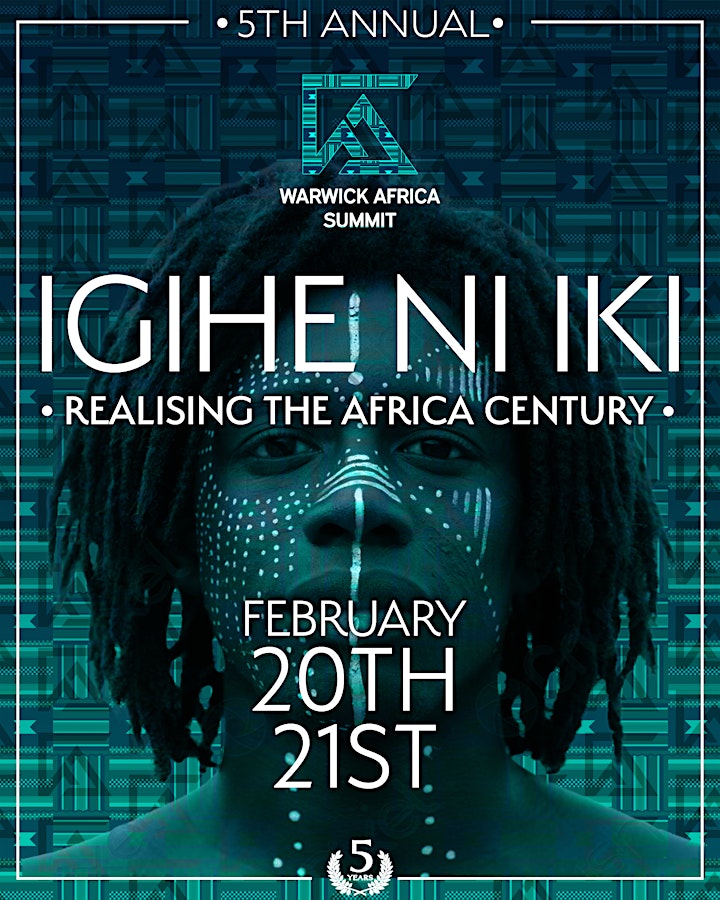 Who are we?
The Warwick Africa Summit is a student-organised and led interdisciplinary conference focused on the development of the African continent. The summit presents a platform to address the different challenges faced by the continent through the multi-disciplinary keynote speeches and panels of Human and Economic Development, Innovation, Governance, and Culture and History.
Our speakers range from politicians, bankers, entrepreneurs and activists to philanthropists who have dedicated their lives to unlocking the continent's true potential. We aim to generate engagement, innovation, and collaboration between students, academics, and practitioners as well as raise awareness of a continent, which is not always understood. In order to adapt to our current climate, this year's summit will be held online but will be just as interactive and engaging!
The theme for this year's Summit
Our theme for the 2021 summit is 'Igihe Ni Iki - Realising The Africa Century', an adaption of the Kinyarwanda proverb translating to "The Time Is Now".
The full theme for this year 'Igihe Ni Iki: Realising Africa's Century' points to the massive impetus placed on this next decade to decide the course of 'The Africa Century', its opportunity to take full advantage of the many mechanisms now perfectly placed to accelerate African development and the implications of the continent's performance for the rest of the world.
Warwick Africa Summit 2021 will aim to address the potential that African nations can realise once fully integrated and generate ideas, policies and initiatives that can facilitate the continent's journey to sustainable development. For the wealth of knowledge that will be present at the summit, we hope that all our attendees feel inspired and find a renewed sense of optimism as to what can be achieved in the future, and find clarity on how to take those next steps forward.
Why the Warwick Africa Summit?
Africa summit has a trusted team equipped with a unique awareness, insight and knowledge of the region with a global outlook. This insight stems from working alongside industry leaders through individual ventures, societal dealings and working in the world's most prestigious firms.
Each member brings an array of professional expertise ranging from the finance, humanitarian and legal sectors. This professional expertise enables them to accurately select relevant discussion panels with an end goal of providing innovative, responsible and sustainable solutions to contribute to the development of Africa.
We set ourselves apart from the conventional summits in our unique approach to the region. Our initiative focuses on Africa within a global framework, with a spotlight on progress and future of the continent's burgeoning infrastructure, as well as its development of young leaders with an astute passion for the region.
This year, we are hosting our very first virtual summit on the 20th and 21st of February.
Igihe Ni Iki 2021 will cover the following panel topics:
Money Talks: Our Economies
This panel focuses on the current state of African nations, in regard to economic development while emphasising the need for sustainable growth. It will explore Africa's integration into the global economy and the sustainability of these avenues.
Ready, Set, Green: Our Resources and Sustainability
This panel explores Africa's richness in natural resources, including both renewable and non-renewables. It aims to examine pragmatic ways in which the continent can harness its vast natural resources with climate resilient and sustainable measures.
Africa Beyond Aid: Our People
This panel focuses on changing the narrative of Africa from one dependent on Charity and Aid, and focusing instead on the richness of our people. It will also explore how we can empower and equip our people with the capability to resolve the continent's problems.
Entering a New Era: Technological Advancements and Innovation
This panel focuses on the importance of harnessing Africa's technological and digital potentials for economic transformation. It will explore the ways in which African nations can utilise technology and innovation to facilitate sustainable development in the continent.
& others!
Follow our social media to remain updated:
http://www.instagram.com/warwickafricasummit
http://www.linkedin.com/company/warwickafricasummit
http://www.twitter.com/africasummituow
http://www.facebook.com/warwickafricasummit
Subscribe to our newsletter: http://eepurl.com/hjwuHv
Date and time
Location
Refund policy
Contact the organizer to request a refund.
Eventbrite's fee is nonrefundable.
Organizer of Warwick Africa Summit 2021 | Igihe Ni Iki, Realising the Africa Century