Warwickshire Community And Voluntary Action - AGM 2019
Description
Warwickshire Community And Voluntary Action - 11th Annual General Meeting
We are delighted to invite you to our 2019 Annual General Meeting (AGM), which will be held on Wednesday, 25th September 2019 at The Benn Hall in Rugby. The day will begin at 10.30am with registration starting from 10.15am.
Our AGM offers you a chance to meet staff & volunteers and have your say.
It will also be a fantastic opportunity to celebrate with us the work we have been doing over the past year and to celebrate our 11th anniversary. You'll be able to:
Find out about our key milestones over the last year and our plans for the future
Hear from our keynote speaker, Tina Costello, Chief Executive of the Heart of England Community Foundation
Network over lunch with colleagues from the voluntary, public and private sectors.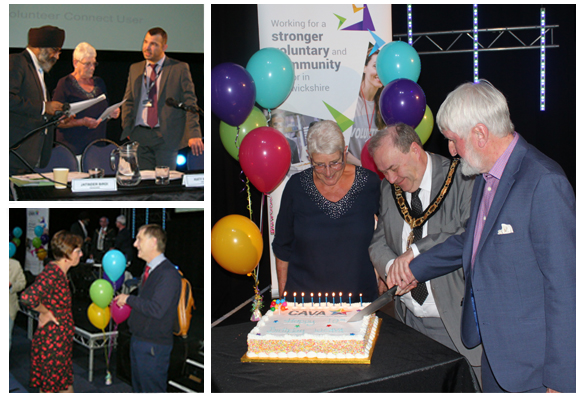 Following last year's successful AGM, we will again be celebrating and showcasing some of the great projects that voluntary organisations and local communities in Warwickshire are carrying out.
Agenda
10.15am | Guest Arrival, Registration and Networking
10.30am | AGM Formally Starts
10.35am | Chair's Welcome and Introduction, Katy Harper
10.40am | Approval of the 2018 AGM Minutes, Katy Harper
10.45am | WCAVA Annual Report 2018/19, Jatinder Birdi
11.15am | Treasurer's Review and Annual Accounts, Jatinder Birdi
11.25am | Appointment of Auditors, Jatinder Birdi
11.30am | Nominations and Appointment of Directors, Katy Harper
11.40am | Vote of Thanks and Presentation
11.45am | Close of Formal AGM
11.45am | Keynote Speaker - Tina Costello, Chief Executive
of Heart of England Community Foundation
12.15pm | Lunch
The meeting will include the presentation of our 2018/19 Annual Report and Full Accounts, copies of which can be downloaded from our website, alternatively a limited supply will be made available at the AGM.
We look forward to seeing you on the 25th September!
For further information please contact Owen Jones, WCAVA Marketing and Communications Coordinator on 01926 477512 or email: owen@wcava.org.uk