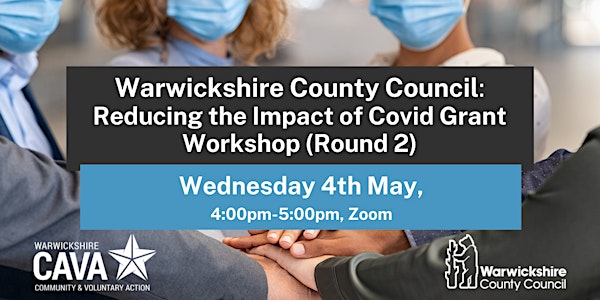 Warwickshire County Council - Reducing the Impact of Covid Grant Workshop
WCAVA and Warwickshire County Council present this opportunity for you to learn more about Round 2 of the Reducing the Impact of COVID Grant
About this event
Join WCAVA and Warwickshire County Council for this workshop on the Second Round of the Reducing the Impact of Covid Grant. The Reducing the impact of COVID grant 2021-23 is aimed at community and voluntary organisations and has grants of up to £5,000 (Lot 1) and £15,000 (Lot 2) available.
This is within a total budget of £325,000 for the whole fund across Warwickshire to support:
Warwickshire's communities and individuals to be safe, healthy and independent
Warwickshire's economy to be vibrant and supported by the right jobs, training, skills and infrastructure
All applications should aim to build community capacity and improve the health and wellbeing of predominantly ethnically diverse communities living in Warwickshire by focusing on one or more of the following:
Reducing social isolation
Mental health and wellbeing
Unemployment
Physical health
If you would like any additional information or if you have any questions/concerns, please get in touch with your local Funding and Group Development Officer. You can find their contact information by clicking here.