Description
Waste: Moving from Rubbish to Resource
Hosted by Professor Sue Hartley
YESI Director and Research Champion -
Environmental Sustainability and Resilience
Professor Sue Hartley invites you to explore the topical subject of waste and recycling. This event gives you an opportunity to hear from experts and practitioners about the numerous complex, and often contentious, issues relating to how society views, uses, and interacts with waste products. Topics include human conceptions of waste, waste production within the supply chain, and how we manage waste, not only in the UK, but across the world.
After a series of presentations, there will be a discussion session where all aspects of waste, recycling, and related areas can be discussed.
Following the event you will have a chance to talk to the speakers and other attendees over a light lunch.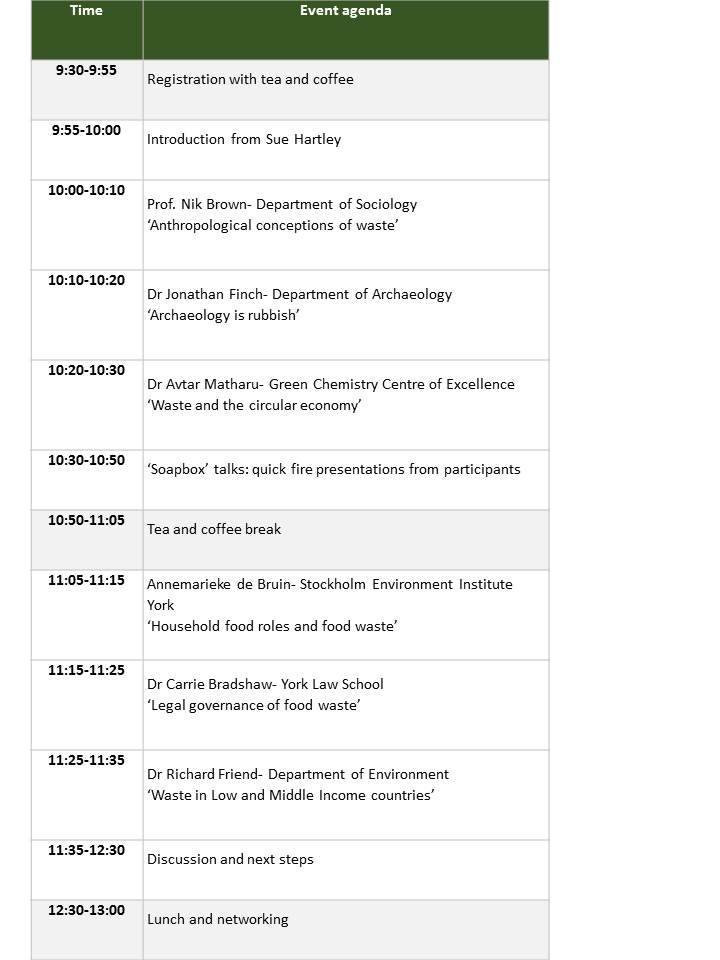 Programme will include 'Soapbox talks' from attendees.
If anyone is interested in participating in our 'soapbox talks' (i.e. provide a three minute short talk on something you are working on/an area you need support with/project ideas/to share you knowledge) please contact Alice Flint at alice.flint@york.ac.uk or 01904 328634
Date and Time
Location
The Treehouse
Berrick Saul Building
University of York
York
YO10 5DD
United Kingdom