Description
The WATEF network are delighted to invite you to join us for our programme of social events which run alongside the Future of Water in Europe Conference in Aveiro from 5-7 September 2018.
The social events are free of charge for delegates and speakers at the conference, but please help us by reserving your place at the events as places may be limited. Guests not attending the conference are welcome to join us at the social events, but please purchase a guest ticket for an additional fee by following this link to our online store.

Welcome drinks reception: Wednesday 5 September
Celebrate the start of the conference with a glass of wine and canapes in the chic Casa de Chá, located in the beautiful surroundings of Aveiro's Museum of Art Nouveau (Museu Arte Nova). This wonderful building is one of the architectural highlights of Aveiro, featuring art nouveau detail in the stone façade as well as the wrought iron embellishments and ceramic tiled interiors.
This informal evening is an opportunity to meet delegates and speakers from across the European water industry who are attending the WATEF Network Conference at the University of Aveiro.
Venue: Casa de Chá,
Museum Arte Nova,
Rua Dr. Barbosa Magalhaes, 9
,
Aveiro 3800,
Portugal
Start time: 18:30hrs

Conference dinner: Thursday 6 September
For WatefCon2018's dinner we invite you to join us for an evening at Aveiro's historic Mercado do Piexe. Overlooking the São Roque canal, this will be an opportunity to relax and enjoy a three course meal including some of the fresh seafood dishes which this region is famous for. There will be vegetarian options available - please tell us on the booking form if you have any special dietary requirements.
Venue: Mercado do Piexe, Largo Praça Peixe N1, 3800-243 Aveiro
Start time: 19:30hrs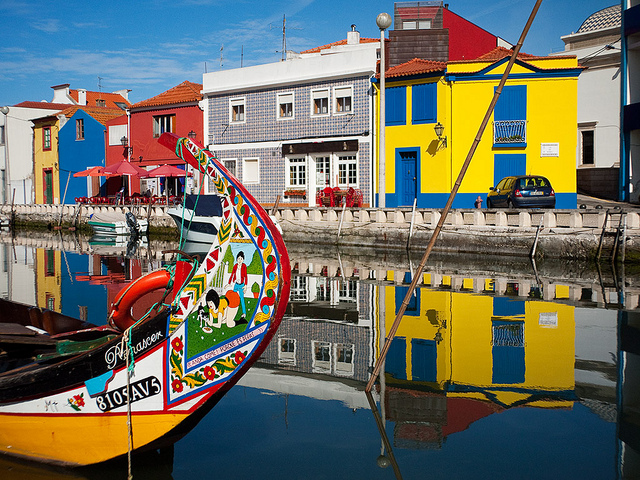 Aveiro by boat tour: Friday 7 September
Explore the city of Aveiro by colourful Moliceiro through its famous canal network with a local guide. The experience of sailing on a traditional boat in Aveiro and being able to enjoy the view of the city is a unique experience. This tour lasts around an hour, and is followed by a chance to sample some of the flavours of Aveiro, including sweet treats and local drinks made with herbs and honey.
Joining instructions will be provided shortly.
Start time: 15:30hrs
We look forward to seeing you in Aveiro!
Images reproduced with thanks to: Casa de Cha, Mercado do Piexe and Javier R Linera under creative commons license at www.flickr.com