Water Helix Launch: Identifying opportunities for Horizon 2020 Water Calls
Description
Vision2020: The Horizon Network will hold its Water Helix Launch Event on the 22nd and 23rd of June at the Edward Boyle Library at the University of Leeds, UK. The event is hosted by The University of Leeds and water@leeds as lead of the Water Helix.
The main purpose of this two-day event is to bring together academics, researchers and colleagues from business and industry working in the Water field, to form new collaborations across the whole sector in readiness for the forthcoming Horizon 2020 calls (2018 – 2020). While the first day will be focusing on the research side, the second day will be innovation focus.
To make this event as fruitful as possible, we would like to invite mainly, but not exclusively, researchers and those from SMEs (Small and Medium-sized Enterprises) to join us.
Should you have any questions about the event, please contact Lisa on lisa@2020visionnetwork.eu
AGENDA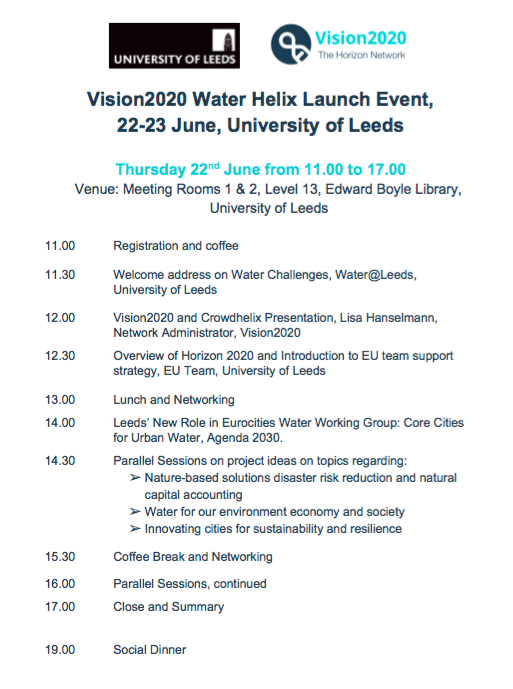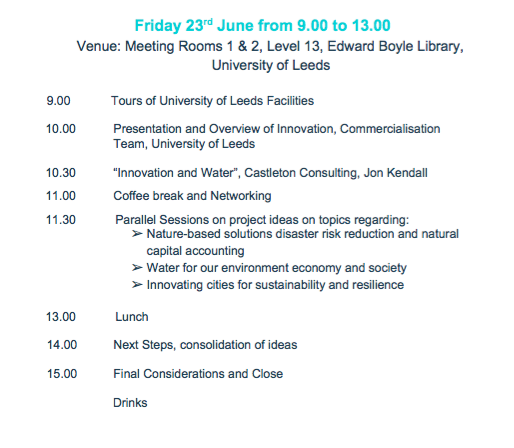 TRANSPORT:
From Leeds Bradford Airport: A number of airlines offer flights to Leeds Bradford from major European airports such as Amsterdam, Geneva, Madrid, Milan, Munich, Roma, Paris or Vienna.
Bus to Leeds Train Station (number 757): Bus runs every 20 minutes and the journey takes around 30 minutes. (The fare of a single ticket is £3.80 and the return fare is £6) You can then decide to take the bus number 1 to University of Leeds campus. The bus runs approximately every 10 minutes and the journey takes 10 minutes or you can choose to walk for 20 minutes.

Taxi to University of Leeds campus costs around £20.
From Manchester Aiport: Manchester Airport is just over 90km away making it the second closest airport to Leeds.
Bus to Leeds: the coach fare from Manchester Airport to Leeds Coach Station will cost approximately £12. The journey will take around 2 hours and 30 minutes.

Train to Leeds: you can get a direct train from Manchester Airport to Leeds Train Station. A one-way ticket will cost approximately £25 and the journey will take around 1 hour 20 minutes.

Taxi: the taxi fare from Manchester Airport to Leeds will cost approximately £100.
HOTELS:
All useful and practical information on hotels can be found in the University of Leeds Guide available here.