We are delighted to offer an exciting range of learning experiences that can be enjoyed outside, within Petworth Park's beautiful grounds.
About this event
On this watercolour experience day, students can choose to paint a wide landscape view, a more "intimate" landscape – a closer view of plants or buildings; or paint a number of small studies or work towards completing a larger painting. Photographs could be taken to enable you to complete your work at home.
The tutor will provide guidance and support when choosing a suitable view and demonstrate how to start planning and drawing out your composition.
Colour mixing and watercolour painting techniques appropriate to your subject, will be demonstrated and you will receive 1-2-1 help throughout the day if required.
Please note that this event will run outside, within the stunning grounds of Petworth Park. Therefore, in order to gain the most from this experience, please read the information below.
There is a 30 minute lunchbreak included in the session, so please bring your own lunch and refreshments.
What previous experience, knowledge or qualifications do I need for this course?
Suitable for all abilities, beginners welcome.
What do I need to bring with me?
Your usual drawing and painting materials and equipment including:
Watercolour paper, pencils, eraser, brushes, paints, palette, water pots, paper towel or rags.
A lightweight folding chair.
Optional – a view-finder, if you have one.
You are welcome to bring your easel if you have one, but an easel is not essential as you can use a drawing board or the back of your watercolour pad to support your work on your lap.
Other: sun hat, sun cream, camera.
Please wear weather and walking appropriate clothing.Please remember that your supplies must be portable and easy to carry!
Our Tutor
Helen Kelly has been a practicing artist since childhood and has been teaching art as an adult education tutor, for over 20 years. She is a watercolour specialist and aims to make this medium more approachable by demonstrating a wide range of techniques, both traditional and modern. Helen likes to treat each learner as an individual and promotes an atmosphere of enjoyment and mutual support.
IMPORTANT INFORMATION:
This class is for those aged 18+ years
Please arrive at least 15 minutes before your course starts to allow sufficient time to park and to ensure that the class can start promptly. Your tutor will meet you opposite the Visitor Centre in the Main Visitor Car park for the House.
Please note there will be a 15 minute walk across uneven and sloping ground from the meeting point to the area of the Park where the class will take place.
As this is an outside class please arrive prepared and wearing appropriate clothing, although, if bad weather is scheduled then this course will be cancelled. However, if the event starts and bad weather occurs throughout the course of the day, then the remainder of the event will be completed inside, at a location within Petworth House grounds.
Please abide by any covid related measures applicable at the time.
This event does not include entrance to Petworth House and the Pleasure Grounds, although tickets can be purchased from the Visitor Centre after your event.
Cancellation and Refund Policy
If the class is cancelled, we will let you know at least the day before your class is due to start.
This event will be cancelled and Eventbrite will provide a full refund to buyers if:
The weather is too severe for it to run outside as planned.
There are insufficient enrolments for the event to run
Tutor sickness/absence
Covid lockdown restrictions prevent the event from taking place
Buyers also have the right to a refund:
If charged multiple times in error, as long as a refund request is received within 7 days of purchase
Buyers will additionally have the right to a refund or credit to another similar available event if:
They cancel their enrolment within fourteen working days of receiving confirmation
How to get here:
The meeting point is the area opposite the Visitor Centre in the Main Visitor Car park for the House. Details of how to get here are included within the following link: https://www.nationaltrust.org.uk/petworth-house-and-park#How%20to%20get%20here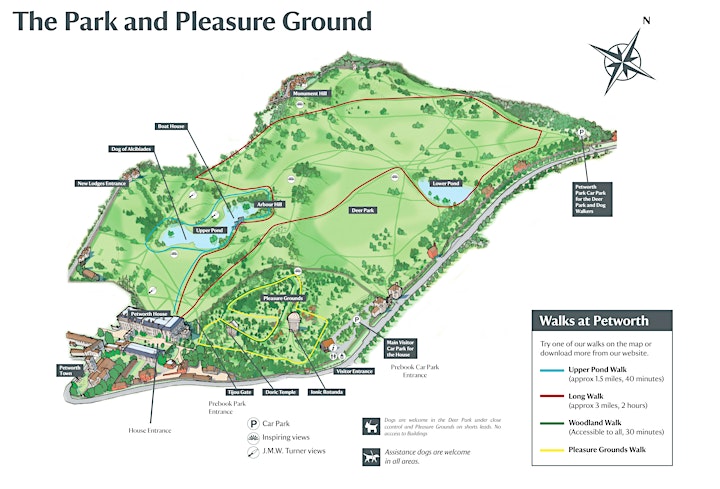 Facilities:
The meeting point is the area opposite the Visitor Centre in the Main Visitor Car park for the House, which has adjacent toilet facilities.
Are there any additional costs?
Please note that this course cost does not include access to Petworth House, café and shop, so please bring your own refreshments and a packed lunch if needed.
If you wish to visit Petworth House before or after your wellbeing experience, please visit their website for information regarding admission. https://www.nationaltrust.org.uk/petworth-house-and-park
Parking
National Trust Members: Free Parking (pre-booking essential at weekends and bank holidays) - scan membership cards on car park machine
Non-Members: £4 (not included in this course cost - PayByPhone contactless service available - Location Number 803377).
Organiser of Watercolour Painting in the Park
Aspire Sussex provides Adult Education courses across West Sussex.
Head office: Aspire Sussex Limited, Adult Education Centre, Marle Place, Leylands Road,
Burgess Hill, West Sussex RH15 8HZ
Website: www.aspiresussex.org.uk Email: enquiries@aspiresussex.org.uk Phone: 0345 601 0161
Company Limited by Guarantee No: 08109768
Registered Charity in England and Wales No: 1149439