American watercolourist Randy Hale joins the Watermill team for the latest in our interactive, online Zoom painting sessions
About this event
Randy has called his first watercolour Zoom session with us 'Whistle Stop'. We suppose he means it more in the American sense of a small, unimportant town on a railway, rather than a rush-about whistle-stop tour, because you'll have plenty of time to enjoy Randy's demonstration, as well as paint along with him. The subject is a railway siding, where a train will be loaded with coal to haul down the track. Randy says: "It's winter, so I figured I'd add snow-covered peaks as a background: I wanted to work with some basic cube shapes."
Randy adds: "I've had several requests recently on how to use negative shapes to create strong value contrast." So he has a made a small graphite value study (a thumbnail without much detail) to help him work out where he wanted to save white spaces and where he needed to place darks. He says: "Planning is all about making choices, visualizing, painting the painting in my head before I every put brush to paper."
Unlike many online painting programmes, Randy's will not expect you to 'look over his shoulder' for a long demonstration, and perhaps be allowed to ask the odd question or two. No, you will be painting along at more or less the same time, trying out the watercolour techniques that Randy has shown you, step-by-step. He will demonstrate some basic techniques for only a few minutes before you start painting the same subject at home. Then, after you have had your turn, Randy will move onto the next part of the process. Lois Breckon from The Watermill at Posara will be on hand during the session to feed your questions. The session will last a couple of hours.
When you register for the session you will be asked for a donation. (If you prefer to donate by direct bank transfer, please let us know.) People often ask how much is acceptable. Our answer? "It's like a Scottish house dram of whisky: it neither offends the guest nor the host!" Our Zoom painting demonstrations do take quite a bit of time in preparation and administration and your support is very much appreciated. With your generosity we can plan and run further sessions and, more importantly, provide a regular meeting place for creativity, camaraderie and fun. We hope that you enjoy the international, online painting community that we have created.
Once you have registered you will be provided with two links. The first is the Zoom link for you to join the session. The second link is where you will find a copy of the photograph that you will paint, an outline drawing, a thumbnail (4"x6") graphite value study, and a list of equipment and colours for your palette.
After the event, you are invited to email us with your painting to add to the gallery. In addition, we will send you a link to a video that will enable to you revisit Randy's step-by-step teaching.
When you have painted with Randy online, why not join him for real at the Watermill in Tuscany Italy next summer? We would love to welcome you to the Watermill. You can find more details of Randy's week-long course, 21 to 28 August 2021, here.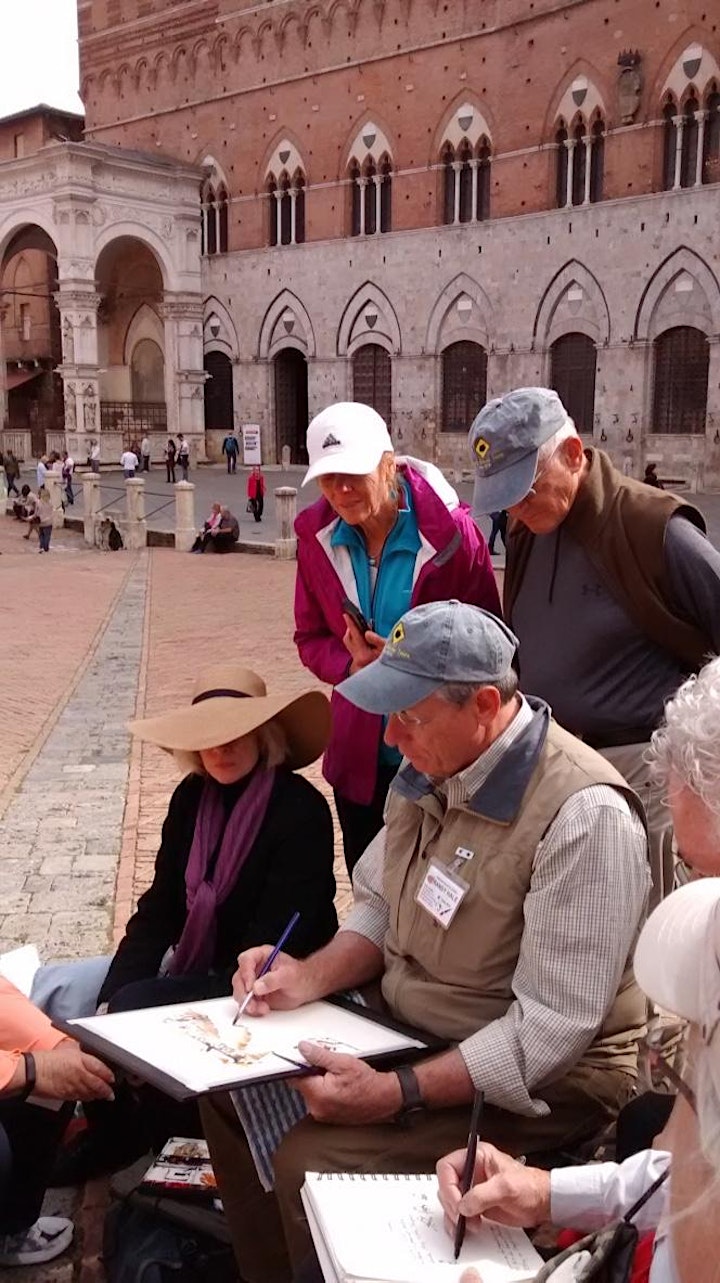 Randy's background
Randy is from Colorado in United States and, as well as his workshops in the USA, he has taken painting groups all over the world.
After a successful business career, he returned to his first love, watercolour painting. (He was taught by James Green, a founder member of the California School of Watercolor.) But Randy's true passion proved to be to be in sharing his knowledge: enjoying the excitement of travel with fellow painters, helping them to create expressive paintings to enrich their experience. One of his students said: "He knows his stuff and he knows how to teach! Best watercolor instructor I have ever had!"
Organiser of Watercolours: painting negative shapes with Randy Hale
We are creating a new Watermill at Posara community with our inspiring and convivial interactive, online sessions and courses. Come and join us.