Location
A+E Lab
Central Boiler House
Chatham Historic Dockyard
Chatham
ME4 4TE
United Kingdom
Refund policy
Contact the organiser to request a refund.
Eventbrite's fee is nonrefundable.
Creative workshop offering the opportunity to compose with and gain knowledge of the Wave Field Synthesis System.
About this event
Workshop Leader: Casper Schipper, Game of Life Foundation (http://www.gameoflife.nl)
Location: A+E Lab, Central Boiler House, The Historic Dockyard, Chatham, ME4 4TE (40 minutes from London by train)
Time: Friday 21st - Sunday 23rd October 2022, 10:00-18:00
Are you an artist working creatively with sound and interest in spatial sound? Then this is a perfect opportunity for you to explore this unique system made by Game of Life from the Netherlands! This creative workshop offers to gain knowledge of the Wave Field Synthesis System, try your ideas and create your composition onto the system guided by the WFS expert Casper Schipper.
Wave Field Synthesis (WFS) is a sound production technique designed specifically for spatial audio rendering. Virtual acoustic environments are simulated and synthesised using large numbers of loudspeakers. The innovation of this technique is that sound can appear to emanate from desired virtual starting points, and then move through space in many possible defined spatial pathways. The WFS system from The Game of Life (http://www.gameoflife.nl) consists of 192 speakers, arranged in a square formation of 10x10 metres. Within this formation sounds can be composed to move inside or outside of this square space. The composer can 'throw' their sounds into the space, using the specially designed software 'WFSCollider' written in SuperCollider. This possibility of being able to move sounds 'inside' and 'outside' the direct listening environment offers endless creative opportunities for the artist.
In this workshop, we will look deeply into not only the technical side of using the system, but also artistic aspects of it, thinking about space as one of the compositional parameters and how to realise the artistic ideas, including the possibilities for live electronics/fixed media music composition, and real-time design of sounds.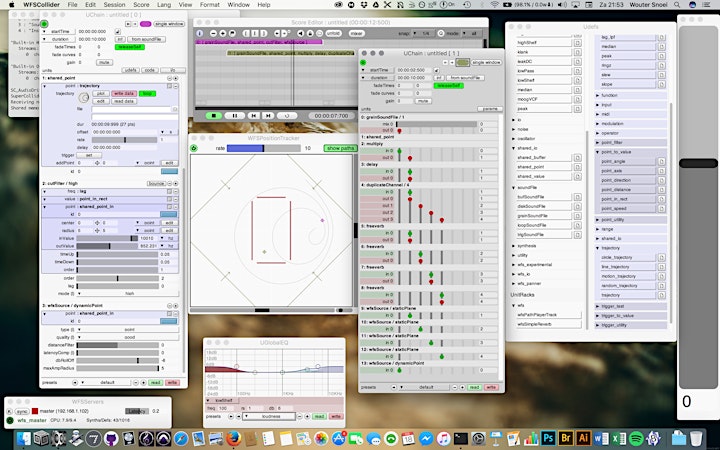 Requirements:
Bring a laptop (Mac is easiest to install, Linux or Windows is also possible) with the latest version of WFSCollider installed. Free download https://sourceforge.net/projects/wfscollider/files/beta/WFSCollider_2.2.6b18.zip/download
Bring rough ideas - possibly with sound materials - of what you would like to achieve, experiment, and create with the system.
Schedule and topics:
Day 1
- Introduction to the WFS system:
Theoretical background
Perspectives on 'composing space'
- Use and approach
Learning the WFSCollider
Possibilities on real-time control
Planned or intuitively created trajectories, gestures and structures
Connection between sound and space design
Operating the hardware
Issues and solutions
Possibilities and limitations
- Deep listening session
Day 2
- Sharing the workshop ideas and discussion
- Hands-on practice
Day 3
- Hands-on practice
- Final presentation
- Discussion and feedback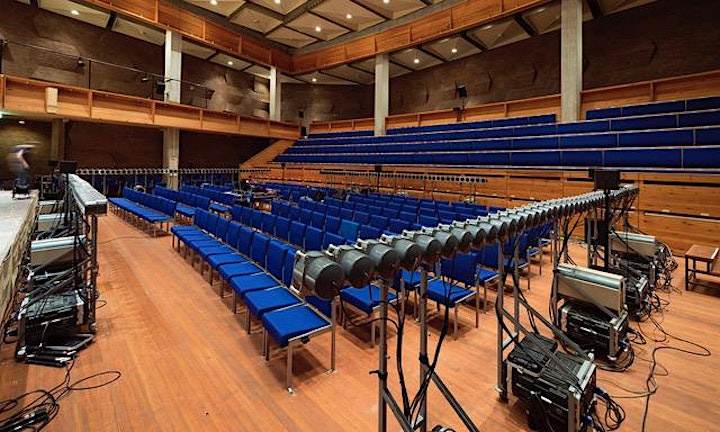 About Casper Schipper
Casper Schipper (*1984) is an electronic musician and software developer. His musical work focuses on the algorithmic composition of (spatial) music from the level of pure waveforms using self-developed programming languages. He has assisted in the technical realisation of many electronic pieces and installations for a wide variety of composers and collectives. He completed his Master of Music at the Institute of Sonology in The Hague in 2011.
He is managing officer for the Society of Artistic Research (overseeing the Research Catalogue project) and is employed in the research department of the Royal Conservatoire in The Hague.
Casper has been working for The Game of Life Foundation since 2007 and became a board member of the foundation in 2015.
About Game of Life Foundation
The Game of Life Foundation (stichting the game of life) was founded on September 13th 1999. The foundation's main objective is to organise projects in the field of spatial reproduction of electronic music. The Game of Life Foundation acts as a facilitator in the process of creation, production, programming, and publicity of cutting-edge spatial sound projects. They curate and produce artistic programs which showcase a diverse range of high-quality, innovative electronic music projects. They offer composers (sound artists/artists/musicians) a unique opportunity to work with our highly specialised Wave Field Synthesis system. This system is fully mobile making it the only mobile WFS system in the world. The Game of Life's WFS system comprises of 192 specially designed loudspeakers and provides listeners with an immersive sonic experience that is impossible to experience in ones own home environment (however impressive current surround systems may be).
About A+E Lab
A+E Lab is a home to AΦE, a UK-based dance company renowned internationally for their innovative use of technology. Since 2022, as the Associate Artist of the Institute of Cultural and Creative Industry (iCCi) - University of Kent, AΦE is based in the Historic Dockyard Chatham where they have launched the new A+E Lab with a vision to engage with the local community in a way that is both accessible and sustainable. A+E Lab is a space where unique artistic experiences using art and new technologies can be thought through, developed and created together by artists, researchers and experts in their fields.
More about how to get to A+E Lab: https://www.aoiesteban.com/contact
Contact for questions: A+E Lab aecreativeworkshops@gmail.com
A+E Lab is supported by Arts Council England, The Institute of Cultural and Creative Industries (ICCI) - University of Kent and Visual Elements