Location
Soul City Arts
Unit 1, Port Hope Road
Sparkbrook
B11 1JS
United Kingdom
An invitation to learn about the 'Waswasa' Production as part of the Birmingham 2022 Festival
About this event
Inviting you to a special gathering at our new project base in Sparkbrook on Thursday 30th June at 6pm.
Soul City Arts are excited to have been commissioned by Birmingham 2022 Festival to deliver a major show entitled 'Waswasa'. We have recently taken over a large warehouse space and turned into our creative base for the production of this show as well as delivery of regular community events.
This is an opportunity for us to network and reconnect with others over soft-drinks and light snacks provided by our friends at the Raja Monkey Cafe. I will be sharing more about the 'Waswasa' project - a show taking place at the Birmingham Hippodrome, that aims to explore the concept of Islamic prayer in modern Britain. I will also be sharing some of our wider visions as well as inviting guests to speak from community members to leaders of our city.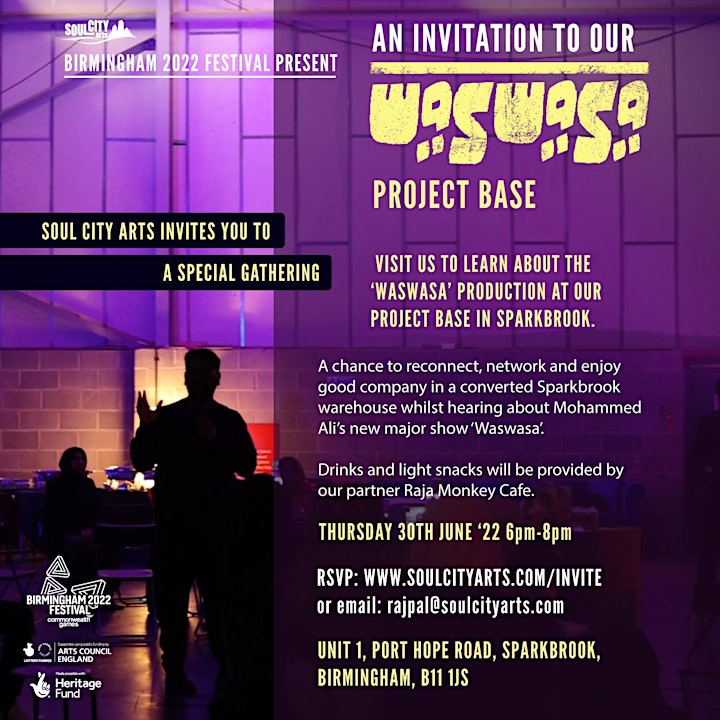 "I was keen to ensure our space was placed right amidst the community, away from the typical places where we expect to find art-spaces. I've been looking long and hard to find a base embedded in Sparkbrook, as it is where I was born and where my family first settled in the 1960s, as well as being the organisation's historic home in previous years. I am excited to return to the community with a 4000 square-feet space which we have transformed from industrial unit to creative oasis".
Mohammed Ali
Artistic Director
Soul City Arts