Description
Conference debates, workshops, open space, case studies
Keynote speaker: Rebecca Long Bailey MP, Shadow Business Secretary
The conference will openly debate new and exciting ways for people to work together to take back control of our economy - and how government (at all levels) can assist. Ways Forward 6 will include an excellent variety of workshops, including an open space workshop for delegates to pitch in with additional ideas for creating a co-operative solidarity economy. Don't miss out. Register at www.WF6.eventbrite.co.uk
Morning Plenary: Co-operative Solidarity
Rebecca Long Bailey, Shadow Business Secretary;
Jo Bird, Co-operative Business Consultants;
Ed Mayo, Co-operatives UK;
David Thompson, Twin Pines Co-op Foundation, USA
Workshops
Solidarity Jobs Lizzie Fellows, Leeds Bread Co-op
Co-op Legislation David Alcock and Cliff Mills (UK), Anthony Collins; Ellie Perrin (France); Rhona McCord (Ireland)

Rojava Revolution Jo Taylor, Solidarity Economy Association
Open Space discussion How do we develop a Co-operative Solidarity Economy? Facilitated by Bob Cannell, CBC
Solidarity Funding Ian Rothwell, Co-op and Community Finance; David Thompson, Twin Pines USA
Understanding Rojava's Co-operative Economy Model Jo Taylor, Solidarity Economy Association
Open Space discussion How do we develop a Co-operative Solidarity Network? Facilitated by Bob Cannell, CBC
Co-ops, Solidarity and Austerity Cuts Paul Bell, Unison; Debbie Shannon, Preston; Cheryl Barrott, Co-operative Party
Housing Ourselves Co-operatively Kevin Wan, Nwhs; Edinburgh Student Housing Co-op
Closing plenary. Where do we go from here?
Martin Meteyard, Co-operative Business Consultants
Simel Esim tbc, United Nation's International Labour Organization, Co-operatives Unit

Carl Roper, TUC National Organiser
Kayleigh Walsh, Outlandish co-op
Key movement-wide proposals from workshops
Plus Eve of conference reception: Open to all from 7-9pm on Thursday 15th February at the same venue, Central Hall. Tickets £9.50. Package ticket discount also available when booking for evening reception and conference day together. Please click on ticket options for more details.
DISCOUNTED £14 FOR EACH EARLY BIRD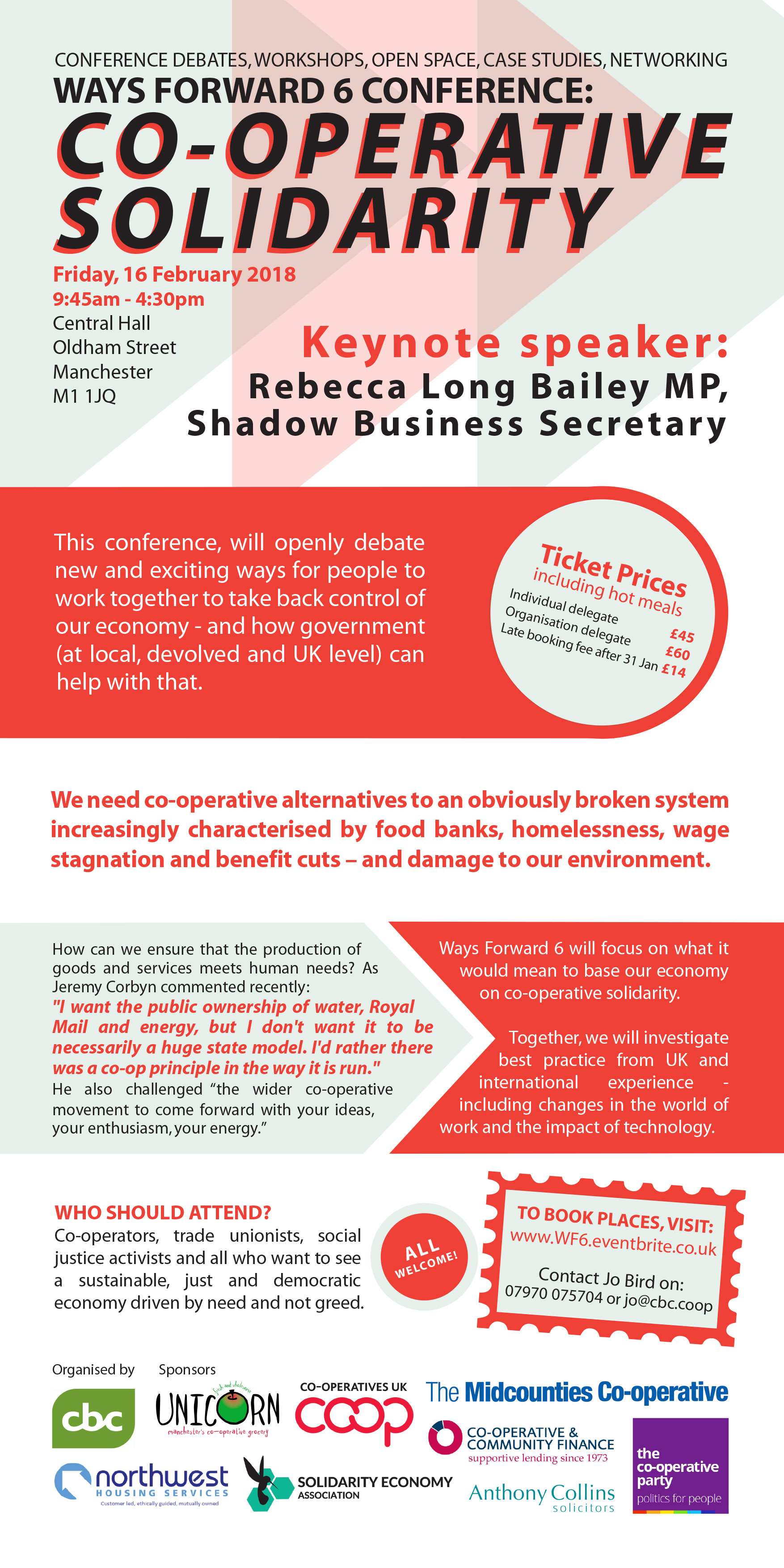 Early Bird Conference Fees (including lunch + refreshments): Organisation Delegates £60, Individuals £45 (payment received by Jan 31st). To book places, visit www.WF6.eventbrite.co.uk
Ways Forward 6 conference is kindly sponsored by:
Anthony Collins solicitors, Midcounties Co-operative, North West Housing Services (who also provide conference financial administration), Unicorn Grocery, the Co-operative Party, Co-operative and Community Finance, Co-operatives UK, and Solidarity Economy Association