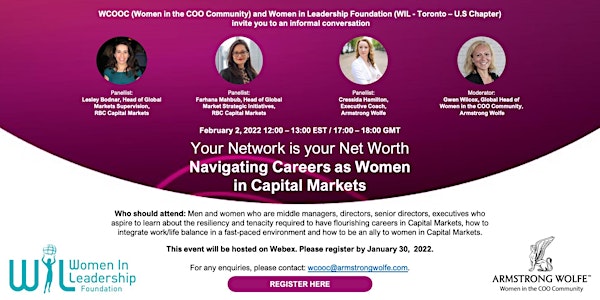 WCOOC and WIL's Navigating Careers as Women in Capital Markets
Your network is your net worth. Join WCOOC and WIL for an informal conversation on navigating careers as women in Capital Markets.
About this event
Panellists and Content:
Lesley Bodnar, Managing Director, Head of Global Markets Supervision will share journey as an Industry Lead and Executive in Capital Markets for over two decades.
Farhana Mahbub, Head of Global Market Strategic Initiatives will share her journey of transitioning from Pharmaceuticals to Capital Markets.
Cressida Hamilton, Executive Coach, Armstrong Wolfe
Gwen Wilcox, COO and Global Head of Women in the COO Community, Armstrong Wolfe (moderator)
Who should attend: Men and women who are middle managers, directors, senior directors, executives who aspire to learn about the resiliency and tenacity required to have flourishing careers in Capital Markets, how to integrate work/life balance in a fast paced environment and how to be an ally to women in Capital Markets.
Please register by 30 January 2022.
For any enquiries, contact wcooc@armstrongwolfe.com.
------------------------------------------------------------------------------------------------------
Women in Leadership Foundation, launched in 2001, is a leading non-profit organization focusing on advancing women professionally, building the next generation of leaders and helping employers recruit, grow, and support a diverse workforce. We have presence in eight cities across Canada with the largest Chapter located in Toronto. Through our global events, mentorship programs, speaker series, corporate best employer partnerships and diversity and inclusion initiatives, the Toronto-U.S Chapter reaches a diverse community of professionals across Canada and in international markets. Collectively, we provide a safe space to connect and to support and inspire each other to succeed both personally and professionally. Today at 70K+ followers and rapidly growing, we continue to stay true to our mission of creating diversity, equity and inclusion, driving positive change and knowing how to "walk the talk".
For more information or to join our community, visit:
www.womeninleadership.ca/toronto-chapter
Also find us on:
Instagram: https://www.instagram.com/wiltoronto/
Women in the COO Community (WCOOC) has now been running for 8 years, with a mission to inspire women and all underrepresented groups within financial services to have no limit to their career aspirations. WCOOC is well-established across London, New York, Canada, Hong Kong, and Singapore.
Our global network shares solutions and challenges on non-proprietary industry topics around DEI through podcasts, content and online events for which we recruit engaging speakers from within and outside the industry
Our 2021 efforts have centred on what more can be done to promote the positive steps taken by the Financial Services industry that remove barriers for a more inclusive workplace, with a focus on leading change, biases, culture and the acquisition and retention of talent. Please see our website for further information: www.armstrongwolfe.com/wcooc