Actions and Detail Panel
WCVA: Celebrating Europe in Wales *THIS EVENT HAS BEEN POSTPONED*
Wed 10 May 2017, 17:30 – 20:30 BST
Description
Diolch yn fawr am eich diddordeb mewn dod i ddathliad Diwrnod Ewrop WCVA. Mae'r digwyddiad wedi cael ei ohirio oherwydd amgylchiadau annisgwyl ac fe'i cynhelir nawr ym mis Gorffennaf. Bydd rhagor o wybodaeth ar gael yn fuan.
********
Many thanks for your interest in attending WCVA's Europe Day celebration event. The event has been postponed due to unforeseen circumstances and will now take place in July. Watch this space for more information.
Mae'n gyfnod cyffrous i WCVA wrth i'r Gronfa Cynhwysiant Gweithredol wneud newidiadau yn barod at y cam nesaf. Bydd y noson yn gyfle i ddathlu'r effaith mae'r Gronfa eisoes yn ei chael ac i edrych ymlaen at y dyfodol wrth iddi barhau i roi grantiau i fudiadau sy'n gwneud gwahaniaeth gwirioneddol ym mywydau pobl.
Ymysg y prif siaradwyr fydd Mark Drakeford, Ysgrifennydd y Cabinet dros Gyllid a Llywodraeth Leol a Julie Morgan AC a phennaeth y Pwyllgor Monitro Rhaglenni a Swyddfa Cyllid Ewropeaidd Cymru.
Darperir swper bys a bawd a lluniaeth ysgafn.
Bydd rhaglen yn cael ei ddosbarthu cyn y digwyddiad.
---
You are warmly invited to join WCVA in celebrating Europe Day on the evening of 10th May 2017 in Yr Hen Lyfrgell (The Old Library), Cardiff. The event will be the culmination of activities hosted by WCVA in order to celebrate the success of Europe in Wales, in particular the impact and benefit of the Active Inclusion Fund, which is supported by the European Social Fund.
This is an exciting time for WCVA as the Active Inclusion Fund undergoes changes ready for the new phase. The event will be an opportunity to celebrate its existing impact and look forward to its continued future of making grants to organisations that truly make a difference to people's lives.
Keynote speakers include Mark Drakeford, Cabinet Secretary for Finance and Local Government and Julie Morgan AM Head of the Programme Monitoring Committee.
A buffet and refreshments will be provided.
A programme will be circulated prior to the event.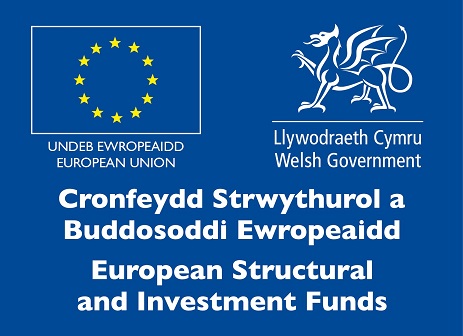 Date and Time
Location
Yr Hen Lyfrgell (The Old Library)
Working Street
The Hayes
Cardiff
CF10 1BH
United Kingdom