Description
We Are All Body Psychotherapists! Talk by Nick Totton
Part of the Embodied and Embedded Event Series by the Psychosynthesis Trust

Embodied relationship is the ground of psychotherapy - not the essence, or the core, but the ground, from which everything grows, upon which all of our theories are erected. It is our bodies which sense and are changed by the state of other bodies, as a result we experience feelings and thoughts and impulses. As infants and children our bodies seek sustainable ways of reacting to the bodies that care for us and these develop into patterns of embodied activation - what I call 'engrams'. These shape our ways of relating to others. We explore these in therapy under titles like 'transference', 'counter transference' and 'projection'.

I find that it helps to stay aware that these phenomena occur first of all in our bodies. Like everyone, therapists track and respond to the information our bodies are giving us about other people but this often happens unconsciously and conscious awareness of the process enables us to use it more skillfully. We are all already body psychotherapists - but we can gain a lot from knowing that we are!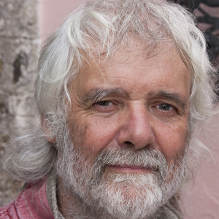 Speaker:

Nick Totton is a therapist and trainer with almost 35 years experience. Originally a Reichian body therapist, his approach has become broad based and open to the spontaneous and unexpected; he now practises and teaches Embodied-Relational Therapy. He has long been deeply involved with ecopsychology and addressing climate change. He has written a number of books, including Wild Therapy (PCCS), Embodied Relating: The Ground of Psychotherapy (Karnac), Body Psychotherapy: An Introduction (OUP) and Psychotherapy and Politics (Sage). He has a grown-up daughter. Nick lives in Cornwall with his partner and grows vegetables. www.nicktotton.net
Tickets:
In support of inclusivity, we're offering a choice of two different tickets costs for this talk. Feel free to choose the ticket cost that best suits your financial position.
This event is part of the Embodied and Embedded – public event series
Embodied: The importance of embodiment has long been recognised within psychosynthesis and the wider therapy world. Awareness needs to touch our whole being, our sensing aliveness, not just our minds. It needs to go bone-deep. Language-based understanding is just not enough for lasting change.
Embedded: What is perhaps less emphasised, and will be made explicit throughout the series, is the embedded sense of belonging and participation with the encompassing world that opens up to us through our embodiment.
Embodied and Embedded The series of three talks and a day workshop bring together perspectives on embodied and embedded from body therapy, transpersonal and ecopsychology approaches, and imaginative and story-based explorations.
Who is it for? These are public events and will be of interest to therapists, counsellors, coaches, leaders of change etc. and anyone interested in exploring embodiment and embeddedness in their life and work.
How the series will support you: Over the autumn this special series will offer participants a chance to learn from pioneering thinkers and practitioners, an opportunity to connect with other like-minded individuals and space for personal exploration.
Tickets will be sold on an individual event basis or as a series (combined ticket is discounted).
Read more about the Trust: https://psychosynthesistrust.org.uk/
Questions? Email us: enquiries@psychosynthesistrust.org.uk