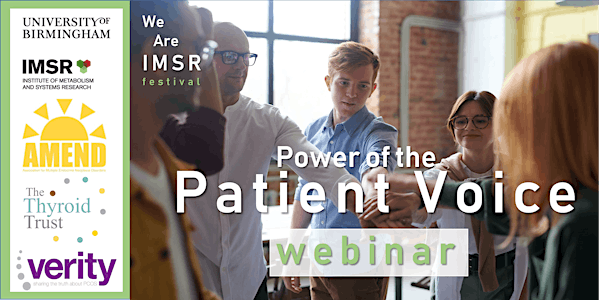 We Are IMSR Festival: Power of the Patient Voice
About this event
As the past year has shown us – with the development of multiple coronavirus vaccines – biomedical research can make great things happen when there is public and political support in place to drive innovation forwards. In particular, patients have a real role to play in advocating for research related to their own health conditions.
At the Institute of Metabolism & Systems Research (IMSR) at the University of Birmingham, we are committed to engaging and involving patients and their support networks in our research. We firmly believe that lived experience perspectives can be invaluable in prioritizing and improving the quality of research. IMSR frequently works in collaboration with patient charities that play a vital role in advocating on behalf of patients and their families.
For this event, we invite you to meet a number of charities and lived experience representatives collaborating with IMSR researchers. You'll find out more about their work and we will also discuss what else can be done to better coordinate research advocacy efforts in general.
Schedule:
We are pleased to be joined by (35 mins):
Chaired by Caroline Gillett
This will be followed by audience Q&A with charity representatives and IMSR researchers (25 mins)
This is a free event, all are welcome. The event may be of particular interest to those with lived experience of disease or illness, such as people with cancer or metabolic or endocrine (hormone) conditions e.g. PCOS, hyperthyroidism. It should also be relevant to biomedical researchers and those interested in public, patient, and community engagement and involvement with science. Content will be suitable for a general public audience.
Sign up now and we look forward to having you join our ZOOM webinar on June 19th at 11 am!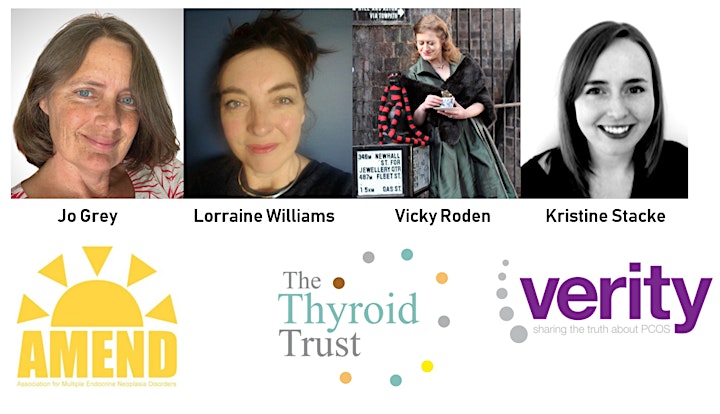 Speaker Biographies:
Jo Grey
Jo is married with two 20-something children and lives in deepest Kent. A love of biology at school came in handy when she was diagnosed with a hormone-secreting adrenal tumour called a phaeochromocytoma in 2000. As a result of the diagnosis of this near fatal tumour, Jo, her mother, and then 2-year-old son were all diagnosed with the inherited syndrome, multiple endocrine neoplasia type 2A. Numerous rounds of surgery over the next couple of years included a thyroidectomy for medullary thyroid cancer, bilateral adrenalectomies for phaeochromocytomas leaving her steroid-dependent, and a left shoulder replacement due to a thyroid cancer metastasis.
Jo juggled these various life-saving surgeries with bringing up her young family and volunteering for AMEND which became a registered charity in 2003. At first, Jo was the MEN2 Representative and a Trustee, and then later became Chair of the Trustee Board and CEO. In 2013 Jo became the charity's first salaried CEO. To this day, she continues to write patient information, manages the charity's projects, presents at medical and patient meetings to raise awareness of the conditions and share the patients' voice, and liaises with researchers, providing support and advice for research projects and clinical trials.
Despite the risks, being steroid-dependent for 20 years has not stopped Jo from doing anything she sets her mind to, including trekking 120km through the Sahara Desert in 2012, climbing the Yorkshire 3 Peaks, and scaling Mount Snowdon at night-time, all to raise funds for AMEND's Research Fund. She attributes her optimism simply to having survived so much in her life, medical or otherwise.
Lorraine Williams
Lorraine Williams gained over 20 years' experience in management roles for commercial and not for profit organisations in London, including Cancer Research UK, where she was a senior fundraising and marketing manager before giving up full time work, due to being badly affected by  hypothyroidism. Her background is in magazine and digital publishing and brand communications. From 2011 she worked as a part time freelance consultant supporting a diverse portfolio of clients with marketing and communications related services. In 2012 she founded Mindful Thanet with a group of friends and has been running regular mindfulness and meditation sessions in East Kent ever since, committed to help share the benefits of this practice with others. She set up and ran a popular support group for thyroid patients in London from 2010 – 2014.
In 2017 she accepted the position of Director of The Thyroid Trust, working with the Trustees, volunteer Team and supporters to launch and develop the new charity, which works hard to raise awareness and improve understanding of  thyroid health issues, advocating for patients, encouraging broad expression of patient experiences, running regular support and information events and producing videos, with high calibre speakers, as well as facilitating good quality peer support.  She recently interviewed the author Michael Rosen about his experiences with hypothyroidism and along with him has had some of her poetry about thyroid disease published in Fahmidan Journal, marking World Thyroid Day 2021.  She and Vicky Roden have worked together, to encourage creative expression of thyroid patient experiences, since meeting through the SMQB Interface presentation in March this year.
Vicky Roden
Vicky is a multi-disciplinary artist, whose practice encompasses a variety of media including textiles, embroidery, taxidermy, and Live Art. Primarily focussing on the sinister and archaic much of her work explores death, ritual, and points where women have historically found personal power and agency. Vicky finds the development of folklore and mythology to be a peculiarly satisfying aspect to explore, using local tales and odd snippets of information as the basis to create legendary objects and stories. Much of her work relates to the dualities of the human condition and where those dualities become apparent, mostly in relation to social history and everyday objects such as coins and photographs whose value has evaporated over the passage of time.
Vicky is also a former Hyperthyroid patient and she has recently worked with researchers (Dr Meurig Gallagher, Dr Dave Smith, Dr Zaki Hassan-Smith) at the Centre for Systems Modelling & Quantitative Biomedicine (SMQB) on new artworks which explores this condition. The project gave her an opportunity to give something back to the University and Hospital which eventually resolved her condition.
Kristine Stacke
Kristine joined Verity, the PCOS charity, as a Trustee in 2014 having volunteered as London Local Group Leader since 2011, shortly after her own diagnosis. Outside of Verity, Kristine works in broadcast media, enjoys crafting activities and is an avid reader.
Professor Wiebke Arlt
Professor Wiebke Arlt is the Director of the Institute of Metabolism and Systems Research (IMSR) and the William Withering Chair of Medicine, University of Birmingham. Wiebke leads DAISy-PCOS, a major new research project funded by the Wellcome Trust. This project consists of three studies involving up to 1,000 women with PCOS across the UK. She also undertakes cutting edge research to improve the diagnosis of adrenal cancer. Wiebke is also an Honorary Consultant Endocrinologist at Queen Elizabeth Hospital Birmingham where she leads specialist services for patients with adrenal and gonadal disorders. She is also a passionate advocate for patient voice and equality, diversity, and inclusion in general.
Professor Chris McCabe
Chris McCabe is Professor of Molecular Endocrinology at the University of Birmingham, a Deputy Director of the IMSR, and Theme Lead for Endocrinology. The research of the McCabe group focuses on thyroid and breast cancers. The McCabe group currently holds funding from numerous funders including the Medical Research Council, NIHR, and the Department of Defense. Chris was until recently Chair of the Wellcome Trust Basic Science Interview Committee (BSIC), and before that served for several years as a panel member of BSIC as well as being co-opted onto the Wellcome Clinical Committee. He served on the Health Research Board of Ireland and was Chair of the Science Committee, and previously the Programme Committee, for the Society for Endocrinology. He is an Associate Editor of Endocrine Related Cancer, and a member of multiple national and international committees including the American Thyroid Association POC, the International Congress for Endocrinology POC and the Science Committee of the European Society for Endocrinology.
Dr Punith Kempegowda
Punith Kempegowda is a Wellcome Trust Clinical Research Fellow and Specialist Registrar in Endocrinology, Diabetes, and General Internal Medicine. He is one of the lead researchers involved in the DAISy-PCOS research project. He is an avid public engager who is keen to raise awareness of the hidden risks associated with PCOS. Punith is also passionate about supporting initiatives to modernize and simplify education amongst healthcare professionals themselves, through spearheading practical teaching tools such as SIMBA, an innovative simulation-based learning platform that makes use of WhatsApp and peer-to-peer learning.
Dr Caroline Gillett (event host)
Caroline Gillett is the Community and Public Engagement Manager in the Institute of Metabolism and Systems Research (IMSR). In 2020, Caroline joined the IMSR to pursue her goal of collaborating ever more closely with researchers and communities to co-craft meaningful projects that bring greater awareness, advocacy, and involvement to the world-leading biomedical research underway at Birmingham.